Last weekend was that time of year again! Whisky Festival 2018 in Tokyo. This year's festival was held over two days for the first time, but as I had other obligations on the 25th, here's my report from the 24th.
Introduction: The future of Japanese Whisky
Much of the hubbub you hear about Japanese whisky these days is fairly negative, i.e. some company is suspending an age-statement edition, it's overpriced, or these are the very last bottles from a lost distillery. I instead try to focus on the positive aspects of the future. And it's a fairly bright one from what I can tell. Since 2016 there has been an absolute onslaught of new Japanese whisky distilleries popping up, and the existing big players are investing huge sums into expansion. That fact alone was part of my motivation behind creating the Japan Distillery Map — it's quite difficult to keep up with it all!
And what an opportunity it was this year. Compared to Whisky Festival 2017 in Tokyo, Whisky Festival 2018 had a very full roster of new distilleries giving out samples at booths.
I also just want to quickly congratulate and thank the organizers for spreading the event over two days this year. While 2017 was pretty overcrowded, this year–which saw 8000 attendees–was much more laid-back when I arrived on Saturday morning just as the festivities kicked off. Granted, the lack of any Chichibu show bottlings this year may have led to less people camping overnight/going early, but either way, this year's event was drastically more relaxed.
Kanosuke Distillery
Kagoshima-based Kanosuke Distillery launched their first new pots earlier this year, and also just recently launched a new born. I visited their booth intending to buy a bottle of the latter, but to no avail. Instead though they did several different variations of both new pot and new born on hand, including a 10 month Sherry cask new born. My personal favorite though was the 4 month Bourbon cask non-peated — has wonderful sweetness to it.
Wakatsuru Saburomaru Distillery
It's no secret that I had my doubts about Wakatsuru Saburomaru's revival. Specifically I was wondering about how much expertise the new management had actually making whisky, but it's clear now my reservations were not necessary. Their new pot is a fantastic barley-forward peaty 50ppm, which according to the booth staff, is basically where they plan on remaining for the time being. The (Japanese) Japanese whisky blogosphere has extremely high hopes for the post-crowdfunding Wakatsuru Saburomaru, and it's easy to see why. Of all the new makes I had during the festival, Wakatsuru's stands out as the most balanced.
The Wakatsuru Saburomaru has a fairly unique still setup. They use only a single still, so the wash run and spirit run go through the same still. And that still is the only of its type in Japan — it's round, stainless steel, but features a super short (1m) copper lyne arm. In any case, it works!
The booth also had "Umesky" available, which is a 40% abv umeshu for those that can't handle the nearly overwhelming sweetness of ordinary umeshu.
Nagahama Distillery
Nagahama Distillery returned for this year's show with their full lineup of new makes, ranging from entirely unpeated to a hefty 50ppm. They also had a Tanba Wine Cask bottling which helped mellow the new make down considerably. Looking forward to trying Nagahama again in a few years!
Shizuoka Distillery
Finally, a Shizuoka Distillery booth! They should have had one last year. But oh well. The highlight here for me was the beautiful unpeated 18 month bourbon barrel new born (#3). Delicate, sweet, and fresh with plenty of fruit. This was made on the still that the Shizuoka Distillery acquired when the Karuizawa Distillery assets went up for auction.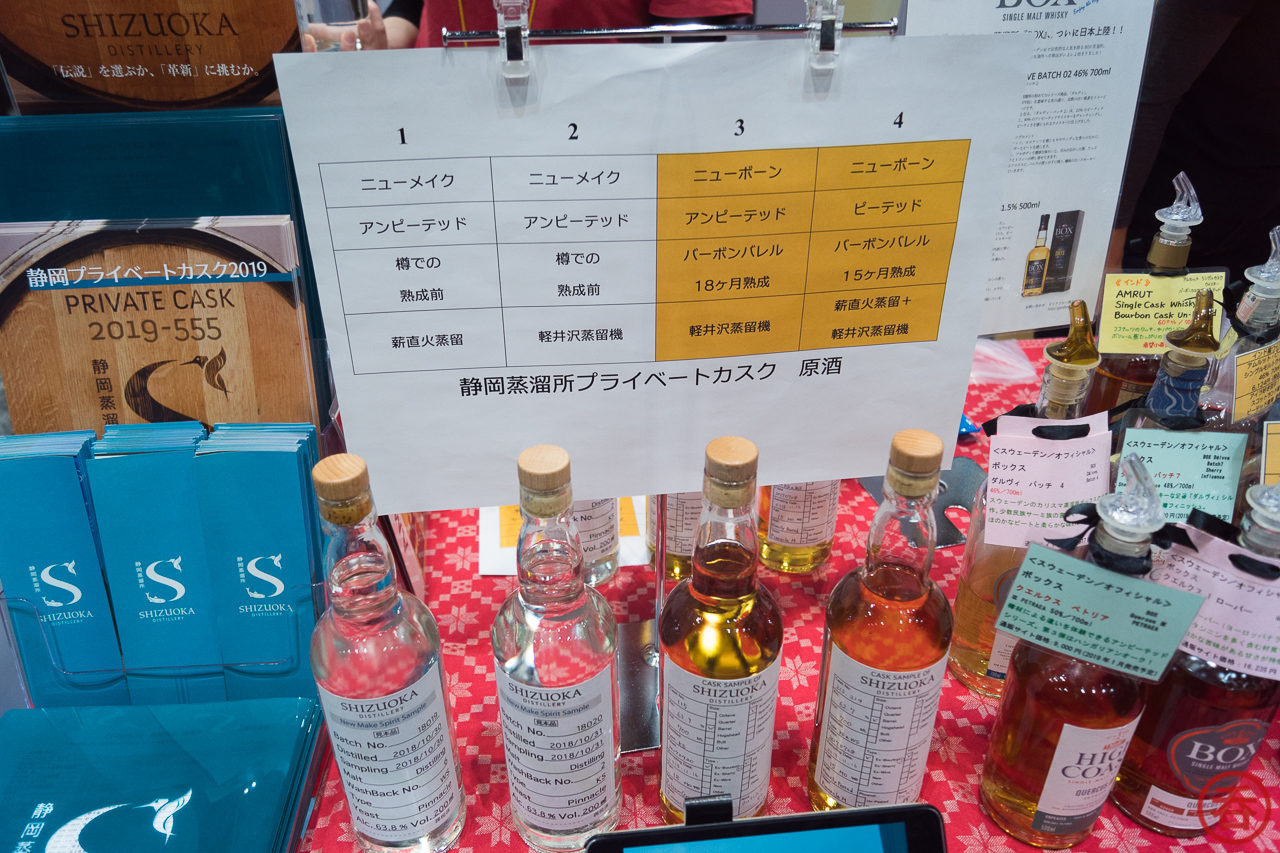 Chichibu Distillery
Chichibu Distillery recently announced the opening of a second distillery which will have five times the output of their current one. One may think that would make it difficult to call them a "craft" distillery. But for many, the Chichibu Distillery Cask #4549 7yo Belgian Stout Cask stole the show. More flavorful and interesting than the 9 year old Bourbon barrel bottling sitting right next to it.
Shogakukan's booth also had the elusive new Ghost release of Chichibu x Hanyu Ichiro's Malt Double Distilleries + Peated. So did Ghost #9 and Ghost #10 come out at the same time? I'd be interested if anyone can confirm as I didn't have a chance to ask on the day. In any case, bottles like this are, well, ghost-like.
Akkeshi Distillery
Akkeshi New Born Foundations 2! They weren't kidding when they called it peaty. But we now know that Foundations 3 will be non-peated and exclusively using Hokkaido-born Mizunara oak casks. So that's something to look forward to as well!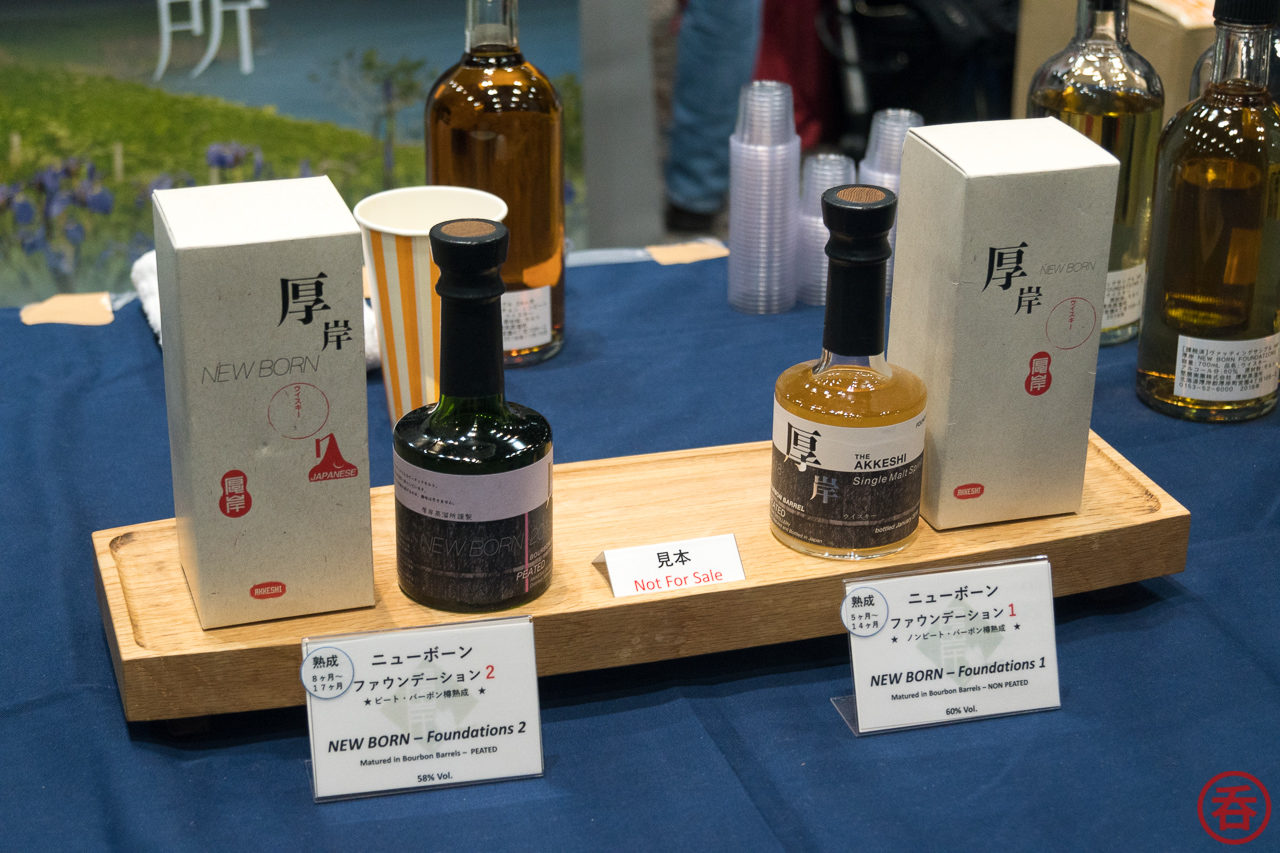 Asaka Distillery
Hidden amongst variations of the Yamazakura lineup was the post-renewal (Asaka Distillery) new borns and new pots. Again we had both peated and non-peated versions.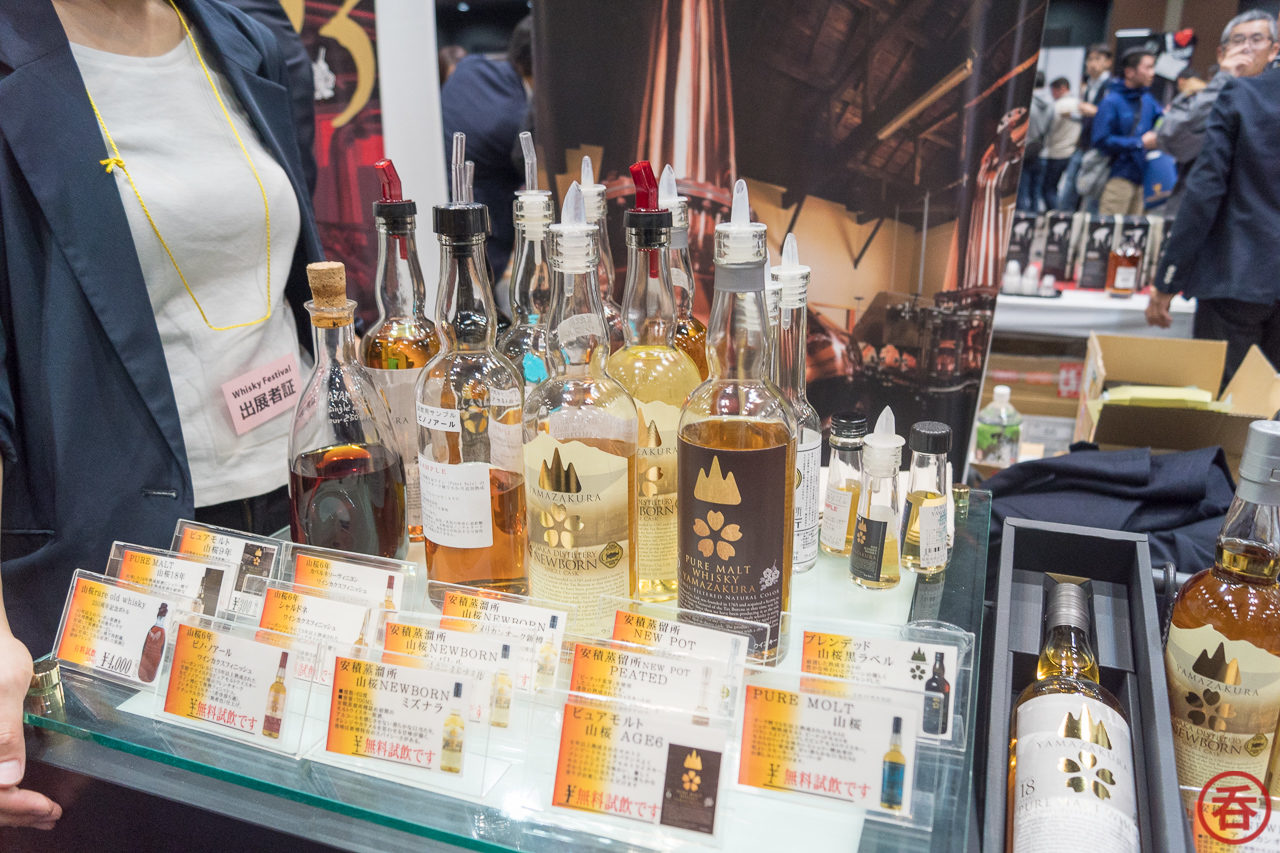 Mars Tsunuki Distillery
Things are coming along nicely at the Mars Tsunuki Distillery, and the company brought along both a 664 day and 408 day Tsunuki new make.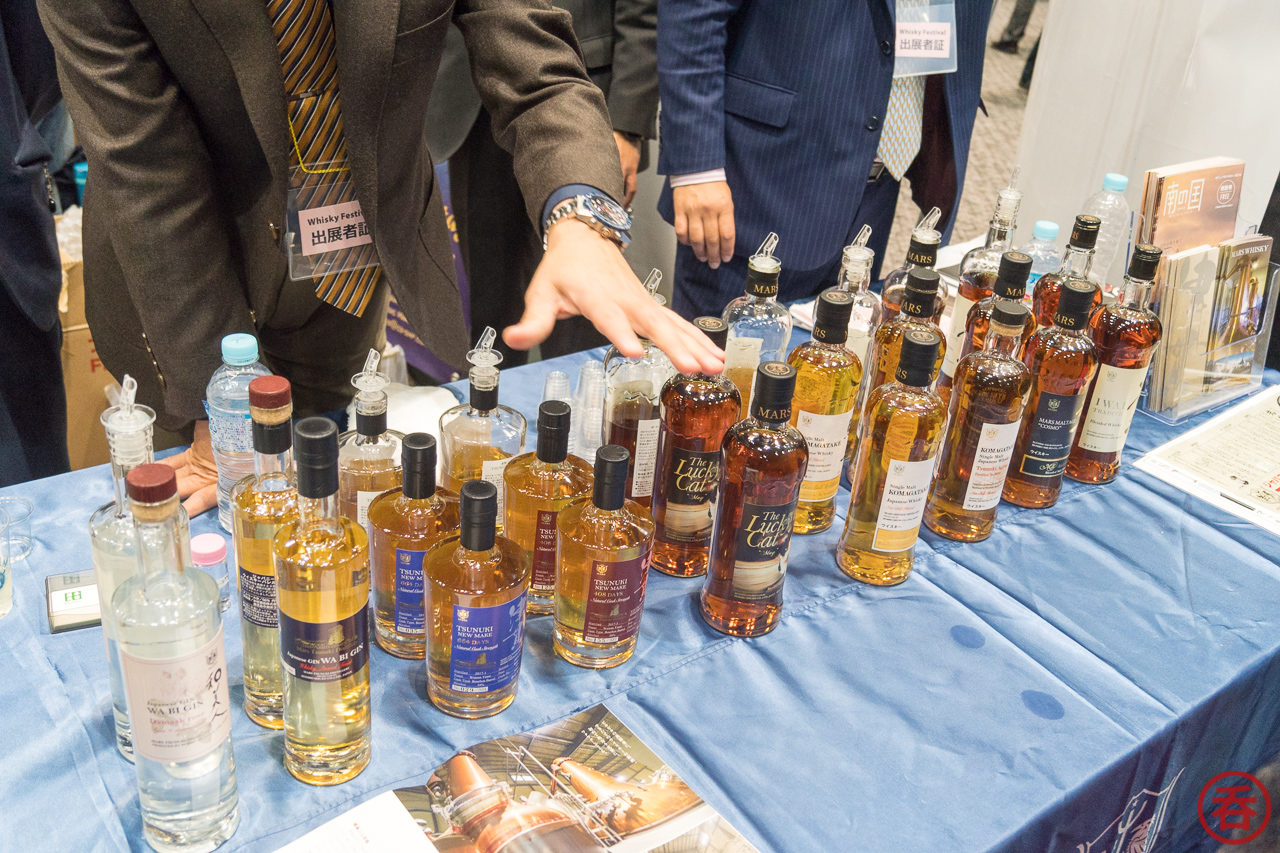 Where are Suntory, Nikka, Kirin?
You tell me! Nikka may as well have not even been there, I guess they had some Ben Nevis 10 year but…? And I've never seen a smaller Suntory booth in my life, but they did manage to at least pull out THE ESSENCE series, along with the relatively new Hibiki Blender's Choice. Kirin at least brought along an entire cask and was pulling out samples from it, like they did back at this year's Tokyo International BarShow. Perhaps the more notable Kirin bottle was the Kirin Fuji Gotemba Distillery Single Malt Whisky Red Wine Cask Finish 2004 found over at the Ginza 777 booth. If you didn't arrive early enough for this one, kick yourself now.
Sort of like how Sony pulled out of E3 2019, perhaps these big guys will eventually pull out of Whisky Festival in Tokyo.
The Non-Whiskies
Despite being the "Whisky Festival," compared to last year, this year had plenty of distillers that in some cases don't even make whisky. Akayane for example showed up with their new Japanese vodka, new Japanese absinthe (which was pretty awesome, btw), and an entire range of single-herb spirits like coriander and cardamom. Sapporo's Benizakura Distillery brought several of their unique gins like the recently announced Recipe #3891. Okinawa-based Masahiro was also throwing around samples of their genre-busting 14 year old Awamori "Keystone Excellent," which in many ways reminded me of Tarusky that I recently reviewed.
---
It's great to see so many new Japanese whisky distilleries making a showing! Dates for Whisky Festival 2019 in Tokyo are yet to be announced, but hopefully we will hear more soon. While I would have preferred to see a stronger showing from the bigger players, I personally found this year's Whisky Festival to be more enjoyable overall thanks to being less crowded. What did you think of it? Please leave your comments!