The remote town of Akkeshi, Hokkaido is home to a Japanese whisky distillery that looks to use local ingredients and resources to create a Japanese version of Islay's smoky malt whiskies. In 2020, the Akkeshi Distillery released their first single malt Japanese whisky.
A
kkeshi Distillery was created by Kenten Jitsugyo, a trading company based here in Tokyo.
At the helm of Kenten Jitsugyo is Keiichi Toita. Unlike many new whisky drinkers, he was not put off by the smoky, peaty notes of Islay malts when experiencing them for the first time — he calls his first experience with Ardbeg 17 at a bar in Ginza "unforgettable."
His interest in whisky piqued, Toita-san would eventually lead Kenten Jitsugyo to begin exporting Japanese whisky. From there the company looked to expand even further and become a bottler. With growing demand and supplies of aged Japanese whisky being harder and harder to come by, they decided that creating their own whisky distillery was the better move.
Prior to getting involved with whisky, Kenten Jitsugyo has worked with several major manufacturers of food and dairy products. As a result, the company is intimately familiar with the difficulties surrounding food health and safety at factories. Whisky, with no expiration date and being extremely anti-bacterial due to the high abv, was a "dream product" for them.
There's also a financial angle: Kenten Jitsugyo is reportedly pretty cash-rich, and they were looking for something more grounded in reality than financial products or real estate. Unlike some asset classes, whisky tends to appreciate in value with age.
Japanese New Makes/New Borns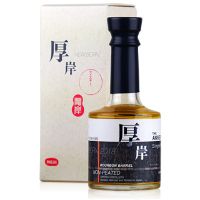 New Born Foundations 1
Akkeshi's first ever release was New Born Foundations 1, a vatting of new borns aged 5-14 months in Bourbon casks. 60% abv.
Our review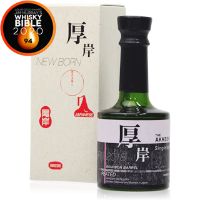 New Born Foundations 2
The second release from Akkeshi, we see more maturity (8-17 months) and peated malt (50ppm). 58% abv.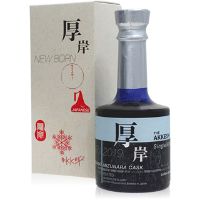 New Born Foundations 3
Foundations 3 is vatting of 8-23 month new borns aged entirely in Hokkaido-raised mizunara oak. 55% abv.
Our review
World New Makes/New Borns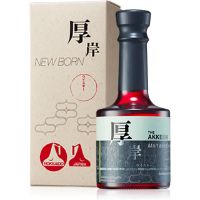 New Born Foundations 4
The final Foundations release was New Born 4, which added imported Scottish grain new born for a blend. However, the grain is barreled and aged entirely in Akkeshi. For the Akkeshi malt component, we have a vatting of new borns aged from 13 to 30 months — and over 50% in sherry casks. Plus, 5% of the malted barley is from Hokkaido. 48% abv.
Japanese Single Malt Whiskies

Akkeshi Whisky
Sarorunkamuy
The Akkeshi Distillery's first ever Japanese single malt whisky is sarorunkamuy, released in February 2020. sarorunkamuy is Ainu for Japanese crane. and like the bird, the bottle uses a black/white color scheme with red highlights. Inside, the key malt is aged in mizunara casks, and that sits alongside malts from Bourbon, sherry, and red wine casks. 55% abv.
Akkeshi, Hokkaido isn't a very famous location. In fact, eastern Hokkaido, where Akkeshi is located, is probably one of the most sparsely populated areas of the Japan. Most Japanese people that have heard of Akkeshi know it because of oysters.
But importantly, Akkeshi is also home to plenty of wetlands, a major source of peat. Just like Islay, Scotland, where 1/4 of the island is wetlands, So with Kenten Jitsugyo's dedication to recreating that smoky Islay whisky experience here in Japan, access to wetlands and peat is a must. 1.7m below the distillery itself is 1.2m thick layer of peat. There appears to be little threat to wetlands in the area either, as 13000 acres in the area are protected by the Ramsar Convention.
That peat finds its way into the water table in Akkeshi, just as it does in Islay. Crowfoot grows upstream on the Homakai River, which feeds the Akkeshi Distillery.
Climate-wise, Akkeshi has an average temperature of 18C in the summer and -6C in the winter. Again this is fairly close to Islay, where the averages are 14C and 4C respectively. Just like in Islay, the warm moist air from the wetlands is cooled by the nearby ocean, creating advection fog on a regular basis.
Kenten Jitsugyo initially considered the better-known Kushiro, Hokkaido, as the location for the distillery. Kushiro's wetlands are probably the most famous in Japan — there's even a huge national park. However the development of Kushiro and proximity to the national park meant that there were too many environmental restrictions for a whisky distillery. The company instead found the local government of nearby Akkeshi, which also has wetlands, to be more cooperative.
Akkeshi Distillery began operating in October 2016. Their first single malt Japanese whisky, "sarorunkamuy," hit the market in February 2020.
To go back further though, Akkeshi Distillery owner Kenten Jitsugyo has been exporting Japanese whisky since 2010. WIth growing market for Japanese whisky, they looked into becoming a bottler at the time. But Japanese law requires that even whisky bottlers have whisky-making licenses. Instead, they decided to go whole hog and create an actual distillery.
Maturation experiments in Akkeshi kicked off in 2013 and lasted a year. Satisfied with the results, the company began construction of the distillery in 2015.
If there's something being done in Islay to make whisky, chances are the Akkeshi Distillery team is trying to mimic it here in Japan. The location itself is certainly Islay-like, and the distillery has imported a full set of equipment (mills, mash tuns, washbacks, stills, etc) from companies like Forsyths.
While the techniques and hardware might be entirely Islay, the Akkeshi Distillery team has also stated they aim to create an "all-Hokkaido" whisky. As we saw in Foundations 3 and 4, they have already begun using Hokkaido-grown malt and Hokkaido-grown mizunara casks. In April 2020 they took their first blocks of peat out of the ground near the distillery.
Finally, the Akkeshi Distillery is very dedicated to keeping sanitary conditions on site. Distillery chief Tatsuzaki-san previously worked at a large dairy factory, and it shows: inside the distillery, workers wear sanitary covers and hair nets. They follow HAACP standards, giving the distillery a much more "food factory" vibe than you'll find at a regular whisky distillery.
-Mash tun: 1000kg/5000L
-Washbacks: 6x stainless steel @ 5000L each
-Wash still: Forsyths, 5000L
-Spirit still: Forsyths, 3600L
-Warehouse: 3x dunnage type (two on-site, one on the Akkeshi Bay), 1x rack type (atop a hill overlooking the bay)
-Output: 300KL per annum
Akkeshi is quite remote, even by Hokkaido standards. The distillery itself does not offer tours or have any kind of visitor center.
But if you really want to go there, nearby Akkeshi Gourmet Park "Conchiglie" is the only tour provider authorized to enter the distillery grounds. Reservations are required at least 3 days in advance on tour dates, which are listed at the above site. The 3500 yen cost includes a ride to/from the distillery, a New Born sample, a 1000 yen ticket at the Conchiglie oyster bar, and a tchotchke.
Note that on these public tours, while you can go inside the rackhouse, you can't go inside the distillery itself. Instead you look inside through the large glass windows from the outdoor observation deck.
Images from Akkeshi Distillery's official homepage
REFERENCES & Further reading
http://akkeshi-distillery.com/
http://whiskymag.jp/akkeshi_01/
http://whiskymag.jp/akkeshi_02/
http://www.kushiro-rc.gr.jp/meeting_report/2016_2017/rep2016_29.html
Suwabe, Shinichi. ジャパニーズウイスキーで世界に挑む 新世代蒸留所からの挑戦状 [Taking on the World with Japanese Whisky. Challenge from New-Generation Distilleries]. Recipbook, 2019.
Eycken, Stefan van. Whisky Rising: The Definitive Guide to the Finest Whiskies and Distillers of Japan. Cider Mill Press Book Publishers LLC, 2017.