When Japan's only independent cooperage decides to release a liquor, I pay attention. "Tarusky" is Kyoto-based Ariake Sangyo's brand of cask-aged shochu. Tonight we're drinking from bottle #534 of "Tarusky Premium Blend." It's a liquor that blurs the line between whisky and shochu. Inside we find an American white oak cask rice shochu aged at least 15 years, plus sherry cask brown rice shochu aged 12-30 years.
"Taru" is of course Japanese for cask. Taru + whisky = Tarusky? True to its namesake, Tarusky is in limbo in the world of spirits. It's stuck between the categories of shochu and, umm, something else that's aged. For starters, Tarusky Premium Blend uses rice as a base: this is a big no-no per many countries' definitions of whisky. At the same time, it's cask aged for more than a decade. As we've learned, that much aging disqualifies it from being called a shochu here in Japan. Instead, it's a "shochu-based liquor."
While we have seen some rice shochu-based liquors marketing themselves as Japanese rice whisky or whatever outside of Japan, Tarusky proudly wears its shochu nature on its sleeve, even here in Japan. The shochu was distilled at Matsuno Izumi Distillery, one of 28 distilleries making WTO-protected Kuma shochu. You won't find the phrase "Japanese whisky" anywhere on the bottle or in marketing materials. Instead, the bottle says it's "Distilled, Matured & Bottled in Japan." At a time when the Japanese whisky brand is essentially being exploited at home and abroad, this is a lesson in transparency that other makers should take to heart.
Tarusky Premium Blend Review
I must say the packaging is laughably over the top. My bottle arrived in a way-too-giant book cover, complete with a numbered certificate and (admittedly informative) bilingual 20-page brand history. See the pic below. This is something I'd expect from a duty-free airport edition. But whatever, we're not here to review packaging.
Shochu is ordinarily served over ice, so this was my primary serving style for this review. But being a hybrid spirit, I did sample it straight as well. My notes below incorporate thoughts from both styles.
Nose: Opens with nutbread, vanilla, and allspice. The sherry is trying to poke its head through. If you enjoy that "angel's share aroma" permeating the air inside a whisky storehouse, this nose is for you.
Palate: The first thing that jumps out is white oak. Aftewards, cherries, blackcurrant, and a mix of berries with a hint of citrus. Light and velvety mouthfeel, with the mellowness of brown rice.
Finish: It feels bizarre writing about a finish for a shochu, but here we are. While not very long, there's toasted banana bread, cashew nuts, and a hint of tart raspberries. It quickly closes out with a nice fruity citrus blend leaning towards orange.
Score: A-
Overall, a mellow yet captivating hybrid spirit. Any fan of Japanese whisky or shochu owes it to themselves to give this a try. It could be interesting to slip into a blind tasting of ordinary spirits just to see what happens. I hope we'll see more of these in the future. And it looks like we will! Ariake Sangyo has deliberately sourced shochu that's too aged to sell as shochu.
Closing Thoughts
Ariake Sangyo has released less than 600 bottles of Tarusky Premium Blend. This makes #534 here one of the last. That said, the second series is now available, with 651 bottles of potato shochu-based "Ariake Signature Imo" and 713 bottles of rice shochu-based "Ariake Signature Kome" now on the market.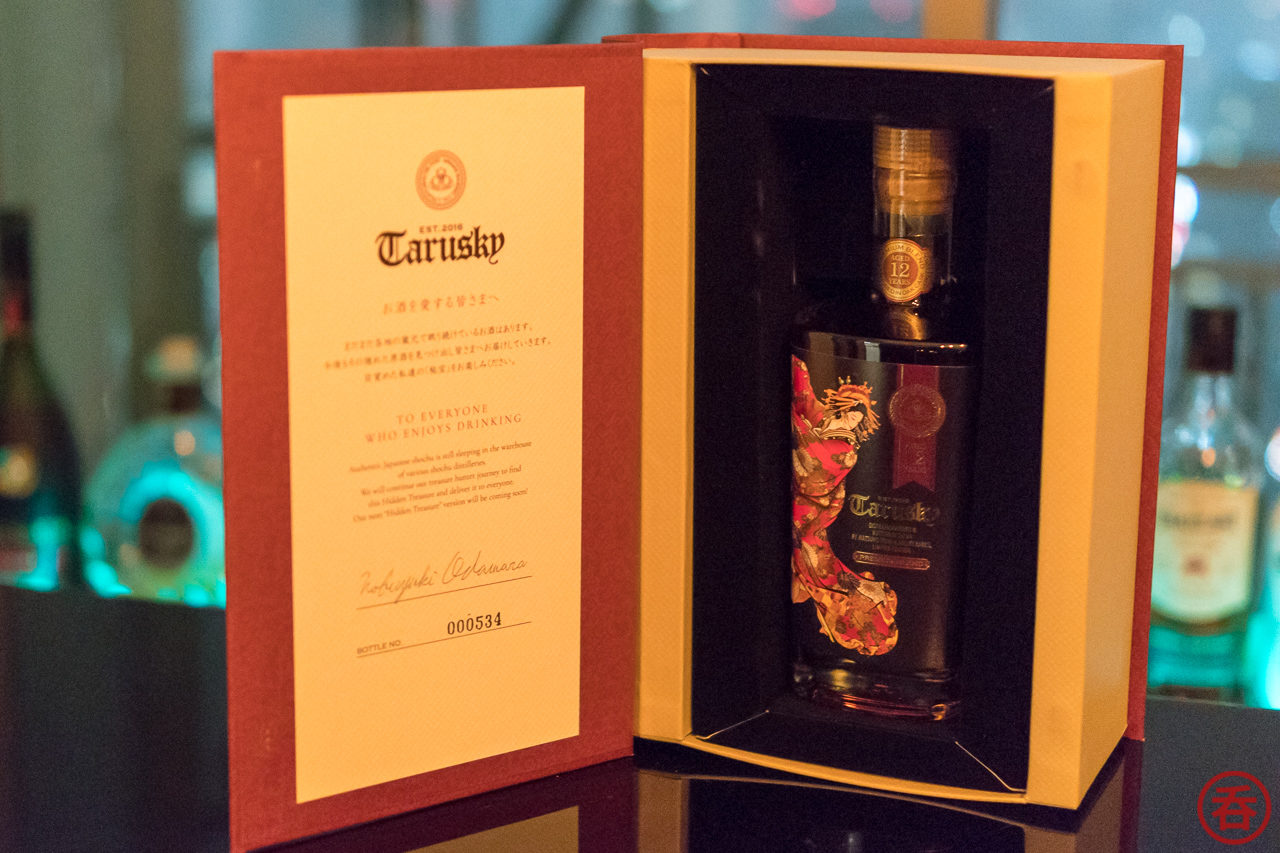 Hi there! I created and run nomunication.jp. I've lived in Tokyo since 2008, and I am a certified Shochu Kikisake-shi/Shochu Sommelier (焼酎唎酒師), Cocktail Professor (カクテル検定1級), and I hold Whisky Kentei Levels 3 and JW (ウイスキー検定3級・JW級). I also sit on the Executive Committees for the Tokyo Whisky & Spirits Competition and Japanese Whisky Day. Click here for more details about me and this site. Kampai!