May 11-12 is this year's Tokyo International BarShow! The theme this time around is "Cocktail & Music," so we can expect to see some great live performances pairing bartending and music.
Every year, Tokyo's bar and cocktail community descends on Tokyo Dome's Prism Hall to celebrate cocktails, spirits, and liquor. Last year's BarShow brought over 12,000 visitors across the two days, making it by far Tokyo's largest spirits-related event. Dozens of booths, loads of great drinks, cocktails, whiskies, awesome masterclasses, and even an interview with Dave Broom capped off the weekend for me.
One of this year's special guests is The Craft of the Cocktail author, "King Cocktail" himself, Dale DeGroff. Mr. DeGroff will be joined again by Dave Broom. It's great to see industry veterans making their way over to Tokyo for the event.
To get a better idea of what the weekend is all about, see my event reports from the 2018 and 2017 BarShows.
Though we're pending the event schedule and Annual Bottle announcements, they certainly won't disappoint! Tickets are available for purchase in English at Lawson Ticket. It's 5000 yen for a single day, or 9000 yen to attend both days.
What's in store for this year?
While there have been several exciting announcements in the world of Japanese whisky this year, my personal view is we'll see more focus on bartender-friendly Japanese craft white spirits and liqueurs such as the new Kanade series. Much of the hubbub about Japanese whisky has shifted over to the Whisky Festival in Tokyo. On the other hand, we're just 15 away from the the Tokyo Olympics, so Japanese bartenders will be doing their best to showcase what cocktail flavors Japan has to offer to the world.
Win your free ticket!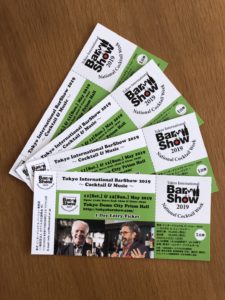 I'm happy to announce that thanks to the generous folks at the Cocktail Culture Foundation, this year we once again have four free 1-day tickets available exclusively to readers of nomunication.jp. The tickets can be used on either May 11 or May 12.
To enter the drawing, simply tell us your favorite place in Japan by commenting on this blog post (be sure to use a real email address) or on the Facebook post. If you've never been to Japan, let us know where you want to go the most! I will choose four winners at random and contact you for your snail mail address.
Entries close on April 27 at 10PM JST. Please only enter if you can be in Tokyo on the weekend of the show!
See you there!
Hi there! I created and run nomunication.jp. I've lived in Tokyo since 2008, and I am a certified Shochu Kikisake-shi/Shochu Sommelier (焼酎唎酒師), Cocktail Professor (カクテル検定1級), and I hold Whisky Kentei Levels 3 and JW (ウイスキー検定3級・JW級). I also sit on the Executive Committees for the Tokyo Whisky & Spirits Competition and Japanese Whisky Day. Click here for more details about me and this site. Kampai!