Introduction
Ebisu is of course the birthplace of Yebisu beer, but there's plenty else going on here. In recent years the area has become a popular date spot, with plenty of cozy medium/high-end restaurants flanking the station via the east and west exits. More recently, say since around 2016, it's become a popular place to find a date thanks to rising popularity of the Ebisu Yokocho.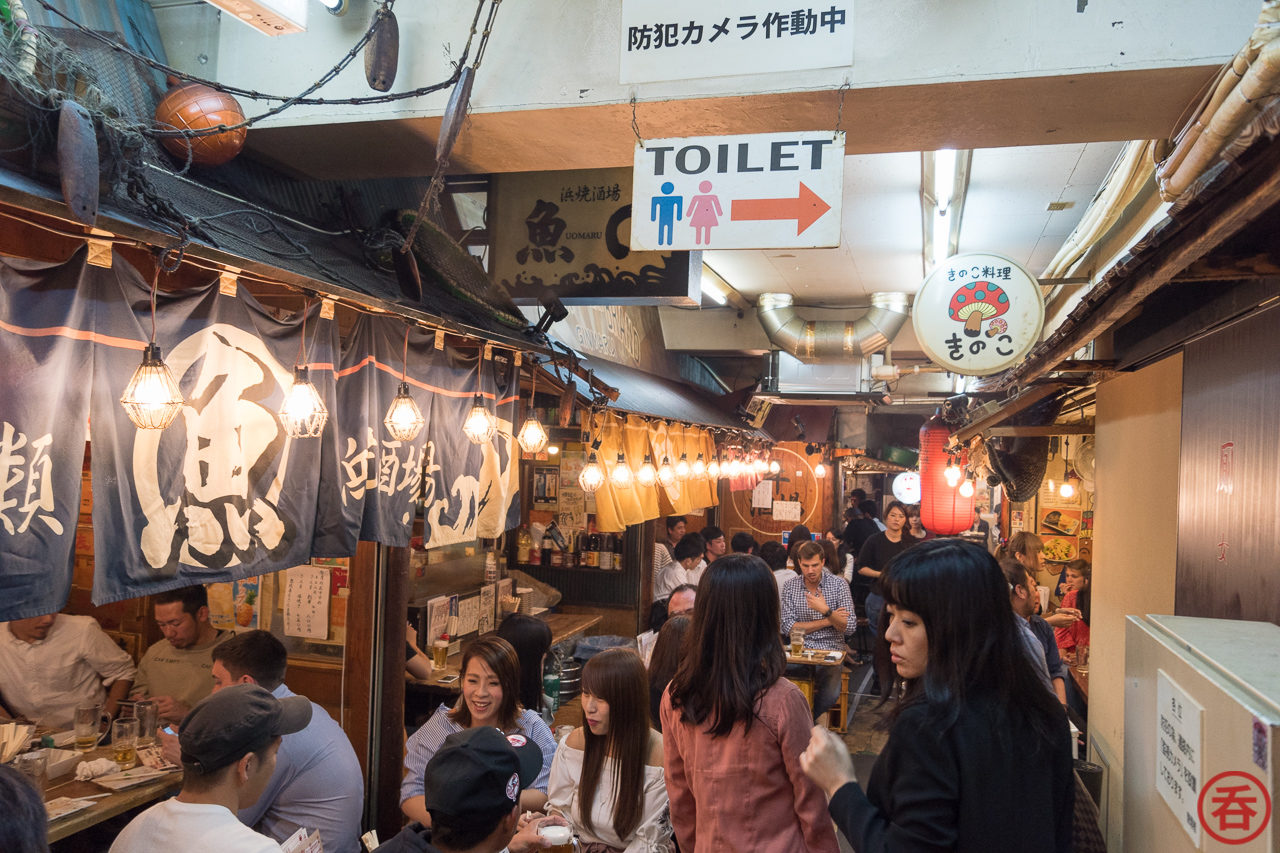 This recent elevation of Ebisu's status can be partially attributed to Daikanyama and Nakameguro, both of which are within easy walking distance of Ebisu station. These two areas have been heavily developed over the past decade, and nowadays are favored by girls' as areas to spend free time chatting with friends at cafes and at shopping unique boutiques. Considering it's also only one stop from Shibuya, it's easy to see why Ebisu ranks highly in surveys of where young people want to live within Tokyo.
But nevermind all that. We're in Ebisu to drink.
History of Ebisu, and Yebisu
Unlike many of the other neighborhoods in Tokyo, Ebisu doesn't have such a long and intertwined history as being a place for drinking. It was essentially just the location of the second homes of many of the shogun's daimyo. They spent their time at these homes to rest and relax, probably not to get hammered.
Instead, the drink-related history of Ebisu actually begins as recently as 1887, when the Japan Beer Brewery Company acquired land for building a factory. A brewer named Carl Keyser was invited from Germany, and the company got off to a very quick start. Their first beers shipped only two years later. Although the company originally planned to name their beer after Daikokuten, they allegedly went for Yebisu instead since a Yokohama beer company already had a beer named after the former.
Japan Beer Brewery had a hit product on their hands. So much so that merely a decade later, in 1901, they opened a train station named "Ebisu Stop" in the area specifically for transporting beer along what is today the Yamanote line. Five years after that, a proper train station for passengers opened up, which eventually became modern-day Ebisu Station. That same year, Japan Beer Brewery, Osaka Beer (predecessor of Asahi Beer), and Sapporo Beer combined to form the Dai-Nippon Beer Company. They wanted to take Kirin head-on.
It was also in the early 1900s that people began referring to the area as "Ebisu." This was formalized in 1928 as the name was used for actual addresses: Ebisu 1-chome and 2-chome.
Dai-Nippon Beer Company was obviously a bit too powerful for MacArthur and GHQ, so it was one of many monopolies split up the Antimonopoly Act in 1947. The name "Japan Beer Brewery" never came back: the firm was simply split into what is today Asahi Beer and Sapporo Beer. Sapporo Beer however did decide to re-launch Yebisu beer in 1971.
Sapporo Beer made the decision to close the Ebisu brewery in 1985, instead opening a factory in Funabashi, Chiba in 1988. Where the Ebisu brewery used to be sits Ebisu Garden Place, which opened in 1994. It's also the site of Sapporo Beer's headquarters.
Ebisu Today
The opening of Ebisu Garden Place in 1994 was what really put Ebisu on the modern map for Tokyo. At the time it was very forward-thinking: European design, huge open spaces that take up 60% of the land, even co-generation and water recycling systems. It's a pretty happening place these days too, as you have the Tokyo Photographic Art Museum, Westin Tokyo, highrise apartments, a Mitsukoshi department store, movie theater, and plenty of shopping and entertainment/events. And obviously there's also the Museum of Yebisu Beer.
But that's just the south side of Ebisu station. If you're drinking in Ebisu, you'll really want to see the east and west sides as well.
From the west exit (also where the Hibiya line puts you) you can stroll down any of the sidestreets taking you further away from the station across the big street, Komazawa-dori. This is the Ebisunishi 1-chome area, which tends towards more reasonably priced izakaya for Japanese fare. There are some wonderful bars in this area, including standing bars, which I've favorited below. If you're in the mood keep walking away from the station and you should end up at Daikanyama, home to plenty more upscale options.
The east side of the station has yet more options for food, stretching out along Route 305 straight from Ebisu station. This stretch of road has seen an uptick of new restaurants with an international flair popping up in spite of (or thanks to) the closure of Zest Ebisu a few years back. That building had a pretty massive footprint, so it's made room for several smaller places.
Speaking of smaller places, one of the highlights near east exit Ebisu is Ebisu Yokocho. Although any yokocho in Tokyo is jam-packed with shoebox-size places, the Ebisu one is notable for its breadth of options and cleanliness. The latter is important in getting the better sex through the doors! This, combined with the close quarters (even for Tokyo), means Ebisu Yokocho has become something of a destination for people to make new friends.
Whiskey Richard's Favorite Bars in Ebisu
BURI
ADDRESS
Tokyo-to Shibuya-ku Ebisunishi 1-14-1 1F
Buri is one of Ebiu's main foreigner-friendly hangouts, a standing bar with a nice selection of (glass) canned sake and a creative cocktail menu. Food-wise, the main offering is yakitori! There's also frozen sake available if you're feeling adventurous. While menu prices aren't cheap, considering the laid-back atmosphere and distance from the station, it's a decent place to pop into for a few disgestifs before calling it a night.
EBISU SHOT BAR BAR TRENCH
ADDRESS
Tokyo-to Shibuya-ku Ebisunishi 1-5-8 1F
Bar Trench is one of Ebisu's most famous bars, located off the main drag, known for their attention to detail and collection of absinthe and other herbal liqueurs. The menu rotates seasonally and often features homemade ingredients like sake bitters and Japanese craft gin. Seating is fairly limited so you'll want to show up early to assure you get in. In terms of the atmosphere, I'll just describe it by saying that if Paris ever had speakeasies, they may have looked like this!