Konosu, Saitama is the location of one of Japan's newest whisky distilleries. The Hikari Distillery is now the most easily accessible whisky distillery from downtown Tokyo. In a few years, when COVID-19 will hopefully be a thing of the past, it will open its doors to visitors from across the world. nomunication.jp is the first media outlet to be allowed on the grounds for a peek. 
B
ack when Hikari Distillery's whisky license came through, I posted about
there wasn't any info out there
about it. Usually when a new whisky distillery launches in Japan–or even before it does–we hear something via a press release, local media, or whatever. In Hikari Distillery's case, there was nothing. So I reached out to them to find out more.
As it turns out, this is representative of Hikari's unassuming and unrushed low profile. There is no flashy website, there was no media blitz, and no engaging social media influencers.
And there likely won't be any of that for the next several years. Hikari Distillery has no plans to release any products prior to their first single malt. That won't even be three years from now. Instead, the Hikari Distillery aims for their first bottles to hit shelves in 2025 or 2026.
Access
When the time finally comes, visiting the distillery couldn't be any easier. I departed from JR Tokyo, where the 63 minute journey to Kita Konosu station required no transfers. Adding a touch of luxury with the green car is a mere 1000 yen. That's compared to 120 minutes on the train out to Suntory's Hakushu or Kirin's Fuji Gotemba.
From the train station, you'll transfer to a local bus and ride a few stops to the distillery. "We plan on speaking with the city to provide service more frequently," says Ueno-san, my guide for the day and head of admin and logistics for the distillery.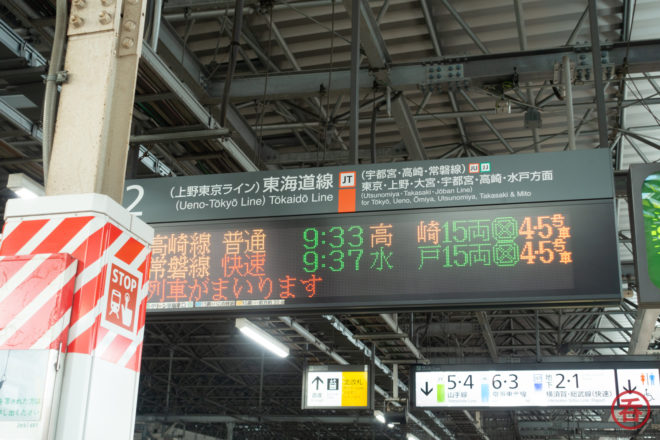 Konosu, Saitama
These days Konosu is a bedroom town whose modern claim to fame is Japan's tallest hina doll pyramid. Digging deeper into the past, you'll find that the area served as a transport hub for areas like Chichibu, Kawagoe, and Ashikaga. Indeed, the old Nakasendo still runs right through the town.
Neighboring Gunma prefecture remains the silk capital of Japan. Silk was sent down the Arakawa river to be processed by craftspeople in Konosu. Over time, working with silk led to handicraft, thus the town's current-day association with hina dolls.
Just over the bank from the widest stretch of any river in Japan (2537m), the Hikari Distillery is on the site of the former Koya Castle that protected these silk businesses. A Shinto shrine still sits on the adjacent northeast corner to protect it from evil.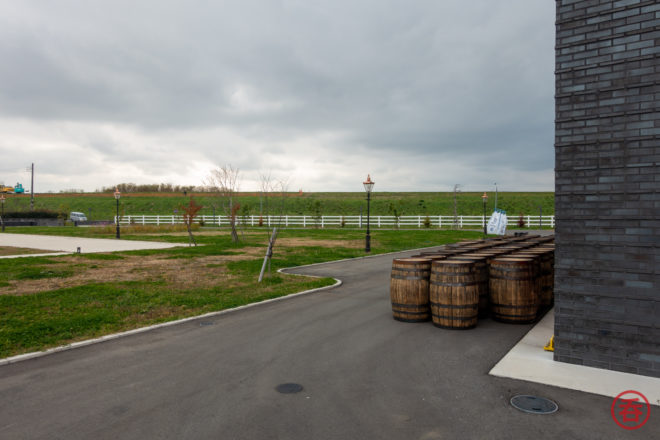 The hikari distillery
Conceptualized in-house, the distillery buildings are "Flemish, Low Countries" style, with striking blacks and plenty of open space surrounding them. The twin facades call to mind both Edo era sake breweries and brick distilleries of the Western world.
The team is small, consisting of only four people. Ueno-san handles logistics and admin, and Masao-san is the whiskymaker. Assisted by another team member, Masao-san is a craftsman with a background in craft beer and sake. That makes it easy to understand why the Hikari Distillery leans into the quality of their wort and fermentation, rather than a complex distilling setup or wood program. Owner Eric Chhoa isn't heavily involved in the day-to-day operations, but he's knowledgeable about them: as a UK resident, he had spent time in Scotland apprenticing at distilleries both big and small.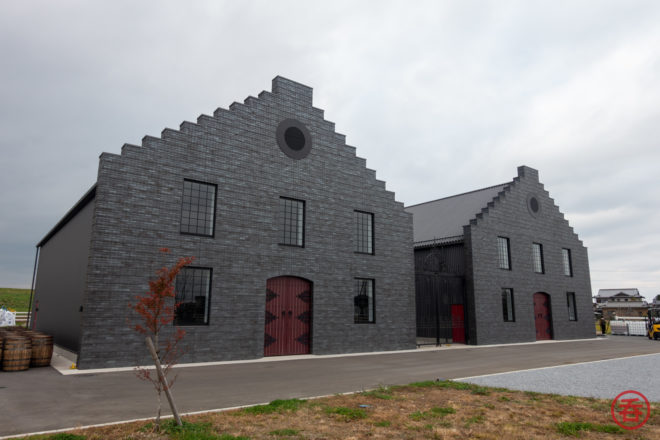 Inside the stillhouse
The Hikari Distillery is compact and kempt. That makes plenty of sense given owner Eric Chhoa's background in manufacturing. Probably a world's first, the entirety of the distillery's equipment is on skids to enable engineering best practices including space and energy optimization and easier maintenance.
Malt is currently imported from the UK, though the company does plan on introducing Konosu-grown organic malt in the near future. Peated malts begin next year.
For a single batch, one ton of the malt is milled to a ratio of 7:2:1 grits:husk:flour. After mashing with water pumped from an on-site well, the wort is moved to six 7500L stainless steel washbacks. And they'll need them — the Hikari Distillery's fermentation is a whopping 4-5 days.
Due to local height restrictions, the distillery's pair of stills (at 5500L and 3600L capacity) have straight, low necks and downward sloping lyne arms. The spirit coming off the still is malty, but the narrow cut of 400L or less is soft and floral. Trying it myself, I certainly agree.
The spirit enters the casks at 63.5% abv. Those casks are, for the moment, entirely first fill Bourbon casks from the likes of Heaven's Hill, Buffalo Trace, and Woodford Reserve. Interestingly, the company currently has no plans to use mizunara casks, but do plan to use Japanese cedar, yamazakura and chestnut casks for finishing in the future.
The single warehouse at the moment is a dunnage style of four racks high. Though the rails are wooden, the floor is concrete. During the hot Saitama summers, the inside of the warehouse can hit 45°C.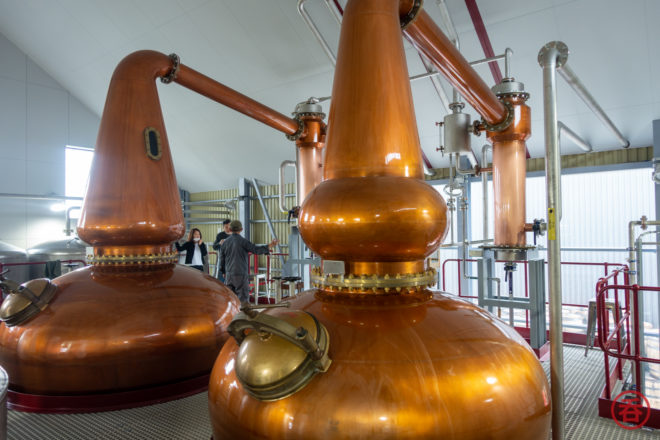 Speaking of the heat. Konosu is right next to Kumagaya, Saitama, one of the hottest places in Japan. As you can imagine, it impacts the Hikari Distillery's season. Even most of October is too hot. The distilling season is only half a year, running from late October to early May.
FUTURE PLANS
There's plenty in store for the Hikari Distillery. One of the first orders of business is an increase of their operating capacity. When I visited, they were running at about 40% capacity, doing four or five batches per week.
Given Masao-san's expertise, he's been allotted 10% of the distillery's capacity for experimentation. While most distilleries would relegate this kind of thing to a single batch or two over a single season, 10% should add up quite quickly. It's the whisky equivalent of Google's famed 20% Project. One can only wonder what it might yield.
Hikari is also looking to unique malts from around the world and sherry, port, and ex-Rye casks to their roster. A second aging warehouse of ten thousand square feet is due in 2022.
In preparation for welcoming visitors, the company plans to build a visitor center and café on the property. Even overnight visitors — the Hikari Distillery will likely be the first in Japan that allows guests to spend the night on the property.
But there's no rush. Whisky takes time, and the Hikari Distillery is perfectly content to let it take its course.
Hi there! I created and run nomunication.jp. I've lived in Tokyo since 2008, and I am a certified Shochu Kikisake-shi/Shochu Sommelier (焼酎唎酒師), Cocktail Professor (カクテル検定1級), and I hold Whisky Kentei Levels 3 and JW (ウイスキー検定3級・JW級). I also sit on the Executive Committees for the Tokyo Whisky & Spirits Competition and Japanese Whisky Day. Click here for more details about me and this site. Kampai!