Introduction
This world-famous neighborhood of Tokyo is, and always has been, at the core of Tokyo's bar scene. Anyone even vaguely familiar with drinking in Tokyo can probably rattle off at least a few famous bars in Ginza.
It's the craftsmanship, attention to detail, and hospitality that draw people from all over the world. There's also high concentration and variety of bars in very small geographic area: Ginza is less than 1km from one side to the other! The 2015 Statistical Yearbook put together by Tokyo's government pins the number of restaurants/bars in Chuo-ku, which contains Ginza, at 5,720.
The image of Ginza is one of sophistication, luxury, maturity, and… costly. That's all true. If that's what you want, fantastic. Have your Martini smoothly crafted by a bartender with over 40 years behind the wood, or your single malt 21y with a hand-carved ice sphere. These experiences are worth every yen!
But not every bar in Ginza is a stuffy cocktail lounge where everyone wears bowties. The nightlife isn't just bunny girls and hostesses. It can even be really affordable if you know where to drink.
Either way, that's what I'm here for!
History of Ginza: 17th to 19th Centuries
Tokyo's Ginza didn't exist prior to the 17th century: it was marshland of Tokyo Bay. But after some reclamation work ordered by the Tokugawa shogunate, the government's silver mint was moved to this area in 1612. It wasn't long before other businesses associated with silver minting came along. As you can imagine these government officials held significant power over these businesses — perhaps too much. After a string a scandals, the shogunate's official silver mint was moved to Nihonbashi. But the area name, Ginza, stuck. ("gin," pronounced like the gin in gingko, is Japanese for silver)
Apart from the bustling silversmithing, there were also some big clothing shops in the area. Popularity continued to grow as Tokugawa himself liked the area; three of the four Imperial noh theaters were located here.
In 1657 disaster struck: the Great fire of Meireki essentially burned Ginza to the ground. The shogunate took this as an opportunity though, routing new canals, rivers, and roads through the area.
Disaster struck again about 200 years later, with the 1872 Great Ginza Fire. Once again the Tokyo government took this as an opportunity: they wanted to prove Japan as forward-thinking and fire-proof Tokyo. Ginza would be their modern marvel to demonstrate it. By 1877 reconstruction, this time using brick, was complete. Unfortunately the former residents couldn't afford to live in these new buildings. This left something of a vacuum; to fill it, successful merchants from other parts of Edo opened up shop in the new buildings. The Meiji Revolution brought a lot of people to Tokyo and Ginza ended up in an interesting position. Despite being located in a lower-class part of Tokyo, much of the clientele were successful upper-class people living in Tokyo's nicer neighborhoods like Akasaka or Azabu.
History of Ginza: 20th Century
Disasters and Ginza don't get along. The Great Kanto Earthquake of 1923 leveled many of the brick buildings in the area. Things were rebuilt again, but there wasn't any redrawing of city blocks this time around. Even so the area again became a popular place for modern and sophisticated young men and women to walk around and shop.
During WW2, Ginza was very quiet. Wartime restrictions on the sale of luxury goods, usage of electricity, and in 1944 police crackdown on any kind of restaurants, bars, or clubs meant Ginza had little to offer. In 1945 Ginza took four direct hits from Allied bombs, once again devastating much of the area.
It didn't take long for Ginza to recover after the war though. Buildings were seized by Occupation forces as PXs, including the famous Wako Building, still in use today. By the 1950s these buildings were returned to shopowners, and the area received further development thanks to infrastructure development for the 1964 Tokyo Olympics.
But it wasn't all fun and (Olympic) games; Tokyo's influential young upper class was increasingly moving further west away from the Yamanote line, thanks to the new Odakyu, Tokyu, and Seibu train lines. Ginza became much further away than Shinjuku or Shibuya for these young influential groups. This remains true today: while Ginza is sophisticated, it's not really a cultural epicenter like Harajuku or Shibuya.
But Ginza was the Bubble epicenter during the late 80s and early 90s, with headline-grabbing property values, further cementing its reputation as a nighttime playground for the rich. In the late 90s Tokyo's westerly expansion slowed, and Ginza once again is on the upswing thanks to plenty of foreign luxury brands and domestic big-name department stores.
Ginza Today
Ginza isn't very large, but it's so concentrated, it's easiest to break it down into different zones. Numbered streets run NW to SE (1-chome, 2-chome, etc). Streets perpendicular to those are named. The famous Chuo-dori, which once had land value over $200k per square meter, is one example. Many buildings in Ginza are 10+ floors of only bars/clubs, all with the same street address, so be sure to pay attention to the floor number in the listing.
Yurakucho Station Area (Ginza 1-chome to 3-chome)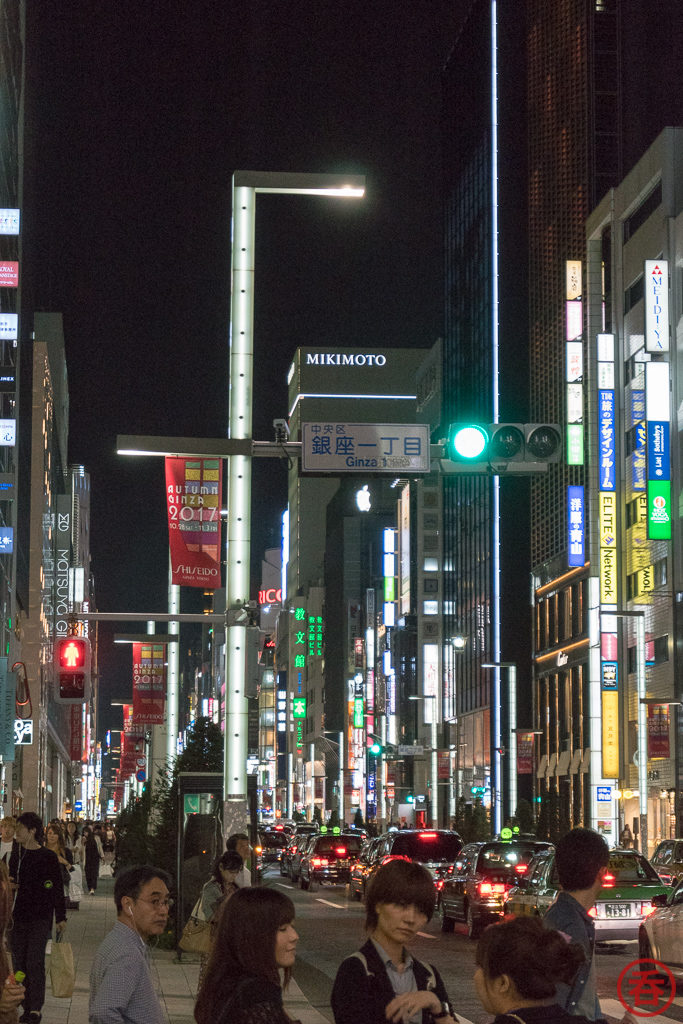 If you walk straight out of Yurakucho Station Central Exit and head for Ginza, this is the area you'll end up in. Marui, Marronier Gate, Kirarito Ginza, and Matsuya are all large department stores that you can use as a compass to navigate your way around. This area is mostly about fashion brand shopping: Chanel, Bottega Veneta, Bvlgari, Cartier, and countless others have their Ginza flagship stores in this area. Once you cross over Sotobori-dori things calm down considerably. Compared to other areas of Ginza, things probably feel sparse in terms of drinking options. However appearances can be deceiving! This area is the location of some big names like Star Bar Ginza, Sapphire, Evans, and Bar OPA. If you want to mix your brand shopping and drinking you can also check out the Il Bar at Bvlgari or The Aquarium Bar at Dunhill.
Ginza Station, Higashi-ginza Station Area (Ginza 4-chome & 5-chome)
Stretching along either side of Harumi-dori, headed away from the JR lines, are the 4-chome and 5-chome blocks. For many this is the bread and butter of Ginza. Mitsukoshi, originally opened in 1930, marks the iconic Ginza intersection of Harumi-dori and Chuo-dori. Another icon in this area is Ueno-san at Bar High Five, perhaps already on your list. While you're in the area be sure to check out Bar Four Seasons and Lupin.
If your travel budget is tighter, you can still get great cocktails. Another Ginza establishment in this area is the Three Hundred Bar, true to its namesake since opening in 1992.
Shimbashi Station Area (Ginza 6-chome to 8-chome)
In this part of Ginza, you may be closer to Shimbashi station than Ginza station. You'll find the highest concentration of bars here as well. There are way too many to list here, but famous names in this area include Rock Fish, Little Smith, Musashi, Bar Orchard Ginza, Y & M Kisling, Mimitsuka, and Bar Tender. It's this specific area that put Ginza's nightlife on the international scene in the Bubble Years of the late 80s/early 90s. The (mostly true) stories of Japanese salarymen dropping millions of yen at hostess bars originated right here. Including the one about bars using millennium-old ice from Antarctica to serve whisky on the rocks.
Japan's economy is unlikely to ever return to those levels, but even just walking the narrow streets you can get a sense of what it was like during those days. In fact, many of the bars/clubs in this area have continued operating; yesteryear's hostesses simply became today's mama-sans. Look up and you're guaranteed to see one of the many "Marugen" buildings in the area, with floor after floor of tiny bars and clubs that haven't changed in 30 years. These buildings are all owned by controversy-ridden Genshiro Kawamoto. Snacks, bars, clubs, aiseki izakaya, tachinomi, girls bars, bunny clubs, kyabakura, all genres are still here. For a lot of people working or drinking in this area, the Bubble never popped! There's a history of sophistication here that other night spots in Tokyo can't even touch.
That doesn't mean everyone is just re-living their prime years in sleepy bars. One of the most active streets in Tokyo's nightlife is the Ginza Corridor, stretching alongside the east side of the JR train tracks from Ginza 6-chome to 8-chome. The competition is so fierce that new restaurants and bars pop up and disappear on a weekly basis. If you're looking for a more youthful, energetic night, this is the place to be in Ginza.
Whiskey Richard's Favorite Bars in Ginza
STAR BAR GINZA
ADDRESS
Tokyo-to Chuo-ku Ginza 1-5-13 B1F
If you can only make it to one bar in Ginza 1-chome, make it the cozy Star Bar. Though it's quite pricey, it's one of the best places in Japan to see Japanese bartending craftsmanship on full display. Classic cocktails and single malts make up the majority of the menu. Star Bar is owned by Nippon Bartender Association chairman and Japanese bartending godfather Hisashi Kishi.