Sasanokawa Shuzo was issued Tohoku's first whisky-making license in 1946. It was recently reborn and refurbished in 2016 as the Asaka Distillery. Today we take a look at what to expect from this historical maker.
A
saka Distillery isn't completely new. Behind the distillery is a company called Sasanokawa Shuzo, who has been in the alcohol business since 1765. In 1946, they jumped into whisky production — or at least what "whisky production" meant in Japan in those days.
The company hit their stride in the 1980s with Cherry Whisky, relying heavily on imported Scotch whisky and molasses-based spirit. They were Tohoku's premier "Ji-whisky" producer at the time.
After that particular whisky boom was over, Sasanokawa Shuzo more or less called it quits on distilling their own whisky at the Yamazakura Distillery. They had plenty of stock maturing on-site as well.
Even though they weren't making their own whisky at the time, the company famously came to the rescue of Ichiro Akuto, who needed a place to store about 400 casks of Hanyu in 2004.
It seems that the approach of blending imported whisky and reselling it didn't quite sit well with company president Tetsuzo Yamaguchi. Four factors came together in 2015: 1) Yamaguchi-san feeling an obligation as an alcohol maker in Japan to make Japanese whisky, 2) the 250th anniversary of the company, 3) cooperation and encouragement from Akuto-san, and 4) increasing worldwide demand for Japanese whisky. The time had come for Sasanokawa Shuzo to finally make their own bonafide Japanese malt whisky distillery.
The company wasn't exactly swimming in cash though. To reduce the financial burden, they took a few shortcuts like converting a sake storage warehouse into a distillery, and using a sake fermentation tank as a washback. All said, the only equipment purchased new were their pot stills and mash tun. In 2016, it officially launched as the Asaka Distillery.
World Blended Whiskies – Yamazakura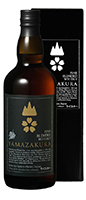 Blended Whisky Yamazakura Black Label 
Yamazakura Black Label uses both imported malt and grain whiskies. It's designed to be mild and easy to drink. 40% abv.

Pure Malt Yamazakura
Pure Malt Yamazakura is a blend of only malt whiskies aged 5 years or more. The blend consists of standard American oak-aged malt, sherry cask aged malt, and peated malts. 48% abv.

Cherry Whisky EX
Cherry Whisky EX is the company's "Ji-whisky," basically their local whisky that's designed to be affordable and decent enough to drink. YMMV. 40% abv.
Japanese Single Malt Whiskies

Asaka The First
This is the first bonafide Japanese single malt whisky out of the Asaka Distillery. At only 1500 bottles it's a pretty limited release. 50% abv.
The Asaka Distillery is located in Fukushima prefecture's Koriyama.
The company specifically looked to local makers of brewing equipment when furnishing the distillery. This is because the local companies are used to dealing with Tohoku's harsh winters, making year-round maintenance easier.
Tohoku is known for hot summers and cold winters. Big temperature swings like this can respectively draw more whisky into, then push it out of the wood. It's expected that this will bring significantly more cask influence to Asaka's whiskies when compared to those of similar age at other distilleries in Japan.
While Sasanokawa Shuzo has been making sake for over two centuries and selling whisky since post-WW2, it's only in 2015 that they really got serious about distilling Japanese malt whisky. The Asaka Distillery began operation in 2016.
Their first single malt whisky, Asaka The First, landed in December 2019.
Other new whisky distilleries in Japan are often well funded as an "all-in" project for the companies behind them. But Sasanokawa's more bootstrap approach at Asaka Distillery is something of an outlier. It's still far too early to tell how this will impact the aroma and flavors of the final product, if at all.
Asaka's relationship with Ichiro Akuto-san and the Chichibu Distillery runs quite deep, including sending staff down to Saitama for training. It's likely that this "Chichibu influence" will become more obvious in future releases.
-Mash tun: 1700L
-Washbacks: 5x Douglas fir
-Wash still: Miyake, 2000L, indirect heating
-Spirit still: Miyake, 1000L, indirect heating
-Warehouse: 1x? rack type
-Output: 40KL per annum
The Asaka Distillery doesn't host tours, but they do field requests for visits. Your best bet is to contact them directly.
Images from Asaka Distillery's Facebook Page
REFERENCES & Further reading
http://www.sasanokawa.co.jp/index.html
https://www.facebook.com/笹の川酒造-安積蒸留所-1608451106144752/
Suwabe, Shinichi. ジャパニーズウイスキーで世界に挑む 新世代蒸留所からの挑戦状 [Taking on the World with Japanese Whisky. Challenge from New-Generation Distilleries]. Recipbook, 2019.
Eycken, Stefan van. Whisky Rising: The Definitive Guide to the Finest Whiskies and Distilleries of Japan. Cider Mill Press Book Publishers LLC, 2017.