Introduction
Chances are, if you're visiting Tokyo as a tourist, Asakusa is already on your itinerary. If you live here, you've probably already been to the Sanja Matsuri. Senso-ji Temple is the oldest temple in Tokyo, it's huge, and it's a tourist trap. Asakusa ranks #5 on TripAdvisor's list of things to do in Tokyo, and Senso-ji is #6 (right above Tokyo Metro at #7).
So I don't need to convince you to come here! You're already coming anyway.
Like Ueno which lies slightly to the west, Asakusa is considered shitamachi ("low town"), which refers to a working-class neighborhood. This means there are plenty of places to drink. In fact, Asakusa is the location of the first Western-style bar in Tokyo, Kamiya Bar, which opened way back in 1880. That's two years before Tokyo got its first electric lamp post in Ginza. It's good to know 19th century Tokyoites had their priorities straight!
History of Asakusa
Asakusa has a rich and colorful history far too involved to fully describe here. Geographically, Asakusa sat on a bit of a plateau compared to the surroundings, making it a favorable place for a town since ancient times. Like ancient Rome, the founding story of Asakusa involves a river: the Sumida River. Two fishermen brothers named Hinokuma reportedly discovered a Kannon Buddha statue in their fishing net. After some help from one Hajino Nakatomo, the two converted to Buddhism (from Shinto) and established Senso-ji in 628.
The first recorded mention of "Asakusa" appears in the 1181 chapter of the Azuma Kagami historical chronicle, penned in 1266. Not only did it serve as an active docklands for Sumida River, beginning in the 17th century, Asakusa/Kuramae was the designated location of rice stores for samurai that worked at the Imperial Palace (Edo Castle, in those days).
Rather than actually receiving rice though, many samurai opted to instead receive certificates for rice, with the rice brokers taking a cut. Those rice brokers then turned and sold the equivalent amount of rice to a retailer, again taking a fee. Rice brokers would also make loans, with interest. This was essentially the birth of banking in Japan. These rice brokers understandably got quite rich, so Asakusa rapidly became a place where people could throw some money (or rice) around to have a good time. Cue the onslaught of entertainment options like theatre, plays, geisha, restaurants, stripclubs, and of course brothels. Asakusa's "Yoshiwara" area was essentially the government-sanctioned red light district in Tokyo well up into the 19th century. These days it remains famous for soapland joints.
Jumping forward to pre-war 20th century, Asakusa was the first subway station to open in Asia, in 1927. Although the area was devastated by war like the rest of Tokyo, things picked again up rapidly with the opening of a seafood market in Sensoku and recovery of local infrastructure. During the Showa era things took a downturn around the late 60s, but began recovering in the 70s and 80s with the introduction of the Sumidagawa Fireworks Festival, easy access to Haneda and Narita airports, and high concentration of bars, izakaya, and restaurants.
Asakusa Today
There are actually three different train/subway stations at Asakusa, so it's easy to get confused. Normally when people say "Asakusa station" they are referring to the Toei Asakusa/Ginza line. NOT the Tsukuba Express Asakusa station, or Tobu Asakusa station.
Senso-ji retains its dominating presence in Asakusa. It's pretty impossible to miss the massive lantern at the Kaminarimon, which funnels you directly into the temple grounds and of course past all of the shops selling all kinds of souvenirs and quick snacks. Just north of the temple lies Hanayashiki, Japan's oldest and probably rustiest amusement park. North of that is the Kannon-ura area, home to many of Tokyo's oldest restaurants, and north of that lies the aforementioned Yoshiwara. Just west of the temple is Hoppy Yokocho, with its string of tourist-friendly budget izakaya.
Getting back to the area surrounding Toei Asakusa station. At that main intersection above the station, keep an eye out for the Kamiya Bar, which claims to be Tokyo's first Western-style cocktail bar. They opened in April 1880! This is the birthplace of Denki Bran, one of Japan's first attempts at making Western-style liquor. Whether they were successful or not is up to you, but keep in mind that in those days, Western liquor was mostly considered to be for medicinal purposes only. The actual recipe remains a secret to this day, but it's certainly heavy on brandy.
Under you is the Asakusa Chika Shotengai, Japan's oldest underground shopping arcade. Plenty of places to drink down there too.
But if you look up you'll certainly see one of the newer features of Tokyo's skyline, Tokyo SkyTree. Just before that, on the other side of the Sumida River, you may be wondering why there's a golden turd. That's the Philippe Starck-designed Asahi Beer Hall, part of Asahi Brewery's headquarters. It's supposed to be a golden flame.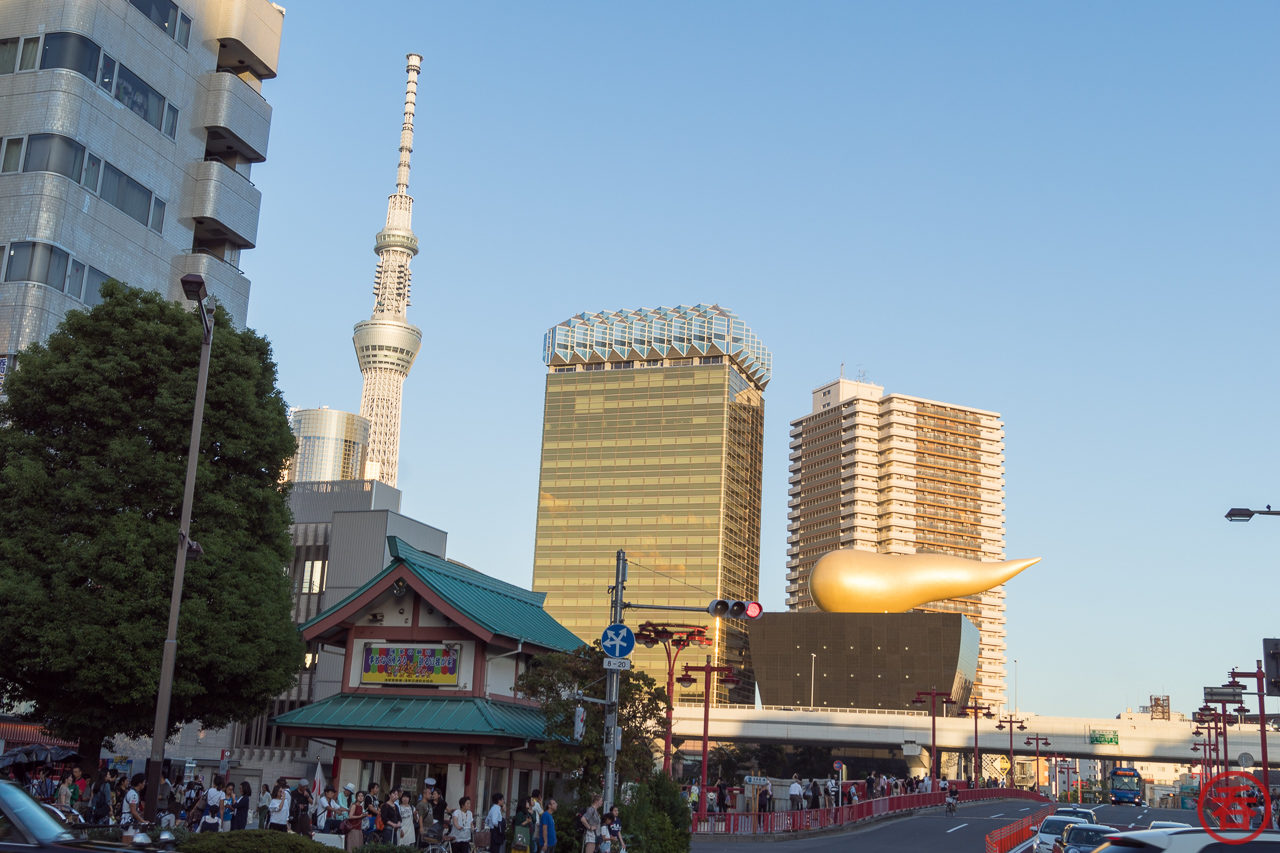 As you can probably tell by now, Asakusa has been an integral to the development of Tokyo's nightlife over the last several centuries. It's certainly not one of Tokyo's trendy or glitzy neighborhoods, but it's a great place to get a feel for how Tokyo's drinking scene has evolved over hundreds of years.
Whiskey Richard's Favorite Bars in Asakusa
KAMIYA BAR
ADDRESS
Tokyo-to Taito-ku Asakusa 1-1-1 1F
Kamiya Bar opened in April of 1880, allegedly Tokyo's first Western-style bar. I say allegedly since I find it somewhat hard to believe that there were really 20 years between Japan's first Western-style bar (in Yokohama, 1860) and Tokyo's first Western-style bar. Yokohama really isn't even that far from Tokyo.
Whether you dispute that Tokyo-first claim or not, there's no disputing that Kamiya Bar is a legendary in Asakusa. It's nearly 140 years old! Originally named "Mikahaya Sake Shop," the name switched to the current Kamiya Bar back in 1912. The current building dates back to 1921.
It's also the birthplace of Denki Bran, one of Japan's first attempts at making Western-style liquor. Denki Bran a blend of brandy (thus the "Bran"), gin, curacao, and wine. At 30% abv, it's quite strong! But also very affordable at 270 yen per serving. Kamiya Bar suggest you drink it alongside a beer.
The bar is set up quite differently from most bars in Japan. When you walk in, purchase tickets at the counter. There's a large display case with wax models of food/drinks, so even if you can't handle the Japanese, you can just point. No cover charge either.
Take your tickets and find an open table; wait staff will be around to pick them up, and later deliver your food/drinks. Further items can be purchased directly from wait staff, but it's cash-on. Considering the history and how you can have a few drinks for just the change in your pocket, don't miss this one.
DAIMASU SAKE BAR KAMINARIMON
ADDRESS
Tokyo-to Taito-ku Asakusa 1-2-8 1F
Part sake bar and part sake shop, Asakusa's Daimasu gives you the best of both worlds. If you want to treat this like a regular izakaya, order sake by the 90ml glass or 180ml ichi-go at a time — there are over 100 different varieties. Flights of 3 45ml glasses are also available from 1100 yen. And that's just the regular stock.
But if you have a larger group or just want to drink more, head over to the sake shop and buy a bottle! 4-go bottles have a corkage charge of only 500 yen, or 1500 yen for the 1-sho bottles. Depending on how much you're drinking, this makes buying the whole bottle more economical for your group. The staff will even get you a cold bottle from their stock.
ASAKUSA STAND
ADDRESS
Tokyo-to Taito-ku Asakusa 1-18-8 1F
It's not much larger than a closet, but this is a nice standing bar only a stone's throw away from the main tourist thoroughfare at Senso-ji. No cover charge and very affordable drinks with a friendly crowd and atmosphere. You can even order your drinks to go!
ASAKUSA SAMBOA
ADDRESS
Tokyo-to Taito-ku Asakusa 1-16-8 1F
Asakusa's Samboa Bar is the Asakusa branch of the Samboa Bar, originally established in Kobe in 1918. Like its predecessors, the Asakusa version is famous for coming up with the Samboa Highball, using only Suntory Kakubin from the freezer and chilled Wilkinson soda.
Just cold whisky and soda, no ice… sound familiar? If you're thinking they stole the idea from Rock Fish Ginza, think again. It's more like the opposite. The founder of Rock Fish, Maguchi-san, picked up the recipe when he did his stint at Samboa in Osaka.
The Asakusa Samboa Bar has also earned a reputation as a whisky bar in its own right, so have a look at the back bar to get an idea of what's available. If not, ask — there's no menu here. This isn't quite a bar for amateurs since you'll at least need to know how to order.
Also worth noting that Asakusa Samboa opens at 2PM everyday! Feel free to stop by after lunch.
HUB ASAKUSA
ADDRESS
Tokyo-to Taito-ku Asakusa 1-12-2 1F
The Hub Asakusa is quite different from most other Hubs because of one thing: live jazz. This can be quite jarring if you show up expecting the regular British Pub experience. But if you're looking for a fun place to enjoy some quick drinks while listening to some live New Orleans style swing jazz, you've come to the right place.
Like many jazz clubs, there's a cover charge of 1000-3000 yen per person depending on the performance. However as of September 2017, after the second performance of the night is over (9:10PM weekdays/weekends, 8:10PM Sundays/holidays), there's no cover charge at all.
The drink and food menu remains mostly the same as other Hubs, despite a slight premium per drink (think +100 yen). Some other notable exceptions about the drink menu are: 1) there are more Bourbon-based drinks and 2) you can get bottle service as well.