Around 8500 whisky drinkers descended upon Takadanobaba's BelleSalle event hall on the weekend of November 16, 2019. I was one of them. The event, of course, is one of Japan's biggest for whisky: Whisky Festival in Tokyo.
To be honest, from where I sit, 2019 has been a pretty calm year for Japanese whisky. Sure, there have been a couple interesting products/bottles, Chichibu Distillery hit the 10-year mark, a few new distilleries were announced, the first TWSC happened, and there might now be glimmer of hope that the term "Japanese whisky" will one day actually mean something.
But overall, Japanese whisky makers, both big and small, seem to be keeping their noses to their respective grindstones. They have appeared less concerned with 2019 and more with 2020 and beyond. On the bright side, there wasn't quite as much doom and gloom this year compared to 2018.
Bearing that in mind, I was pleased by the turnout of Japanese whisky of this year's Whisky Festival in Tokyo. We had a newcomer (Yuza Distillery), a couple surprises from more established players like Chichibu and Mars, and Suntory somehow managed to swing a selection of their classics — quite a rarity these days! Let's take a look at some of the show's highlights for me.
Suntory
One of the first things I noticed when walking in was a big line. Normally I would expect this for a Chichibu single cask bottling but, as it turns out, it was for the Suntory booth. In addition to the two new Essence of Suntory vol. 3 bottles, they had Hakushu 18, Yamazaki 12, Yamazaki 18, Hibiki 21, and Hibiki Blender's Choice. Those samples were all available for the same prices you see at the distilleries — a few hundred yen for a 15ml sample. That explains the line! Good effort by Suntory this year.
Yuza Distillery
Yuza only began distilling about a year ago, so it's great to see them at this year's festival for the first time. They had three sample newborns, all non-peated: new pot @ 63.5% abv, 7-month ex-Wild Turkey barrel 46% abv, and a 5-month ex-Jack Daniels barrel 46% abv. Looking forward to trying more in the years to come!
Shizuoka Distillery
Full disclosure, after trying their whisky at last year's Whisky Festival, I now have a small cask currently maturing at the Shizuoka Distillery. So good to check in when I can. This year they again had the peated/unpeated and ex-Karuizawa still/coal-fired still permutations available.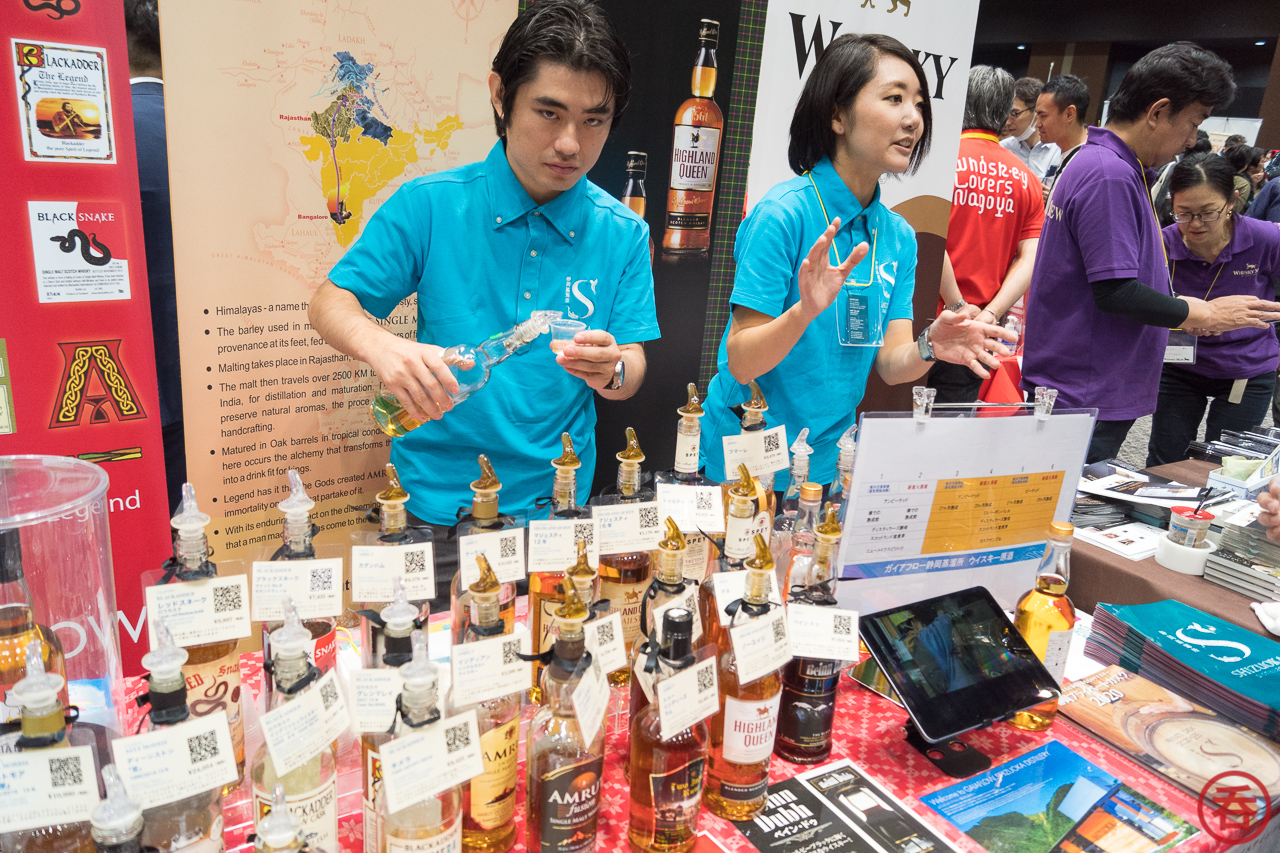 Mars Whisky
Two surprises from Mars: Single Malt Komagatake Tsunuki Aging 2019 edition, due out next month. Speaking of Tsunuki, the booth rep confirmed that the first single malt whisky out of the distillery is due shortly before Golden Week 2020!
The other surprise wasn't a whisky at all. No it's an absinthe! MARS absinthe "Mont Cerf" was made in collaboration with Bar BenFiddich's Kayama-san. Weighing in at 63%, it features wormwood from Kayama-san's personal herb garden. Unfiltered, giving it a definite anise/mint/wormwood kick.
And the lottery for the bottle I was talking about! As luck would have it, I won (the right to purchase) a bottle. So I will hopefully be getting a review up soon. It turns the lottery went very smoothly, and people were still winning bottles when I left quite late in the day.
Akkeshi Distillery, Kanosuke Distillery
Akkeshi is due to release their first single malt whisky, dubbed "sarorunkamuy," on February 27, 2020. Some empty bottles were on hand, just for display purposes. The 5000 yen pricing for 200ml of a 3 year Japanese single malt whisky is somewhat controversial, but certainly, some people are willing to pay for it. Are you?
Akkeshi had the entire Foundations series available for sampling as well.
Over at Kanosuke, I made a point of trying the 2019 edition of Kanosuke New Born. Quite dry and bold, it's definitely a departure from the mellowness we saw in the 2018 edition.
Nagahama Distillery
Highlights from Nagahama included three single casks: a 23-month wine cask, 2.5 year bourbon barrel, and a 23-month Laphroaig heavily peated quarter cask. There was also 11 month bourbon/20 month sherry cask, bottled mere days before the festival! The full Amahagan lineup as well.
Chichibu Distillery
The talk of the show upon my arrival Sunday seemed to be how everyone missed out on the surprise Saturday sale by ePower of a 7-year Chichibu Bourbon Barrel single cask. Supposedly! ePower was asked not to sell it on Sunday to avoid problems. Makes sense to me!
Over at the Chichibu booth itself we had two notable cask samples: 9-year Olorosso hogshead and a 7-year second fill ex-Bourbon/Scotch barrel. I'm hoping that with the opening of their second distillery this year, Chichibu becomes more accessible for whisky fans. At the moment it's by far the most sought-after Japanese craft whisky, meaning single cask bottles like these are scooped up instantly.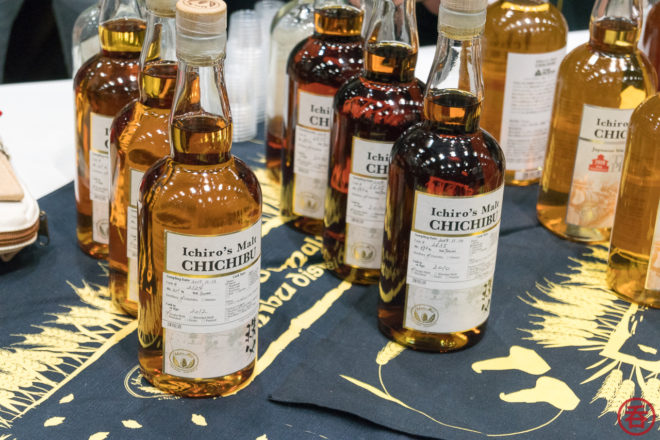 Now, I don't know about the rest of you, but no Whisky Festival in Tokyo is complete without whisky cocktails, bagpipes, and Glenfarclas! Enjoy the rest of the pics, and I look forward to seeing you again next year — Tsuchiya-san has already announced they've reserved the same venue for 2020!