The Tokyo International BarShow + Whisky Expo Japan 2017 took place on May 13-14 at Tokyo Dome Prism Hall. While many make the pilgrimage to Tokyo Dome for the whisky, the focus of this year's show was, without a doubt, Japan's emerging gin industry. 2017 should go down in history as the year Japanese gin really became a thing, given we are seeing Nikka, Mars, and Beam Suntory all taking cues from last year's stunning launch of Kyoto Distillery's Ki No Bi. But of course there were also some surprises. Click on for the event report!

Imagine yourself as a Japanese whisky maker. The world is going apeshit about your product and you simply cannot keep up with demand. Your barrels are full, and you're secretly researching how to accelerate maturation. You've even gone as far as removing age statements from your whisky, yet they keep on coming back for more. You distill and distill, but it's never enough. What do you do?
The answer to that question, it seems, is make gin. As a white spirit, gin doesn't — in fact shouldn't be — aged like a whisky or a brandy. Gin has been on the rise of late: specifically there's been a lot of attention given to premium gins such as Berry Bros. & Rudd No.3 in addition to craft gins like those from the City of London Distillery. Japan has taken notice of this trend and is trying to leverage the country's success in whisky to establish itself as a force in the gin industry. Will they be successful? From what I saw (and tasted) at this year's BarShow, signs are pointing to yes.
So it should be obvious why my first order of business at the Tokyo BarShow was to get in line for the BarShow-only bottling of Kyoto Distillery's Ki No Bi "Navy Strength."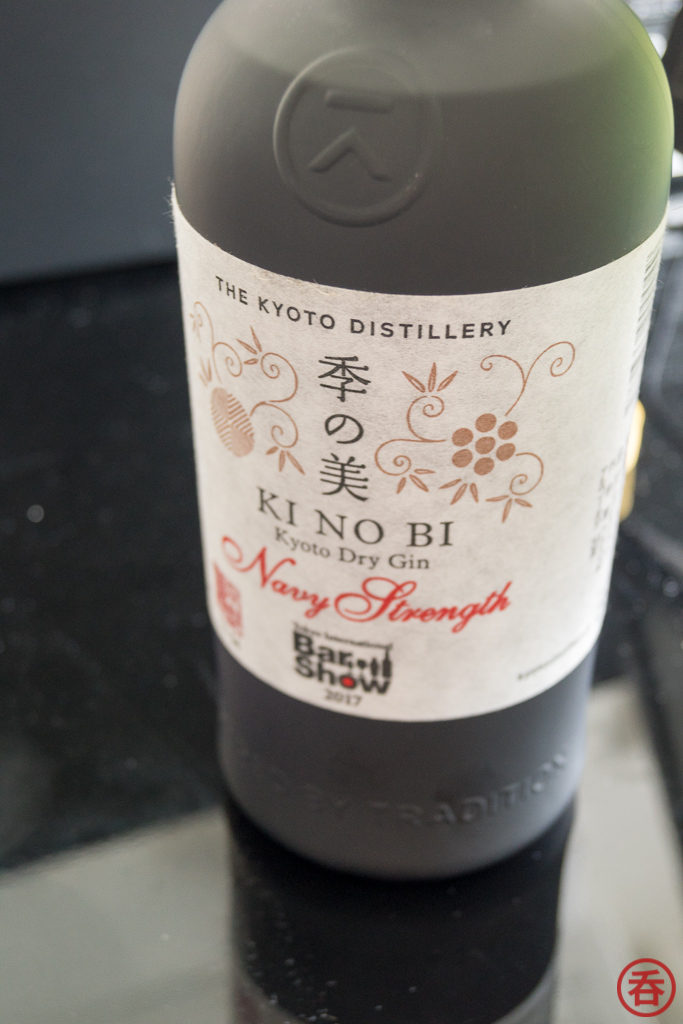 The BarShow bottlings have traditionally been whisky and this year was no exception. This is the star, the 2000 vintage Karuizawa. It was selling for a cool 156,000 yen, but that didn't prevent it from selling out within minutes. I hear people were lining up from 6AM for this one — the BarShow doesn't open until 11AM. I also heard someone mention they flew in from China solely to pick up this bottle. Whisky speculation at its finest!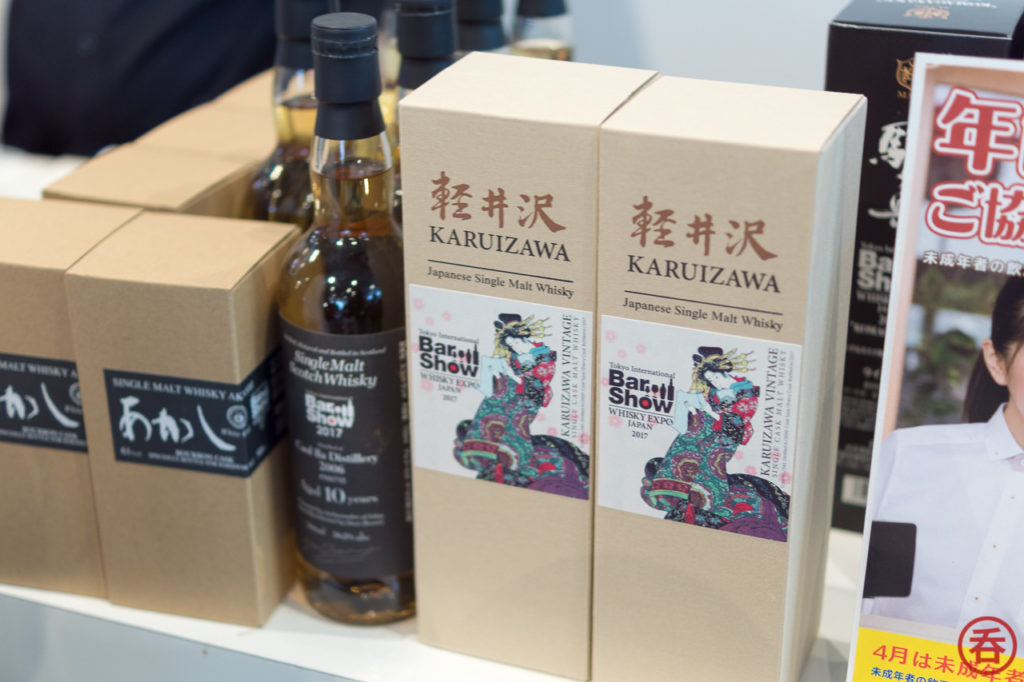 This 2012 vintage Ichiro's Malt CHICHIBU was aged in a red wine cask. Of course also very popular and more accessible at 18,000 yen.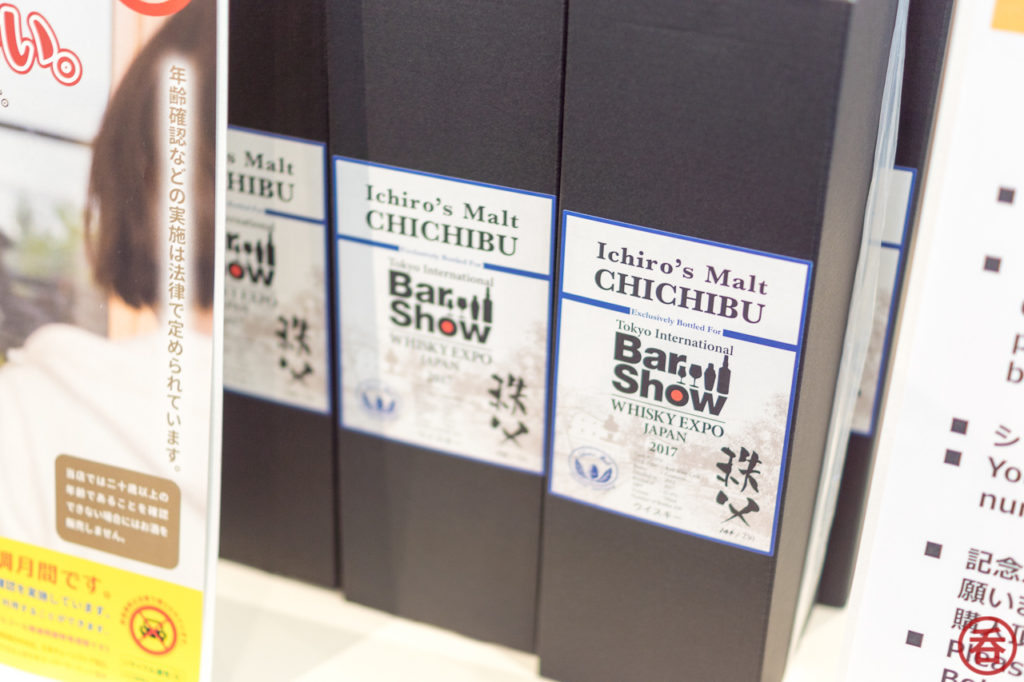 The BarShow is basically a liquor trade show, where importers and producers set up booths to appeal to bartenders and liquor shops. That's not to say consumers are not invited — the event is absolutely open to the public. There's not even any industry/press-only day like you may have at other trade shows. Nobody is getting 86'd here, once you get in, you're completely free to sample to your heart (or liver's) content. Definitely stay hydrated!
Brands utilize all of the resources at their disposal to get your attention at the show. This means:
Booths are usually staffed by brand ambassadors and/or professionals directly involved in the creation of the product. You may even find that the person you're speaking with is the owner of the company. So go ahead and ask the most spergy technical questions you can think of!
The BarShow is mostly aimed at bartenders, so many booths will have bartenders mixing drinks on the spot that showcase the product well. In fact one of the highlights of any visit to the BarShow is getting to drink cocktails mixed by some of the best bartenders in the industry.
Apart from the samples, there are often freebies handed out at the booths. Some of it may just be marketing tsotchkes but sometimes you get lucky. This year I scored a mini-bottle of Tumugi.
Everything you see at the booth can be sampled, usually any way you want. If you want to compare the 12 year and the 18 year, for example, just ask for both.
With the limited edition Ki No Bi now in my possession, I then moved on to start enjoying the show. Or so I thought!
---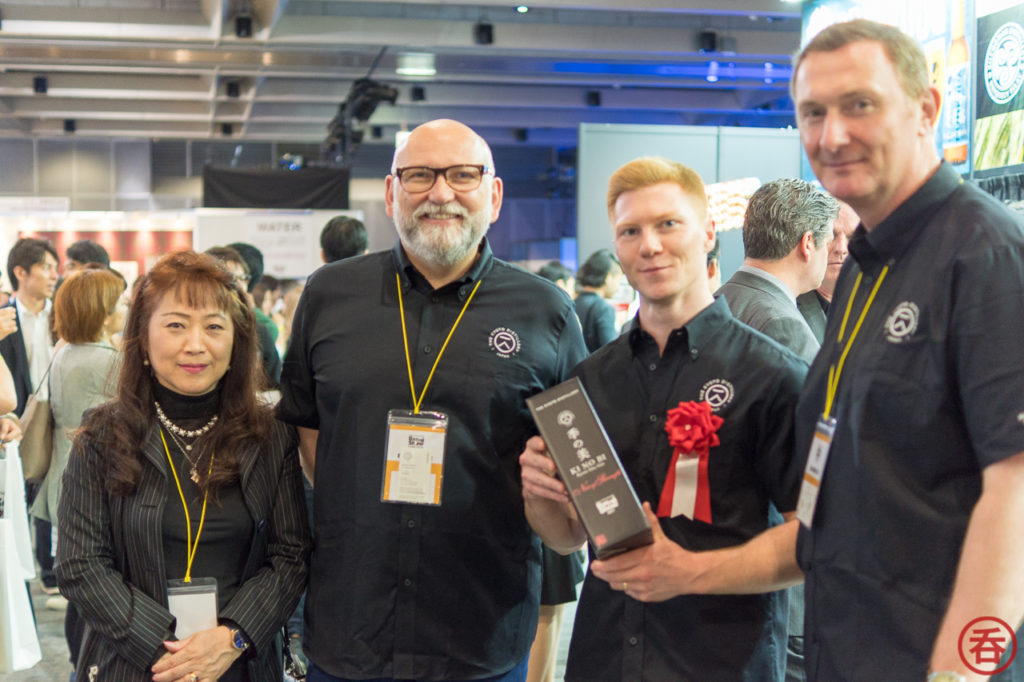 OK, with that out of the way. The next thing on my mind: I need to try the new gins from Nikka and Beam Suntory. Let's jump right in.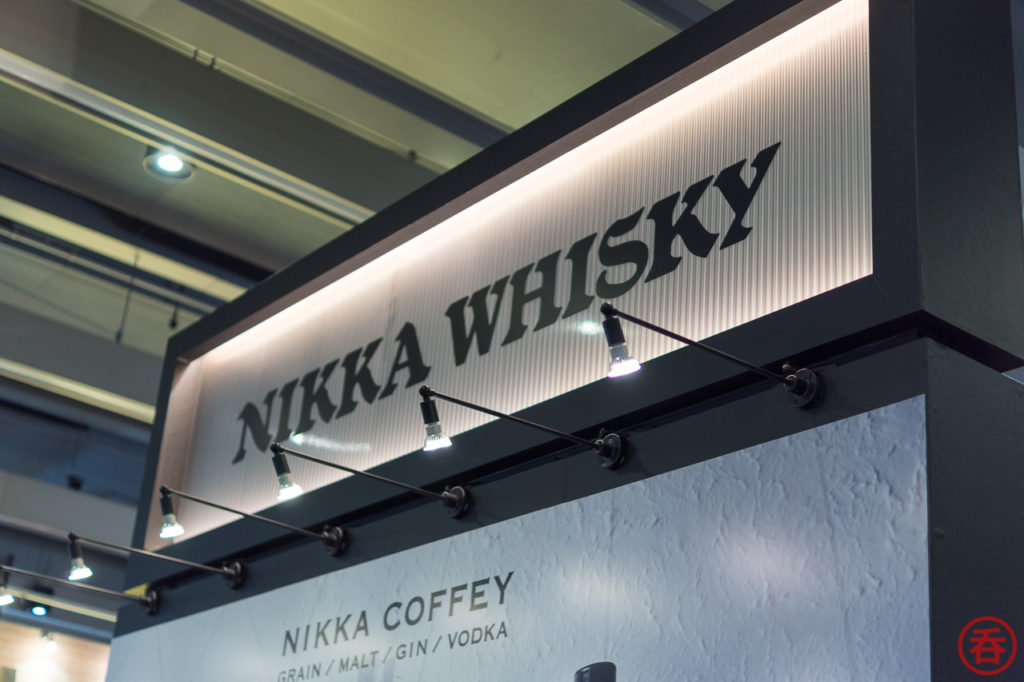 This is what I'm looking for: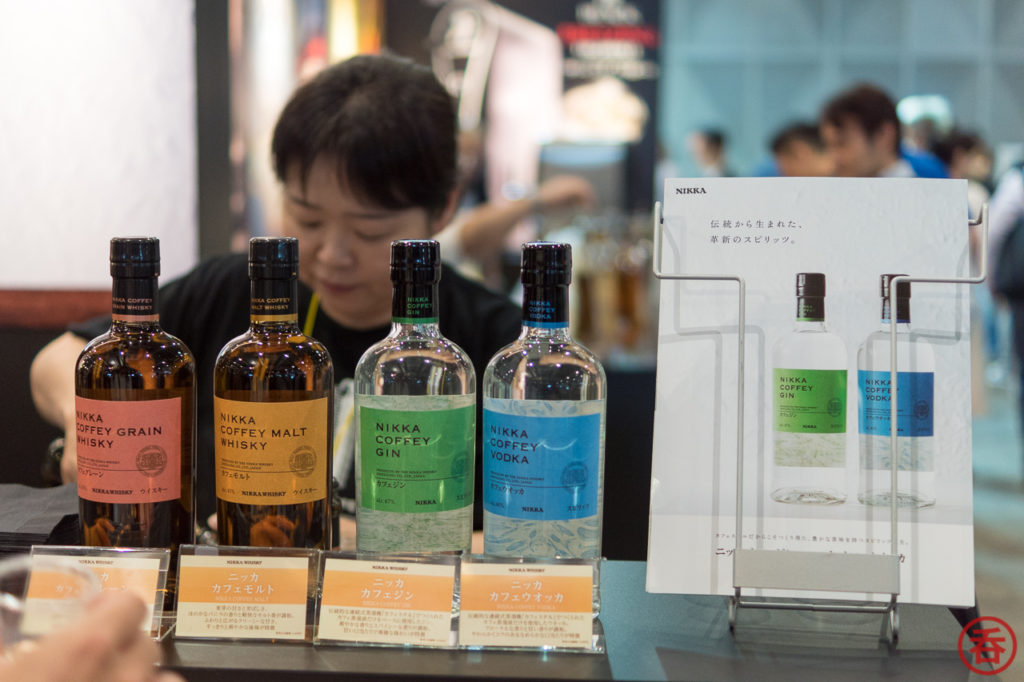 Nikka is following up their highly celebrated Coffey Grain and Coffey Malt whiskies with Nikka Coffey Gin and Nikka Coffey Vodka. Although Nikka already does offer both gin and vodka through the Wilkinson brand, this is their first attempt at a craft gin and craft vodka.
The "Coffey" in the name comes from Aeneas Coffey, 19th century grand-daddy of the column still whose company still operates today. Nikka is using their Coffey Stills to produce both this new gin and vodka. I briefly touched on the history of Nikka as part of distillery visit to Yoichi, but looking over the marketing materials (that pamphlet in the above picture), Nikka has provided some additional background. By 1962 Nikka was already a well-established whisky brand. The company's founder, Masataka Taketsuru, made a point of going to Glasgow himself to get a Coffey Still. It seems that in 1962 Coffey Still were consider super old-fashioned, so perhaps he got a good price. Nikka's Coffey Still began running in 1964 at the company's Nishimiya factory, and was moved to the Miyagikyo Distillery in 1999.
Let's touch on the vodka first. Nikka distills malt and corn mash separately, blends them, adds water, then runs it through a Silver Birch charcoal filtration. That last point is interesting — it seems that Japanese law specifies that vodka produced in Japan must go through a Silver Birch filtration. The result is a vodka that's 40% abv but frankly if you told me it was 25% I wouldn't be surprised. It's super smooth and at the BarShow was being mixed for a Balalaika (if I remember correctly).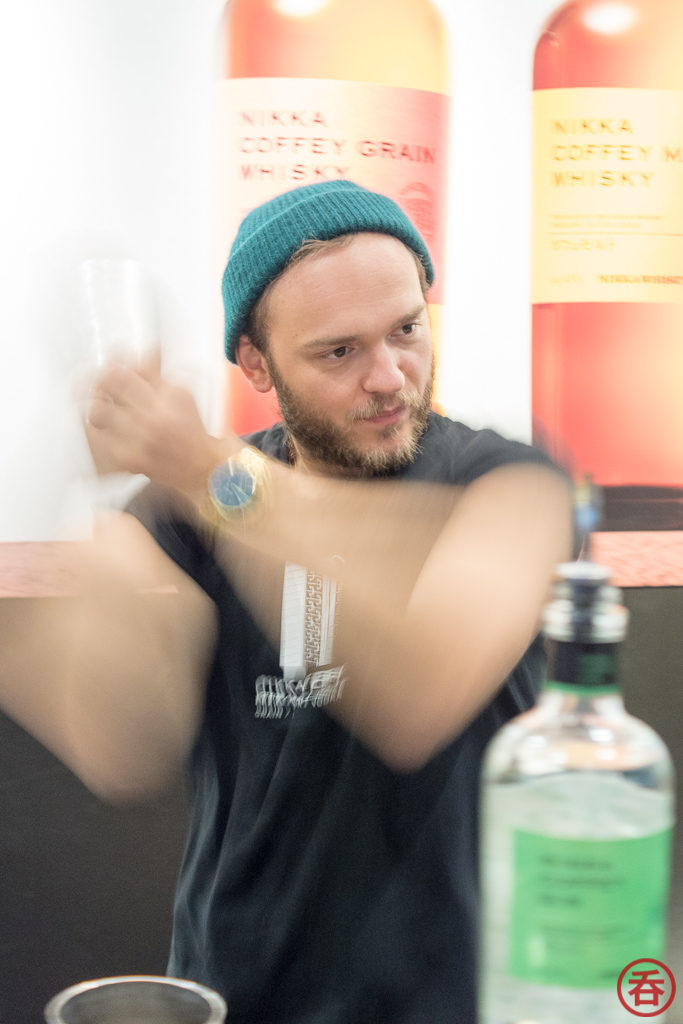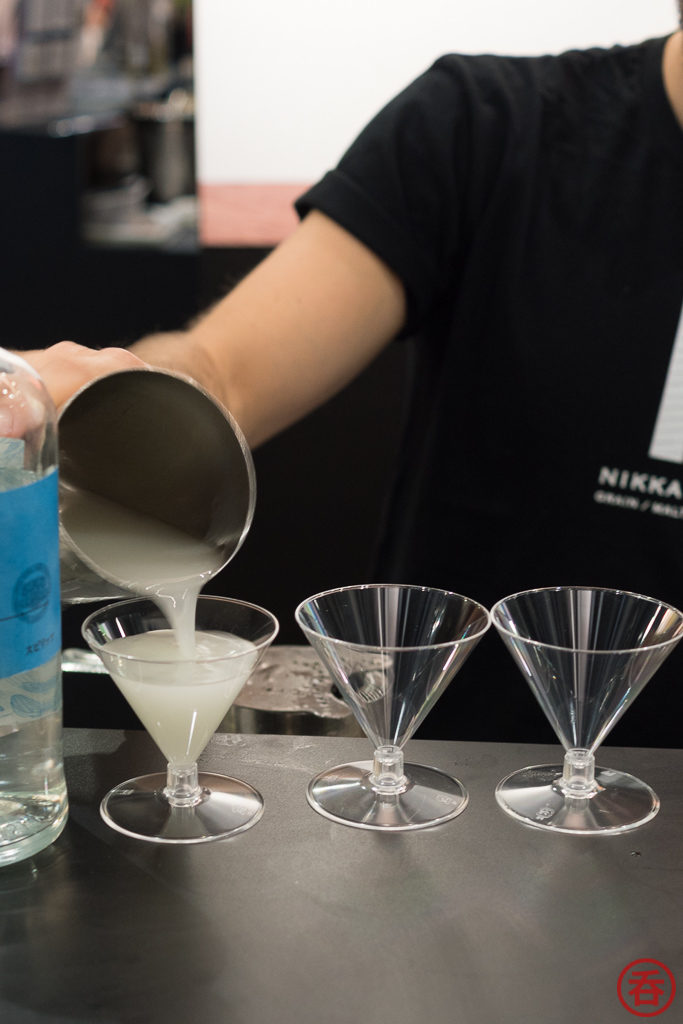 Moving on to the gin. Here we have a significantly more complicated manufacturing process. Nikka does separate distillations of the malt and the corn mashes just as they do for the vodka, but prior to mixing those, they are doing three more distillations: 1) create sansho pepper distillate by infusing sansho pepper with corn distillate, 2) create yuzu/Japanese citrus and apple distillate by infusing with corn distillate, and 3) create juniper/other botanical distillate also using the corn distillate. So I count five distillations altogether! After mixing all of those together it's watered down to 47% abv, then filtered.
That must be a shitload of work but it's worth it. The sansho pepper and yuzu really stand out in this gin, since they've been distilled separately from all of the other botanicals. I've already opened up a space on my shelf for it. Look for both the Nikka Coffey Gin and Coffey Vodka to go on sale in Japan on June 27th for MSRP 4500 yen. No word of an international release for either of these yet, but you can be damn sure importers worldwide will be trying to get their hands on these once they're released.
Suntory isn't just going to let Nikka have all the fun. Check this out!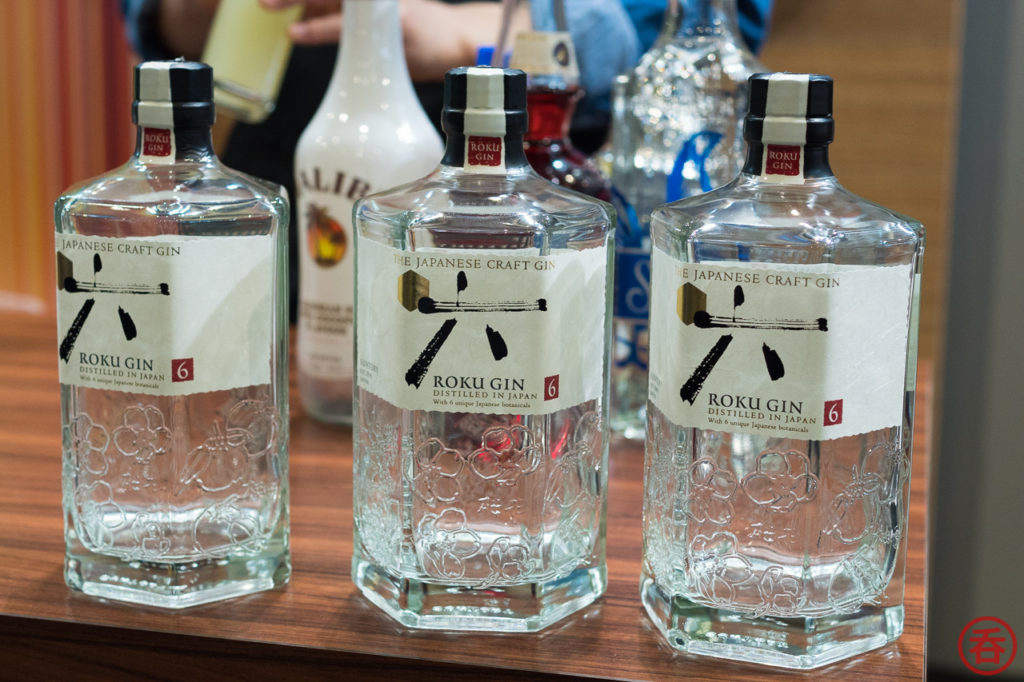 Pictured there is something that Beam Suntory has been quietly working on. Although there weren't any specifics available about when or where this one will go on sale outside Japan, Beam Suntory is completely open about the fact that it's been blended for the international market. Here in Japan it goes on sale on July 4 for MSRP 4000 yen.
Beam Suntory isn't being tight-lipped about the six Japanese botanicals they're using here:
Japanese cherry blossoms
Japanese cherry leaves
Sencha (green tea)
Gyokuro (a different kind of green tea)
Sansho pepper
Yuzu
Those are of course combined with more traditional gin botanicals like angelica seed, orange peel, and of course juniper.
Ki No Bi set the trend for using sansho pepper, yuzu, and green tea, but as far as I know this is the first craft gin using cherry blossoms. Don't ask me how the hell Suntory swung that, given they only bloom for about a week each year. That's what hanami is about, after all. And since it's a distilled liquor, there must be at least a tree's worth of cherry blossoms in every bottle! Pretty gnarly, to say the least.
The Beam Suntory offering is a more traditional London Dry-style gin, so don't expect to be blasted by cherry blossoms every time you open the bottle. It makes only a brief appearance on the nose, but is pretty quickly overtaken by the sansho pepper and yuzu. It can be tough to pick out at times but once you get through the juniper, you do get some hints of green tea, cherry blossom, and sansho at the tail. The sansho doesn't quite have the same impact as it does in the Nikka offering, though, likely due to Suntory's (presumably) more standard distillation process.
While we're on the subject of gin, we may as well stay here. Up next: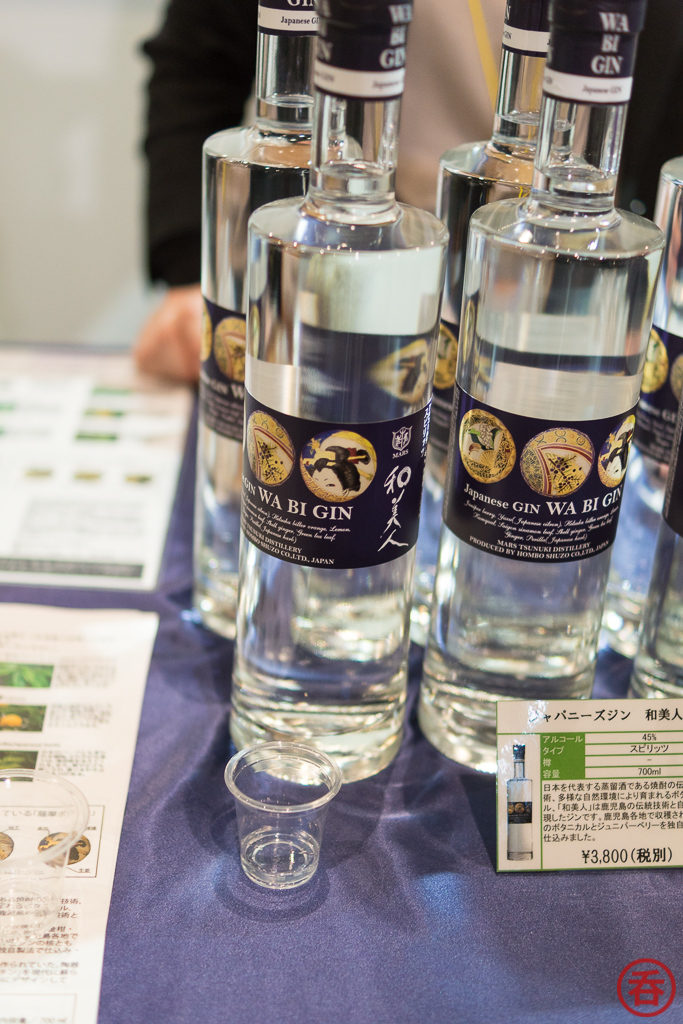 Hombo Shuzou has a history in shōchū going back to 1872. These days however they are probably best known for their Mars Whisky brand, distilled at the Mars Shinshu Distillery in Nagano Prefecture. Needless to say they know a thing or two about distillation. And they've decided to make a gin! This is an evolution of their successful koji-based spirit Ko-On.
This is being distilled at their Mars Tsunuki Distillery, the southernmost distillery in Japan. The company is based in Kagoshima Prefecture, and this shōchū-based gin is a testament their lengthy presence in the region. Here we have nine Japanese botanicals:
Kumquat
Yuzu
Green tea leaf
Lemon
Hetsuka bitter orange
Saigon cinnamon leaf
Shell ginger
Shiso
Ginger
All of these botanicals are sourced within Kagoshima Prefecture. It will be interesting to see where Mars Whisky goes with this. I believe they only shipped about 1000 bottles of Ko-On last year, so if you're on a mission to collect every Japanese gin, you best get your hands on this first.
Overall, it's wonderful to see Japan trying its hand at gin as well. One of the main criticisms I've seen lodged against Japanese whisky is that it lacks the character or depth of scotch. Ordinarily most people don't really look for "character" in gin — it's entirely unaged so instead you're after a specific flavor profile created by a blend of botanicals. With so many unique flavors and potential ingredients indigenous to Japan, I fully expect to see more experimentation and craft gins coming soon.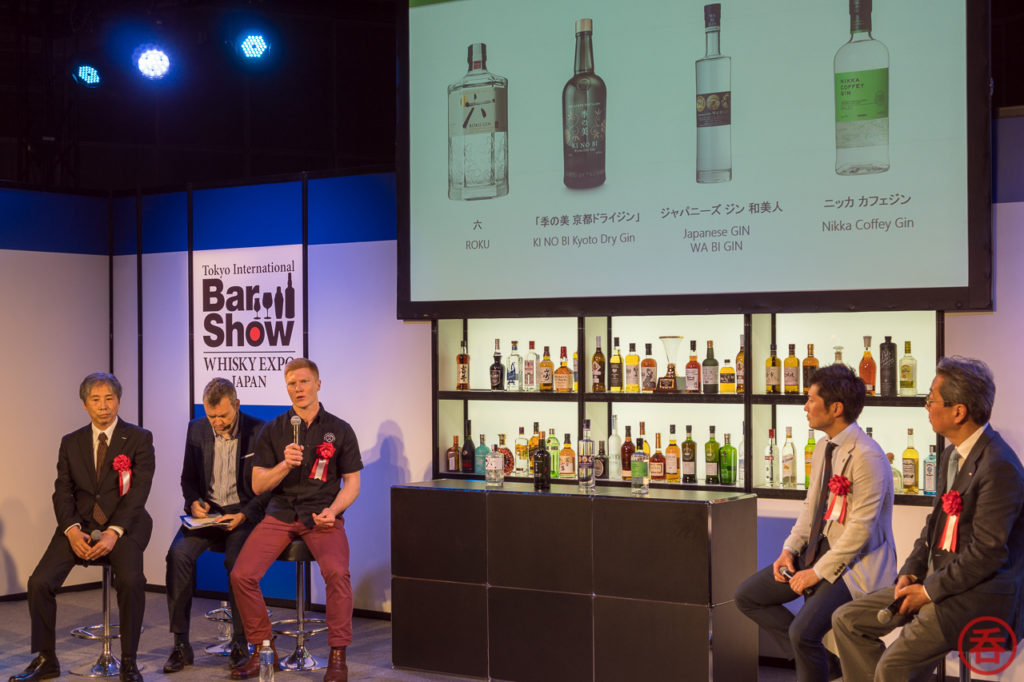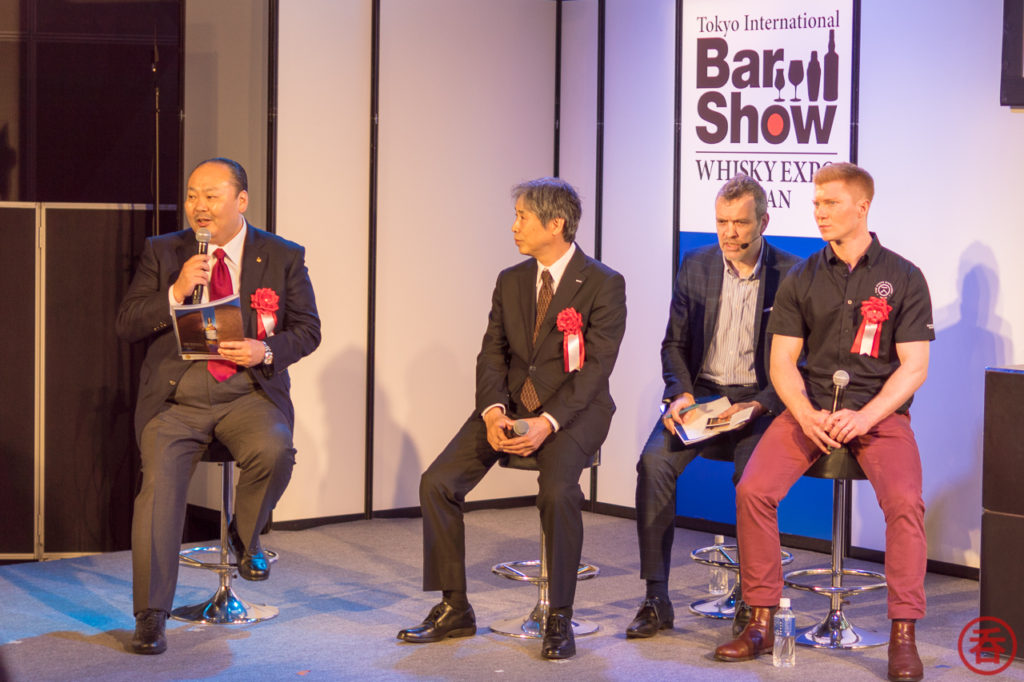 ---
Wapirits Tumugi is the name of shōchū goliath iichiko's venture into the international bar scene. They stopped just short of calling it a gin. Instead it's a buckwheat-based spirit flavored with botanicals. Koji is used for fermentation of the mash. The mountains in the Usa, Oita Prefecture area where it's made have been designated as a Globally Important Agricultural Heritage Systems site, so it may even be sustainable.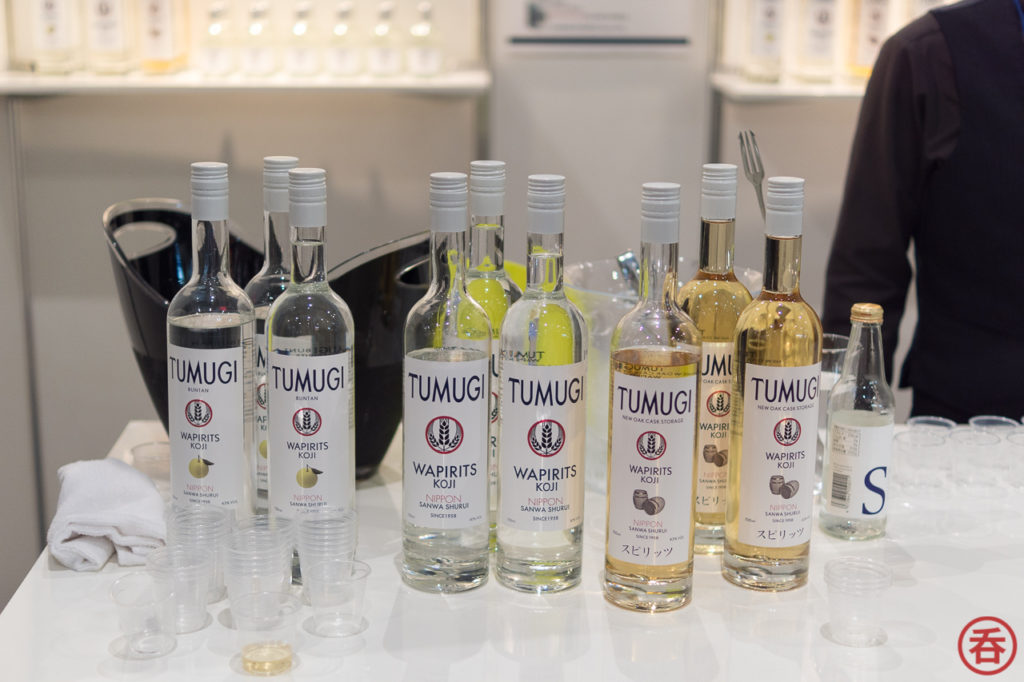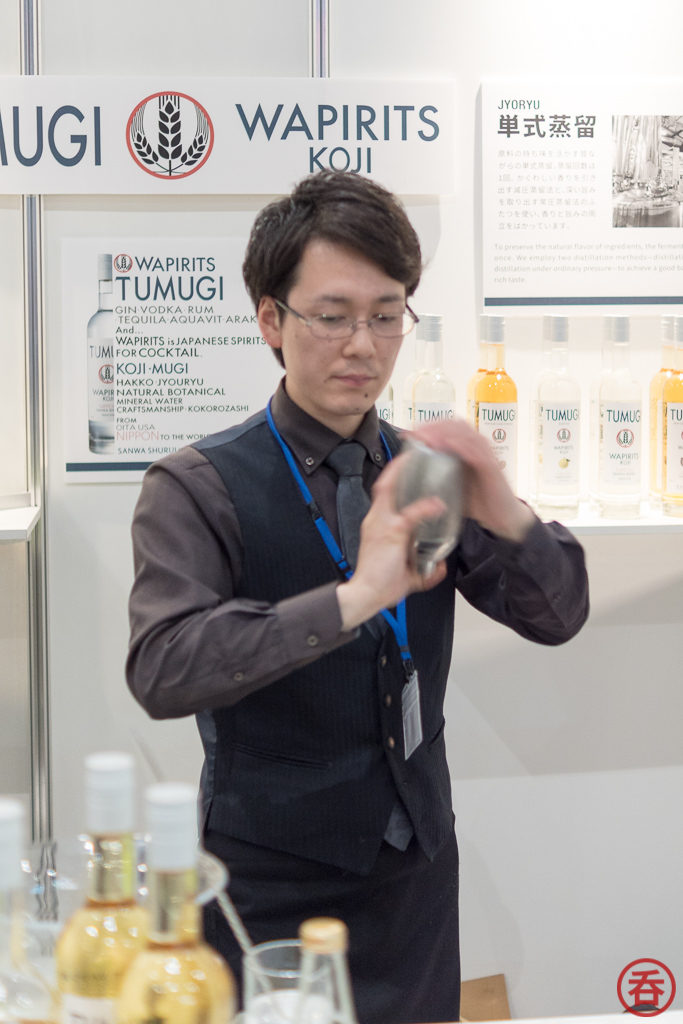 Now on to the pictures!
Hi there! I created and run nomunication.jp. I've lived in Tokyo since 2008, and I am a certified Shochu Kikisake-shi/Shochu Sommelier (焼酎唎酒師), Cocktail Professor (カクテル検定1級), and I hold Whisky Kentei Levels 3 and JW (ウイスキー検定3級・JW級). I also sit on the Executive Committees for the Tokyo Whisky & Spirits Competition and Japanese Whisky Day. Click here for more details about me and this site. Kampai!