We're rapidly approaching that time of year again! Yes, the Tokyo International BarShow 2018 is scheduled over two days, May 12 & 13 11AM-6:30PM, at Tokyo Dome City Prism Hall.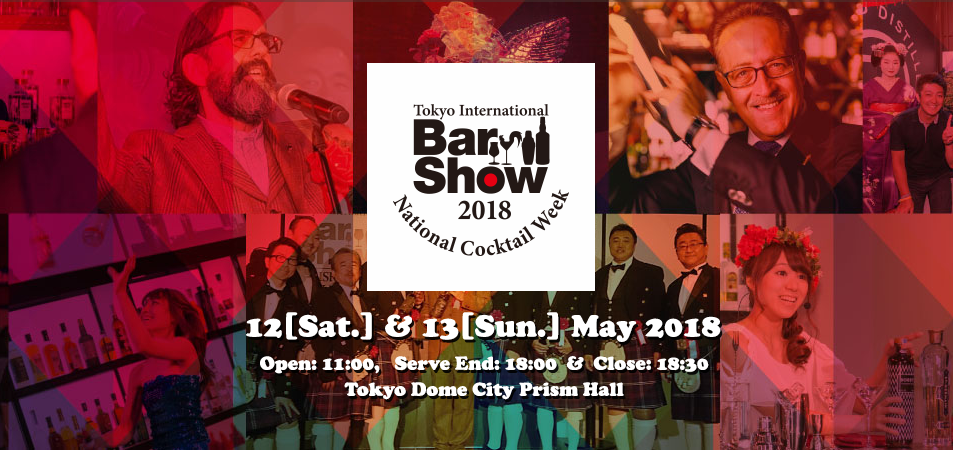 What is the Tokyo International BarShow?
By far the biggest celebration of cocktails and bartending in Japan, it's all here, whether you're a cocktail nerd, whisky maniac, or even a casual drinker. Japanese distillers always come out in full force: last year we saw Japanese craft gin heavily featured. Celebrity bartenders whip up their award-winning cocktails right in front of you. Ultra-rare whiskies available via a voucher system, and plenty more rare whiskies available for (free) sampling too. The day's schedule is loaded with Masterclasses and seminars from industry veterans, distillery chiefs, brand ambassadors, and Japan's craftsman bartenders. This year also marks the 6th female bartender-only cocktail competition, "Nadeshiko Cup." The latest–and sometimes even unreleased–domestic and imported offerings from the biggest household names to the smallest craft shops.
Click here for our full event report from Tokyo International BarShow 2017 to get an idea of what the BarShow is like.
Enter nomunication.jp's drawing for free tickets to the Tokyo International BarShow 2018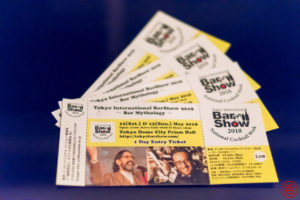 Thanks to the gracious folks from the Cocktail Culture Foundation, organizers of the BarShow, we're able to offer free one-day tickets to four lucky winners to the Tokyo International BarShow 2018, exclusively for readers of nomunication.jp! The tickets can be used on either the 12th or the 13th.
You can enter the contest one of two ways:
Let us know your favorite cocktail, Japanese whisky/liquor, or Tokyo drinking spot by commenting on this post on our Facebook page
or just comment with the same on this page
That's all you need to do. Enter by April 14, 12:00AM JST. The drawing will be completely random, and I'll contact the winners directly about getting your tickets… so please use a real FB account or email. Only one entry per person, using either method #1 or #2 above please. Given the international nature of our readership, I'll accept entries from anywhere in the world. But as the Tokyo International BarShow is obviously in Tokyo, please only enter if you can be in Tokyo on May 12-13.
I'll certainly be at the event myself, on both days, so let's have a drink together!
What can we expect this year?
This year's event is looking very promising, as we already know about two special guests that will be attending: cocktail legend and Duke's Martini creator Salvatore Calabrese, as well as Tokyo BarShow vet and best-selling author Dave Broom. The theme of this year's event is "Bar Mythology," so I'm guessing Mr. Calabrese is a big part of that! While Dave Broom is of course known for his The World Atlas of Whisky, last year he also released The Way of Whisky: A Journey Around Japanese Whisky, so his attendance at this year's BarShow is particularly relevant. He's also recently collaborating on a Kickstarter campaign for a film named "The Amber Light," which follows him on his quest to explore Scotch and the culture that surrounds it. He should have plenty to talk about! More details on the main stage events, Masterclasses, booths, and limited bottlings of this year's BarShow should be available soon.
Personally I think that we'll see a larger from Japanese craft whisky makers this year. I've already highlighted several Japanese whisky distilleries to watch over 2018-19, as these are key years for many. I'll be sure to make my way to these booths to try their latest offerings.
Here's a promo video with highlights from last year.
How can I purchase tickets?
If you're already convinced, you can buy advance tickets now, even in English, from Lawson Ticket, or directly from one of the many participating bars. A 1-day advance ticket runs 5000 yen, while a 2-day advance ticket is 9000 yen. Alternatively, door tickets are available for 6000 yen and 10000 yen respectively.
What time should I go to make sure I score a limited edition bottling?
Do you mind spending a night outside? No really, get there super early! The event begins at 11AM, but people are lining up from 6AM and earlier.
Hi there! I created and run nomunication.jp. I've lived in Tokyo since 2008, and I am a certified Shochu Kikisake-shi/Shochu Sommelier (焼酎唎酒師), Cocktail Professor (カクテル検定1級), and I hold Whisky Kentei Levels 3 and JW (ウイスキー検定3級・JW級). I also sit on the Executive Committees for the Tokyo Whisky & Spirits Competition and Japanese Whisky Day. Click here for more details about me and this site. Kampai!