On a rainy day in late June, I had the opportunity to have a sneak peek at Ethical Spirits & Co.'s Tokyo Riverside Distillery. The distillery is Tokyo's biggest, newest, and perhaps most ambitious: they focus on making spirits from agricultural byproducts and/or ingredients that would otherwise be simply discarded. It opens to the public on July 6, 2021.
T
he Tokyo Riverside Distillery is, by
my count
, Tokyo's fifth licensed spirits distillery. But I would say it's the first distillery in Tokyo that really
feels
like a full-on distillery. It's not an attraction within a restaurant, and it's not one man's project borne of sweat and toil.
Background
We covered Ethical Spirits & Co.'s crowdfunding project back when it was running, where the final amount raised exceeds 10 million yen. TL;DR the company is focused on creating spirits from products that would otherwise go to waste.
Their spirits distillation license for the Tokyo Riverside Distillery has now come through, and things are progressing rapidly.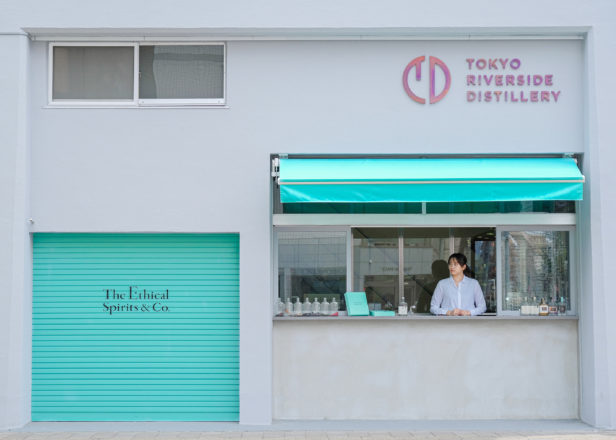 Kuramae, the Brooklyn of Tokyo
Ethical Spirits & Co. has leased (almost) an entire building just a stone's throw away from Kuramae station. The neighborhood has been nicknamed the "Brooklyn of Tokyo" for a few different reasons:
Proximity to a river and easy access from other places in the city
A concentration of craftspeople working to make handmade goods like toys, leather products, ceramics, furniture, and much more
Old warehouses and buildings renovated to show plenty of exposed brick, cement, and metals
Hipster-friendly restaurants, cafes, and bars occupying said renovated spaces
Kuramae may not have any brownstones, but the Tokyo Riverside Distillery has three main components: the distillery and store on the 1st floor, the bar and bites on the 2nd floor, and rooftop botanical garden. And, hipsters rejoice, there's no elevator.
1st Floor: Distillery & Store
The distilling room features a 500L hybrid still that's already seeing action. At 500L, I'm pretty sure it takes the crown for Tokyo's biggest still right now: Hitachino Brewing Tokyo Distillery in Akihabara is 300L, and I believe Toranomon Distillery's is the same size. Yokohama's Number Eight Distillery is 100L.
While it wasn't in operation during my visit, they're using the still every week. At the moment, Ethical Spirits & Co.'s Cacao Éthique is the only released spirit being made here at this distillery: the other products in their current lineup are contract spirits. We'll get to the product lineup later.
The head distiller is Ayumu Yamaguchi. He holds a Master's from Tokyo University of Agriculture's Department of Fermentation Science–which might sound familiar to fans of Kanosuke–and he has experience distilling in the field at Mitosaya Distillery.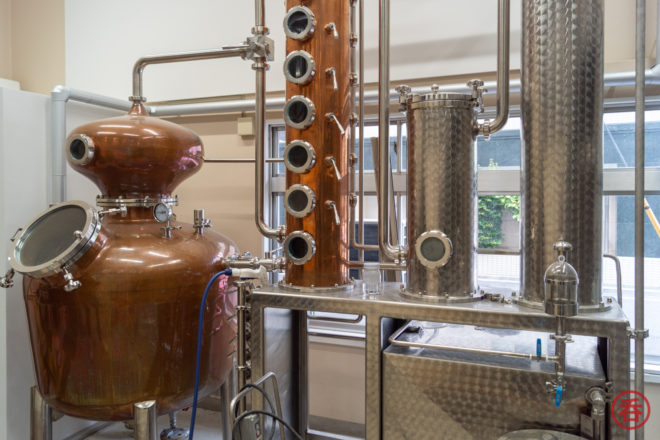 Back in Tokyo, the store is more like a storefront. It should still do the trick. Unlike a lot of distilleries which throw a flight of spirits at you to drink as part of a tour, Tokyo Riverside Distillery's approach for the shop is closer to that of a parfumier: they'll spray each gin onto sampler for you, allowing you to nose it.
I think that's especially genius given a lot of the foot traffic will be people who are less experienced with spirits, and perhaps don't know what gin is at all. It can be tough for a lot of people to pick out differences between two 40%+ abv spirits during tasting. Aromas, on the other hand, allow most anyone to find the characteristics.
The store will be open 1-7PM daily, though it's closed Mondays.
2nd floor: Bar & Dining "Stage"
Stage is the name of the distillery's bar. Although the full menu isn't available yet, we can expect a cocktail menu revolving around Ethical Spirits & Co.'s product lineup, as well as some bar food to go with it. Gin is the bartender's spirit, so I'm hoping the cocktail menu delivers beyond the standard G&T.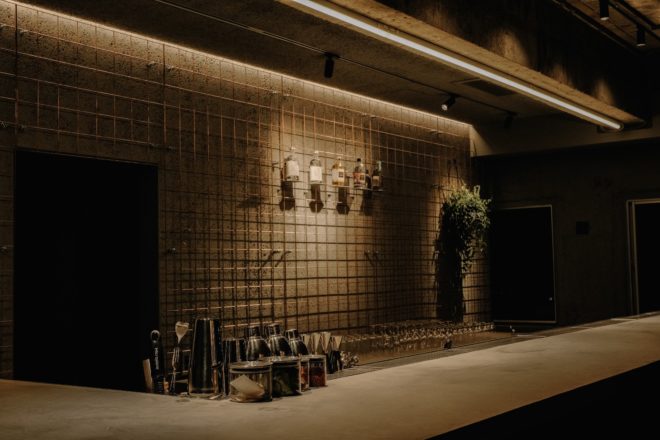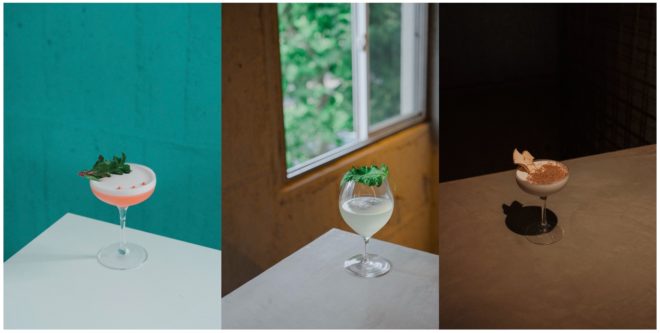 Roof Terrace
It's not exactly huge–I mean, come on, we're in downtown Tokyo–but the roof of the building has a small garden where some of the botanicals for the gins and ingredients for the bar food are grown. The company says the roof terrace here can host BBQs and small functions, but I'm guessing this space would be quite tight with more than say a dozen people.
On the plus side, the roof does offer a view of Tokyo SkyTree.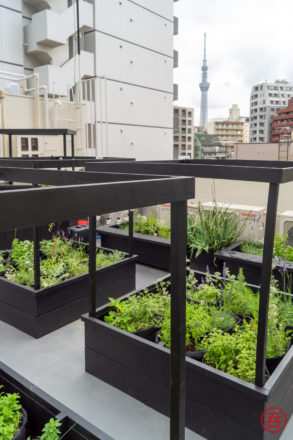 Ethical Spirits & Co. Products
Let's have a look at the company's product lineup. The first four are contract spirits, but the last is distilled here at the Tokyo Riverside Distillery. As the company expands its capabilities, I expect their future gins will also be distilled in-house.
LAST Episode 0 -Elegant-: Sake kasu is essentially the leftovers you have when making sake, and both Elegant and Modest uses sake kasu as base for the spirit. In Elegant's case, they add juniper berry, hibiscus tea, pink pepper, coriander seed, lavender, cardamom, ginger, cinnamon, makrut lime leaf, and Szechuan pepper. This one is distilled by Tottori-based Chiyomusubi Shuzo.
LAST Episode 0 -Modest-: The base here is the same as Elegant, but modest dials the abv down to a slightly milder 43% abv, and uses juniper, ginger, coriander seed, lemon, angelica, and cinnamon. Overall it's slightly less imposing than Elegant.
REVIVE from Beer: This is the one that made international headlines because it's distilled from Budweiser. Yes Bud. Weis. Er, the King of Beers. AB InBev provided the beer to make this happen here in Japan, as the beer would have otherwise gone to waste under COVID-19.
It's distilled not here at Tokyo Riverside Distillery, but by sake maker Gekkeikan. I mentioned to my guide for the day, company COO Ono-san, that there's no way AB InBev would allow this in America. Indeed, Ethical Spirits & Co. is apparently forbidden from exporting this particular bottle.
Once the beer-based spirit is made, they add beer, juniper, lemon peel, beech, cinnamon, and a kind of brown sugar. All of the botanicals are added a few hours prior to distillation, by the way. No botanical baskets here.
And I must say that it's drastically better than nomunication.jp's own beer-based gin. Let's move on though…
REVIVE from Ninja: Made in cooperation with TeaRoom, this one features juniper, pressed sudachi, Japanese ginger, green tea leaves, coriander seed, angelica root, green tea, and chamomile.
Cacao Éthique: This spirit uses cacao husks, not the cacao nibs, as a botanical. The base is kasutori shochu, and only those cacao husks and juniper are added. It's also the only bottle made here at the Tokyo Riverside Distillery.
Cacao husks are ordinarily thrown out after roasting, but in this case, they're used as a botanical.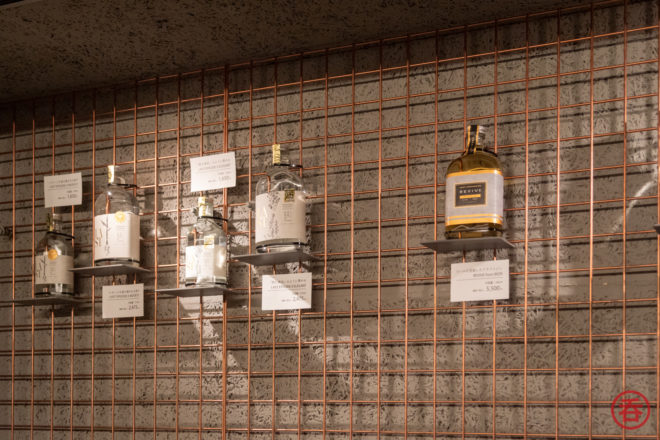 Future Plans
Ethical Spirits & Co. has a very "Valley startup" kind of atmosphere about it. Their recently closed 140 million yen injection from biotech VC Beyond Next Ventures is part of that, but also, the company is not out there trying to tell you they use handpicked citrus from local foothills, or using pristine spring water from Mt. Whatever when bottling.
Instead, they're looking to produce highly aromatic gins using nontraditional base spirits, utilizing byproducts/waste products where possible. The brand promise is "Starring the hidden gem," and they look to accomplish that by 1) making products that are good because they are ethical (rather than good in spite of being ethical), 2) telling the story of the ingredients, and 3) starting from those ingredients rather than aiming for specific flavors.
One of the planned upcoming products from the company, for example, is going to use spent ground coffee beans that made espresso. There are also plans to use pomace, from wine, and the stems of shiitake mushrooms. We all know there's plenty of food waste at a lot of different points in supply chains, so it should be interesting to see what they come up with in the future.
So it makes plenty of sense that one of the product verticals they're working on is those wood-based spirits we mentioned the other day. While many people assume cutting down is a bad thing for the environment, things are slightly more complicated here in Japan. Basically there are too many plantation forests, and the country as a whole needs to find uses for the trees that need to be replaced. Ono-san says that they're aiming to have a product released by 2022.
And how about the whisky I said would be tough in Kuramae? The answer here isn't found in Tokyo: the Ethical Spirits & Co. is in the process of setting up another distillery out in Chiba prefecture. This one will have a larger footprint and more capabilities.
MATES club and beyond
It's clear that Ethical Spirits & Co. isn't looking to provide a single kind of gin, or any spirit for that matter. Instead, they want to offer a wide variety of bottles that highlight the various aromas and flavors of many different byproducts from other areas.
Of course the company's various social media accounts are one thing, but their Spirits Mates program is another way to follow (and taste) what they're doing. For 5500 yen a month they'll send you the latest bottle (375ml) that they're working on, plus there's a host of benefits such as discounts, tours, and access to the above roof terrace.
Given the Tokyo Riverside Distillery's location, it's a no-brainer to visit while you're here in Tokyo. You just might find a spirit that awakens you to the potential that recyclables have in the world of distillation.
Hi there! I created and run nomunication.jp. I've lived in Tokyo since 2008, and I am a certified Shochu Kikisake-shi/Shochu Sommelier (焼酎唎酒師), Cocktail Professor (カクテル検定1級), and I hold Whisky Kentei Levels 3 and JW (ウイスキー検定3級・JW級). I also sit on the Executive Committees for the Tokyo Whisky & Spirits Competition and Japanese Whisky Day. Click here for more details about me and this site. Kampai!