Back in December, Kiuchi Shuzo opened the Hitachino Brewing Tokyo Distillery smack in downtown Tokyo. It's in Akihabara. Yes that Akihabara, the one we normally associate with maid cafes, otaku culture, and endless electronics stores. Let's check it out.  
H
itachino Brewing
Tokyo Distillery
isn't Tokyo's
first distillery
. But it is able to claim a couple firsts:
First distillery in Tokyo open to the public
First distillery in Japan–and maybe the world??–located under train tracks
Per above, it's housed in a development called Seekbase Aki-Oka Manufacure, one of JR's many efforts to utilize the land they own under their train tracks. Seekbase is a pretty eclectic facility: in addition to the distillery, it has two restaurants, stores selling everything from model trains to socks, and even a small hotel.
From JR Akihabara station, walk out of the Electric Town exit, follow the train tracks north (past the Gundam Cafe) for just a few minutes, and you're there. If you're in downtown Tokyo, visiting a distillery doesn't get any easier than this.
Not your regular distillery
Don't think of the Hitachino Brewing Tokyo Distillery as the kind of place where you go on a tour and get free samples though. As we discussed when it was announced, it's not huge — they plan to only make the bare minimum amount of spirits here to fulfill their license requirement.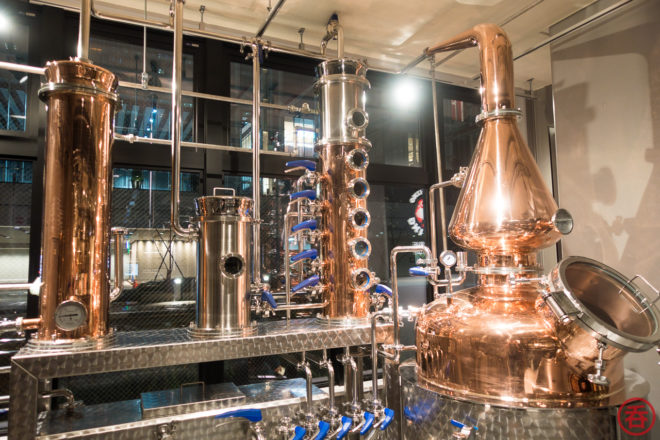 Instead, you should think of this as a bar/restaurant with a distillery attached. A "distillpub," if you will. It's not yet a working distillery either: as of this writing, Hitachino Brewing is waiting for their license to come through.
On the menu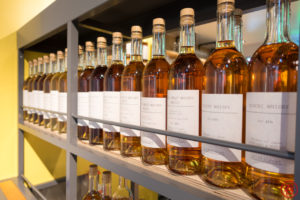 While unused stills are shiny and nice to look at, for now, the main attraction is the bar menu. That's because Hitachino Whisky is currently only available via canned highballs or as single serves at Hitachino's own brewpubs. But unlike Hitachino Brewing Shinagawa which we visited last year, with only one whisky on the menu, Hitachino Brewing Tokyo Distillery currently offers ten different single cask bottlings to try.
The menu gives you a good perspective of the breadth of Hitachino's whisky effort. We have both malt and grain whiskies (technically new borns rather than whiskies), the latter with wheat and rice. Each is available with sherry cask, bourbon cask, virgin cask, and other permutations.
If you aren't ready to commit to a particular cask right off the bat, you can do a sample flight. 15ml serves of three different single casks, following a particular theme.
Besides whisky, there's gin and liqueur-based cocktails, some of which will presumably be distilled on-site going forward. You'll also find Hitachino's craft beers (duh) and a food menu focusing on local meats sourced from Hitachino's home of Ibaraki prefecture.
Looking forward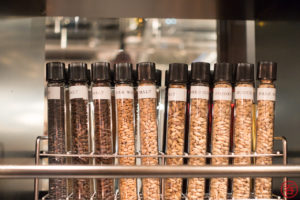 Just to be clear: Hitachino Whisky is distilled at the company's Nukada Distillery, not here at the Hitachino Brewing Tokyo Distillery. That won't change in for the foreseeable future, given the Tokyo Distillery has only a single 300L still by Germany's Ziemann for making liqueur and gin.
That said, future plans for Hitachino Brewing Tokyo Distillery include some sort of hands-on distilling experience. This will hopefully make the space feel more like a working distillery, rather than just appearing as one. Given the convenience, a trip back soon is definitely in order.
Hi there! I created and run nomunication.jp. I've lived in Tokyo since 2008, and I am a certified Shochu Kikisake-shi/Shochu Sommelier (焼酎唎酒師), Cocktail Professor (カクテル検定1級), and I hold Whisky Kentei Levels 3 and JW (ウイスキー検定3級・JW級). I also sit on the Executive Committees for the Tokyo Whisky & Spirits Competition and Japanese Whisky Day. Click here for more details about me and this site. Kampai!