For our first ever proper review of a Japanese rum, we're going to try a new experimental craft rum from Okinawa called Ie Lab Karaki. It's distilled by Ie Rum, and is the first bottle in a new series made in collaboration with R.U.M Japan chair and SCREW's Ebisawa-san. 
Japanese Rum
Rum probably isn't something that comes to mind when you think of Japanese spirits! Here at nomunication.jp we've touched briefly on bottles by companies like Helios. Another name you may have seen in Japanese rum is Nine Leaves, who at the moment is the only distillery making rum on Japan's mainland. All other makers of Japanese rum are located on more remote islands.
One such island-based maker is Ie Rum, located on Ie Island. The island sits a few kilometers off the coast of Okinawa's main island, and is called home by under 5000 people. Ie Rum's claim to fame is their rum called Santa Maria, made entirely using Ie Island-grown high-test molasses. As they've been making it since 2011, by now they're veterans.
For more on Japanese rum, the Japan Distilled podcast recently did an episode on the category.
Ie Lab
This brings us to Ie Lab, the new series of bottles Ie Rum is doing in collaboration with the chairman of Japan's rum association, R.U.M Japan, Ebisawa-san. Ebisawa-san is runs a company called SCREW that operates two of Tokyo's famous rum bars and does rum bar catering. He's also a fellow member of the TWSC Executive Committee that I sit on.
Ie Lab has been in the making for three years, and promises four things:
The main ingredient is kokuto sugar from Ie Island
All will be "single botanical" rums, focusing on an individual local botanical or fruit
That botanicals will be added during distillation (for most spiced rums, spices are added after distillation)
Low volume, experimental elements
The first entry is called Karaki, the local name for Okinawan cinnamon. The trees grow natively down there, and the particular trees used in Karaki are from Nago on Okinawa's main island. Karaki trees are strong: both the bark and leaves smell of cinnamon.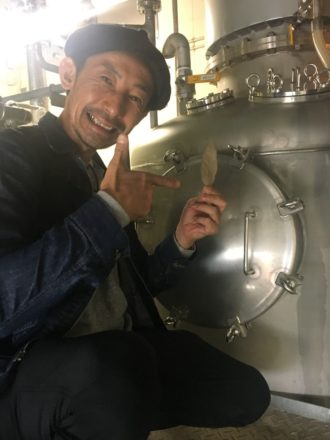 Being a white spiced rum with zero added sugar or sweeteners, this bottle is certainly a unique one. Because they're adding the botanical during distillation, production-wise it's probably closer to a gin, albeit with very different ingredients.
Let's crack her open.
Review: Japanese Craft Spiced Rum Ie Lab Karaki
Nose: Fresh and tropical spices blend with a hint of woodiness and ginger. There's a rosy, hibiscus floral background for lemon and lime.
Palate: Anise, cinnamon, black licorice, curry leaf, mint, mukhwas. If you're looking for a sweet spiced rum, this isn't it. Instead look for mint and spices.
Finish: Cardamom alongside a hint of smoke, and cinnamon sticks around.
Score: A-
Price paid: 4500 yen, 44.5% abv, 500ml
With no experience in white spiced rum, I reached out to SCREW to get some cocktail ideas for this bottle. They suggested that the easiest to make at is an all-day drinker, 1 part Karaki and 10(!) parts soda. I found the nose on Karaki almost too agriculturally fresh for my liking, and I'm happy to report that adding soda (I did more like 1:3) makes this much more floral and citrusy.
For some more suggestions, such as a Sol Cubano, check out SCREW DRIVER's IG.
With only 591 bottles, I'm guessing there was just one batch of this made. So while it may be tough to get a bottle for yourself at this point, it was only release last month, so there's likely still time to try it at SCREW DRIVER. Meanwhile, if you're a rum fan and want to try something out of the ordinary, Ie Lab is definitely a series to keep an eye on in the future.
Hi there! I created and run nomunication.jp. I've lived in Tokyo since 2008, and I am a certified Shochu Kikisake-shi/Shochu Sommelier (焼酎唎酒師), Cocktail Professor (カクテル検定1級), and I hold Whisky Kentei Levels 3 and JW (ウイスキー検定3級・JW級). I also sit on the Executive Committees for the Tokyo Whisky & Spirits Competition and Japanese Whisky Day. Click here for more details about me and this site. Kampai!