Today we take a trip to Chiba prefecture's latest distillery, the mitosaya Botanical Distillery, in Otaki. It's a crowdfunded project to revitalize a defunct botanical garden, turning it into a small operation churning out some of Japan's newest, rarest, and priciest designer spirits.
mitosaya–yes lowercase m–is part brandy distillery, part crowdfunded revitalization project, part botanical garden, and part something else I cannot quite grasp. Vision? Side gig? Design project? Candidate for some kind of sustainability award? Let's go and find out. But first:
Background story
In 1987 the "Chiba Prefectural Medicinal Herb Garden" opened on some 16000m² of property in Otaki, Chiba, smack in the middle of the Boso peninsula. The goal was to spread knowledge of medicinal herbs, and spread they did: at its peak, about 500 different varieties of herbs were grown on the property, and a further 500 specimens of natural remedies were also kept at the site. Unfortunately the post-bubble years have been tough on Chiba's economy. Management of the grounds and facilities were transferred from the prefectural government to the town of Otaki, then in 2015 the garden was officially shutdown.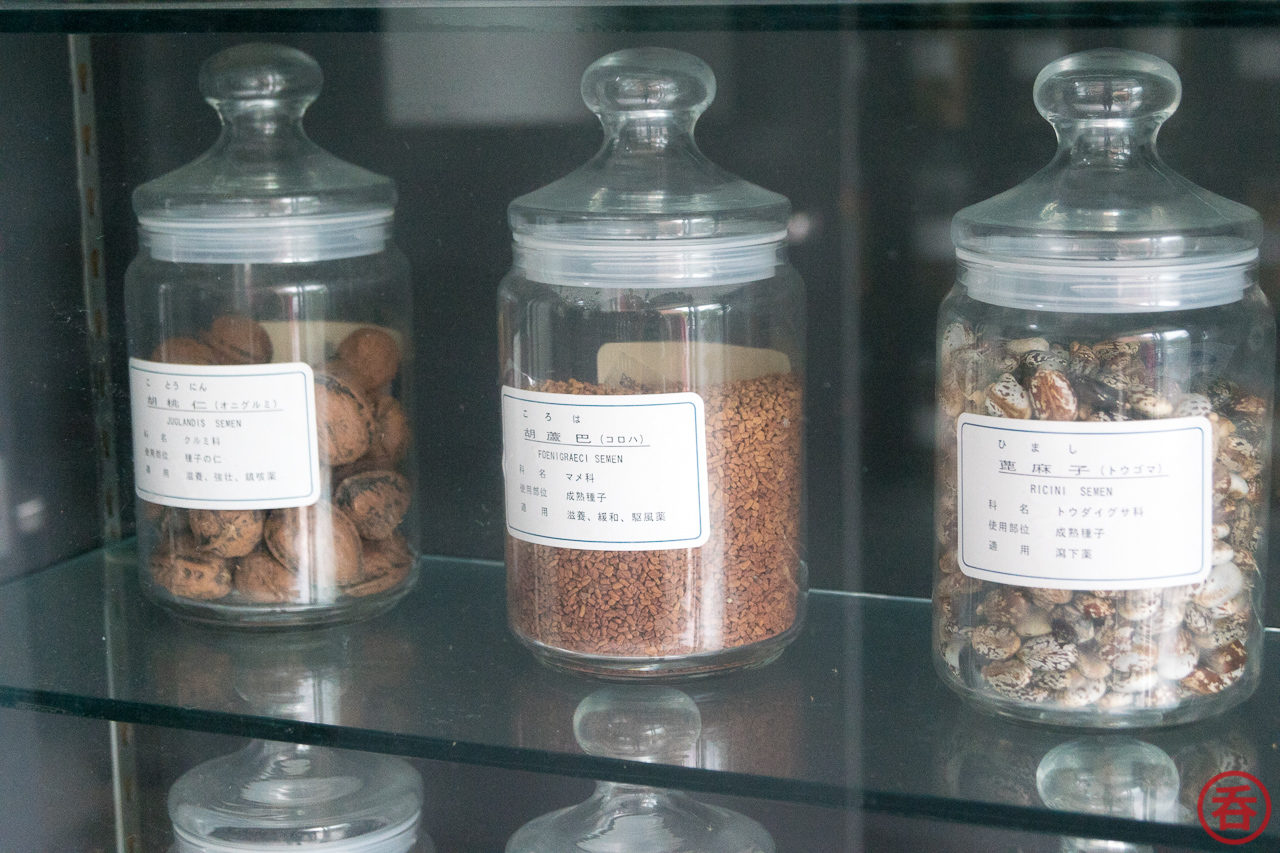 Crowdfunding to the rescue. The mitosaya Botanical Distillery project, spearheaded by Hiroshi Eguchi, raised nearly 17 million yen, well exceeding their goal of 10 million yen . Eguchi-san is an interesting character, being both ex-salaryman and ex-bookseller — he is also behind the UTRECTH bookshop.
Eguchi-san was inspired by German Christoph Keller, who left his art-book publishing job to create the (now defunct) brandy-making Stählemühle Distillery. But Mr. Keller is perhaps better known as the co-creator of Monkey 47, the Schwarzwald Dry Gin. Eguchi-san ended up meeting Mr. Keller and eventually worked his way to an apprenticeship — he spent summer 2015 to spring 2016 in Germany learning how to make brandy.
About mitosaya Botanical Distillery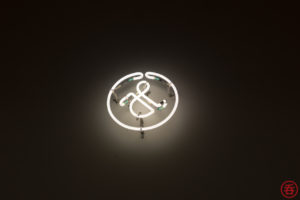 Besides the expertise, it's clear that mitosaya also takes many design cues from Stählemühle. The branding–or at least the logo?–was created by TAKAIYAMA inc.'s Hideyuki Yamano, and the architect used for the site is Hideyuki Nakayama.
The buildings at the distillery are the not newly constructed: the botanical garden's original buildings were renovated to match the distillery's needs. But as this is a botanical distillery doing farm-to-table eau de vie, two of the three main buildings that form the open house course are in fact greenhouses. Instead of rackhouses with row after row of floor-to-ceiling casks, you'll find row after row of herbs to stroll through.
And spiders. Lots and lots of garden spiders!
For now, the mitosaya Botanical Distillery's open house has three main attractions: the distillery/tour, the bar, and the tasting/shop. These are split across the aforementioned three buildings.
Open House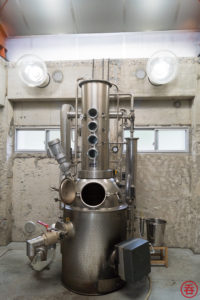 First for the distillery itself. mitosaya Botanical Distillery uses a single still. It previously belonged to the makers of Coedo Brewery, who at one time time had ambitions to distill their beer (i.e. make whisky!). Those plans never came to fruition, and it sat unused for around 30 years. Luckily it has found a new home!
Perhaps even more interesting though is the washback. It's actually an ex-soy sauce washback from Shodoshima's Yamaroku Shoyu. No clue if this has any influence on the flavor of the final product or not, but wooden washbacks are extraordinarily rare in the soy sauce world these days — almost all makers have shifted to using stainless steel washbacks.
As the distillery is just one building with three rooms, the tour is a mere 30 minutes long. Afterwards (or again?) it's time to move over to the bar. For the day I visited, mitosaya called in Moue-san and Rikio-san from Bar Triad, sister property to Ebisu's Bar Trench and Bar Tram. They served up 4 different craft cocktails, each highlighting one of the distillery's eau de vies. I had 3 of them, I'll let you guess which, but they were all excellent and very herb-forward. I was especially smitten by the tomato/marinara of the Negroni, swapping gin for eau de vie, vermouth for sherry, and Drambuie for Campari.
mitosaya's eau de vie
From there you can head over to the next greenhouse for the sampling/shop. On the day, there were six different eau de vies available to sample: Ink on Paper, Marinara, Sumomo Plum, Field Strawberry, New Summer, and Lemon Poi.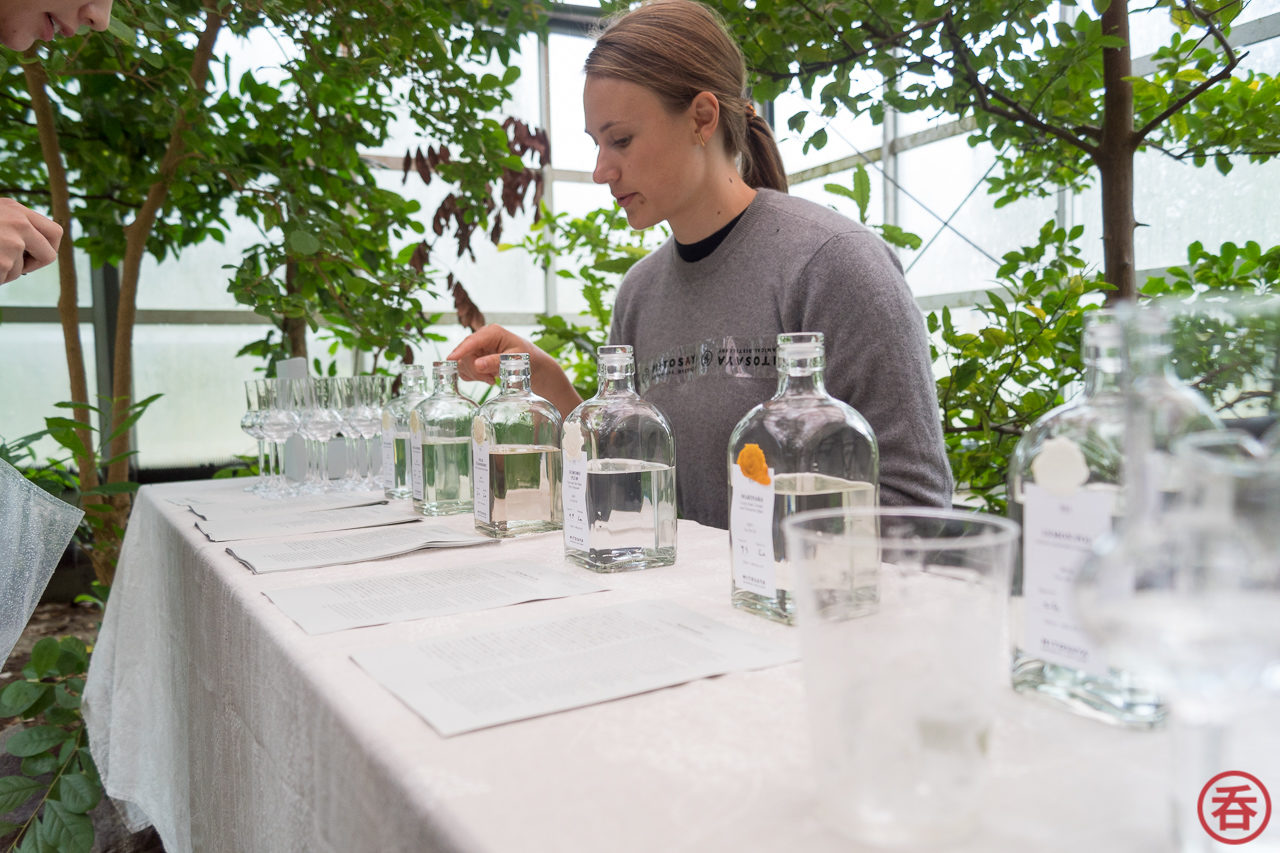 Those names should give you an idea of the kinds of flavors mitosaya is distilling. Plenty of non-traditional botanicals, fruits, and more… though they aren't distilling spiders, yet. I'll have a proper review of "018 Marinara" up soon, as I bought a bottle from the shop ("shop" here meaning a folding table where they happily took your money and gave you a bottle from the stack).
Bring your wallet
At this point I'll have to complain a bit. You can't sample anything at the distillery for free. Moreover, what is there isn't even cheap. 600 yen for cocktails, and 200 yen to simply try mitosaya's own products. I get that it's rare and craft and handmade, I get that cocktails require ingredients and bartenders, I get that the distillery is (maybe) someone's art project, and I get blah blah blah. But realistically? Other distilleries provide much of that at a loss. There's an unwritten understanding that anyone who goes through the effort of heading into the countryside to visit a distillery is much more likely to continue spreading the good word if they have a good time there. And as we all know, having a good time at a distillery generally usually means they are liberal with handing out their product.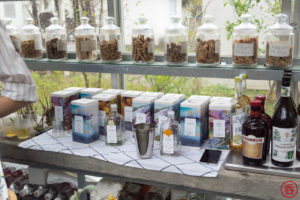 Part of that may be because mitosaya's eau de vie itself isn't very affordable. A 100ml bottle of 018 Marinara–released on the day I visited (Monday, October 14, 2019)–set me back 2200 yen. A 500ml bottle of the same stuff would be a whopping 9680 yen. Holy smokes! That's right up there with the expensive new Japanese craft whiskies.
All that said, mitosaya doesn't appear to be having trouble selling bottles. On-site, half of the bottles available for sale the day were sold out within an hour of opening. As of this writing, their webstore is completely sold out of everything. With mitosaya's connections to the art/design world, perhaps they serve a different clientele than your standard whisky or gin distillery.
Getting there
mitosaya Botanical Distillery is not open to the public on most days. But about once a month, they do an open house for a single day on a weekend, from 11AM to 4PM. Keep an eye on their homepage for the announcement.
A word of warning: it's actually quite difficult to get to. From downtown Tokyo, it's possible to take a train to Otaki station, but that requires transfer to the extremely local (and inconvenient, timing-wise) Izumi line.
The more realistic option is the Keisei bus from Hamamatsucho or Tokyo stations, or Keikyu bus from Shinagawa. Unfortunately these aren't a fantastic choice either — they are not charter buses specifically for the distillery. Highway bus means two things: 1) you are SOL if the bus you're trying to get on is too full, as they don't take reservations. If you cannot board the bus, you'll need to wait another 1-2 hours for the next bus! 2) the bus stop in Otaki is some 2km from the mitosaya Botanical Distillery.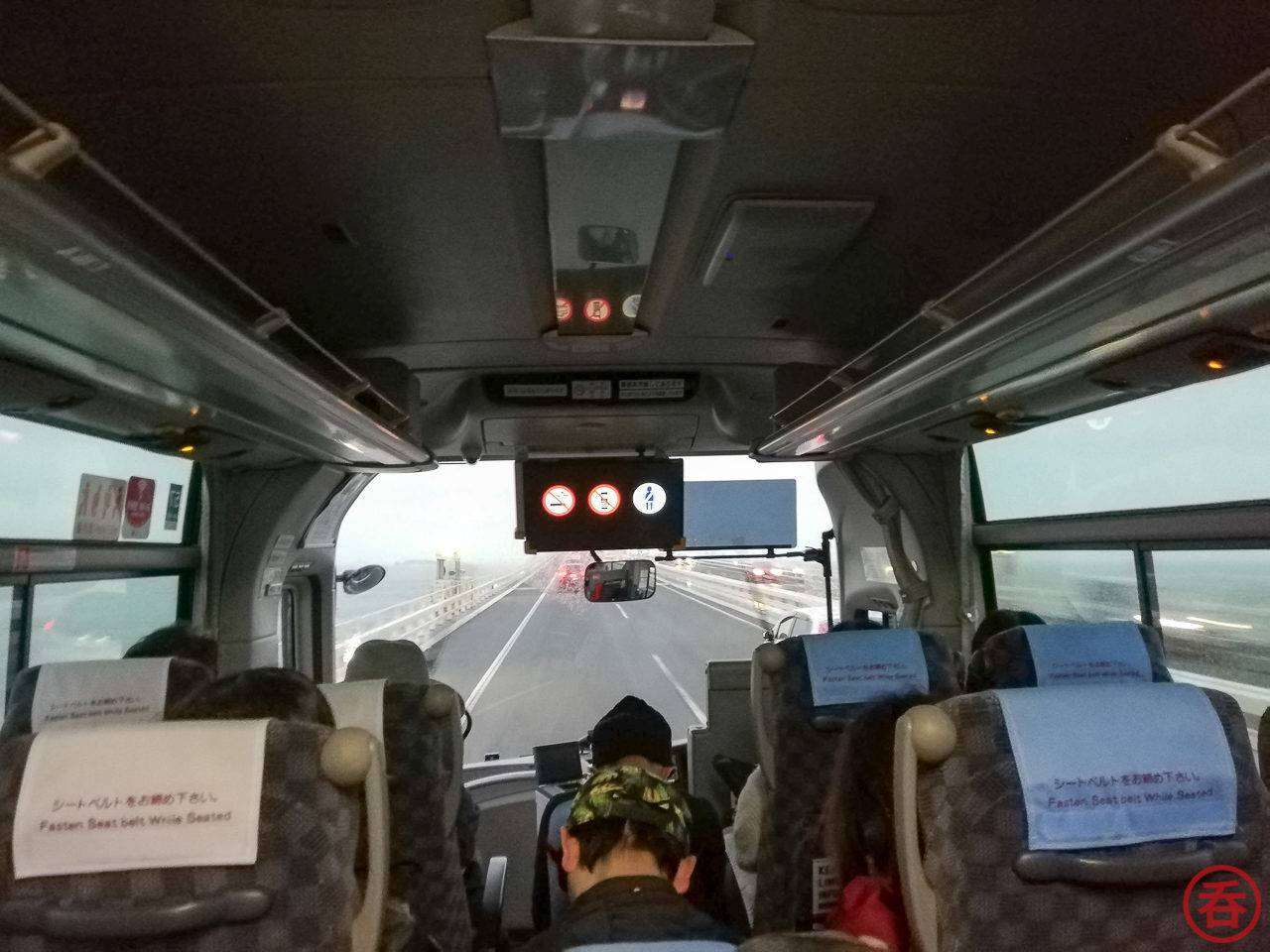 And it's not a lazy 2km. What mitosaya failed to mention on their homepage is that it's 2km up a mountain road. If you aren't confident, don't attempt this — instead call the Otaki Taxi service to pick you up from the bus stop to take you to the distillery.
So whether it's the train or bus, you're very likely to end up out there for longer than planned. Certainly include some buffer in your schedule.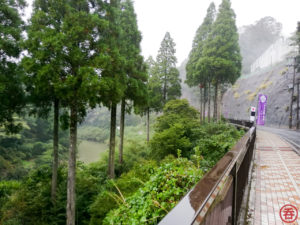 Hopefully, mitosaya can make this a drastically more pleasant experience in the future. Considering the transport complications and pricing, I'd encourage mitosaya to simply bake it all in: offer a tour package that includes a chartered round-trip bus from downtown Tokyo (with reservations, and a toilet!), distillery tour, lunch, and tickets for a few samples. Maybe a free cocktail.