Tonight we venture into the unknown: an age-statement Japanese brandy. From the northern island of Hokkaido comes "Shima Fukuro Tokachi Brandy Hokkaido Jukusei 30 Years."
J
apanese brandy isn't something we hear about terribly often around these parts. Sure, your majors like Suntory, Nikka, and surprisingly
Sapporo Beer
have
their
domestic brands. But in my experience, those are mass-market bottles aimed at bars/restaurants looking to fill out a digestif menu.
And, like whisky, there are no regulations in Japan preventing a company from importing brandy, then selling it as though it were domestic. I'd be willing to bet the majors are doing exactly that.
I can count on one hand the number of Japanese brandy distilleries I would consider craft, actually using Japan-grown grapes and laying their own spirit. And that's including things brandy-ish spirits like eau-de-vie and grappa.
That said, one such craft distillery is pretty well-established. The Tokachi-Ikeda Research Institute for Viticulture and Oenology is not a corporation. Instead the winery/distillery is run by a municipal enterprise, Ikeda Town.
The story goes that the region was devastated by the 1952 Hokkaido Earthquake and back-to-back record cold winters, wiping out their crops. Looking for something more hardy in the biting cold, the town mayor suggested in 1960 that they turn to Crimson glory vines.
Several decades and a whopping 21,000 crossbreeding experiments later, they today use Kiyomai and Yamasachi cultivation to grow their wine grapes. Tokachi Wine is famous in its own right.
Perhaps because it's so damn cold in rural Hokkaido, Tokachi Brandy production began in 1964, only a year after the wine production. They made brandy right up until 1993, then the distillery went dark for 23 years. In 2016, thanks to increased demand for domestic spirits, brandy distillation began once again. Familiar story! In fact, their brandy may be better than their wine, given the high acidity of grapes grown in cold-ass Hokkaido.
That brings us to this bottle. It uses 100% Hokkaido-grown grapes. It's a 30+ year old brandy, meaning we'll be drinking the pre-shutdown stuff, from 1990 or earlier. I'd call it rare, definitely. It's only one of a only 30 bottles nationwide, in this release. On the other hand, I haven't really seen any demand for bottles like this, either inside or outside Japan. Who knows how much stock Ikeda is sitting on.
Sure it's tempting to compare it to a 30+ year Japanese whisky–especially on price!–but obviously brandy isn't whisky. Let's see what we have.
Review: Shima Fukuro Tokachi Brandy 30 Years
Nose: An explosion of fruity, we've got green apples, dates, prunes, and blackcurrant. Warming it up brings out wet tobacco leaves and more vegetation.
Palate: Definitely unexpected given the nose. We get a wonderful deep and mellow oak with hints of coffee, dark chocolate, and red velvet cake.
Finish: Long-lasting, slightly bitter with dried oranges and raisins, closing with vanilla.
Score: A+
Price paid: 13,200 yen, 40% abv, 700ml
Ikeda Wine has won themselves a believer in Japanese brandy. The ripeness of the nose is simply intoxicating. The palate puts that into a relaxing box of oak and sweetness, then the finish wraps things up nicely, bitter and with nuances of dry fruit.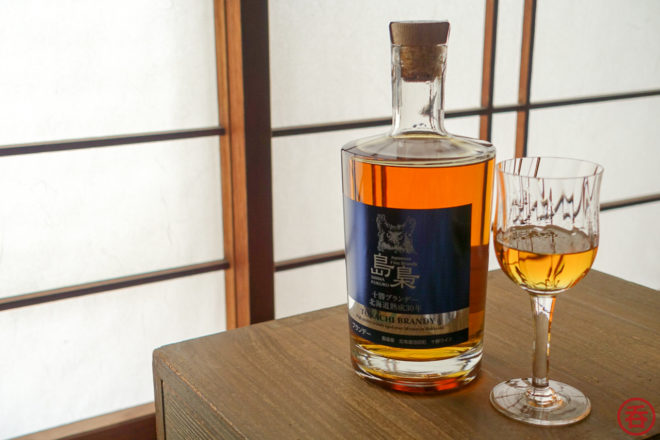 Hi there! I created and run nomunication.jp. I've lived in Tokyo since 2008, and I am a certified Shochu Kikisake-shi/Shochu Sommelier (焼酎唎酒師), Cocktail Professor (カクテル検定1級), and I hold Whisky Kentei Levels 3 and JW (ウイスキー検定3級・JW級). I also sit on the Executive Committees for the Tokyo Whisky & Spirits Competition and Japanese Whisky Day. Click here for more details about me and this site. Kampai!