Before we get into the thick of the humid Tokyo summer, tonight we try out a Japanese tonic released in November 2019. Kizashi "Kihada" Tonic Water, from Yamanashi-based Hiyori, uses an extract from Amur cork tree bark in place of quinine.
K
ihada is the Japanese word for the
Amur cork tree
. You may not have heard of the tree because it's native to Asia, and was only brought over to the US
in 1856
.
Phellodendron amurense
, in the citrus family, has since gotten a bad rap in the States. being considered invasive and flat-out prohibited in
some parts of the country
.
Here in Japan though, the inner, bright yellow bark of the Amur cork tree–dubbed "oubaku" once it's been separated from the outer bark and dried–has been used for thousands of years for medicinal purposes. The Ainu used it as far back as the Jomon period (14000 BC-300BC) as a painkiller, and it's been used to treat a whole host of ailments like tuberculosis, abdominal pain, osteoarthritis, and much more.
Today you can find it as one of the active ingredients in Seirogan, Japan's go-to OTC for common gastrointestinal problems. You'll also see it on the list of 50 essential herbs in Chinese medicine. It takes anywhere from 12 to 20 years for the trees to grow enough that a decent amount of oubaku can be harvested.
Oubaku is also reportedly bitter as hell! So bitter that ascetic monks and ninjas used it to keep themselves awake on long shifts. Alongside oubaku, the tonic also uses shequasar, kabosu, yuzu, and other citrus.
Of course, it's that very bitterness that many people seek in a tonic water. The gin & tonic rose to popularity because British soldiers in India in the 19th century had daily rations of both powdered quinine (used to prevent malaria) and gin, after all. To make that bitter quinine go down easier, soldiers mixed it with soda, citrus, sugar, and gin.
Kizashi thus looks to accomplish the same thing, but approaches it from a traditional Japanese starting point. Given the explosion of Japanese craft gins we've seen over the past couple years, many with quite Japanese botanicals, it only makes sense that we get more Japanese craft tonic. Alongside the kihada, Kizashi has kabosu, yuzu, and shequasar, so there's plenty of Japanese citrus going on too.
Let's give it a try.
Review: Kizashi Kihada Tonic Water
For comparison purposes, I tried Kizashi with two different bottles of gin: the citrusy Suntory Sui and old reliable dry Beefeater. No lime or other citrus was added to my G&T.
Nose: Yes, I nosed a tonic water. Let's go with plastic paint bucket, Very unexpected.
Palate: My first couple sips were dominated by intense bitterness, but give it a minute and things calm down considerably. You begin to notice more floral notes like rose and honeysuckle sitting nicely alongside lemon.
Finish: On the way out there's the sweetness of cherry followed by yuzu.
Score: A-
Price paid: 0 yen. Thanks to Hiyori for the review units. Musashiya sells Kizashi for 200 yen per 240ml bottle, so there's a bit of a premium.
Though it might not glow under blacklight with no quinine, that yellow color you see in the pic is from Kizashi. It's entirely natural — Hiyori uses no added coloring, additives, or scents.
Kizashi is quite delicate. The initial bitterness was a bit over the top for my tastes, but that quickly settled down to reveal a more realistic balance of sweetness and dryness.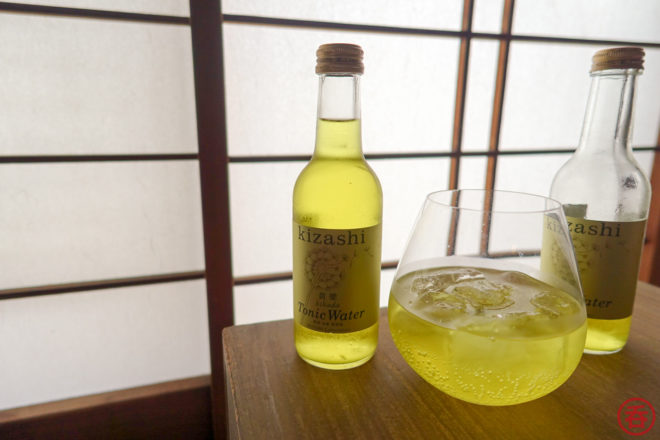 Hi there! I created and run nomunication.jp. I've lived in Tokyo since 2008, and I am a certified Shochu Kikisake-shi/Shochu Sommelier (焼酎唎酒師), Cocktail Professor (カクテル検定1級), and I hold Whisky Kentei Levels 3 and JW (ウイスキー検定3級・JW級). I also sit on the Executive Committees for the Tokyo Whisky & Spirits Competition and Japanese Whisky Day. Click here for more details about me and this site. Kampai!