2020 is an important year for Japan due to Tokyo 2020, but it's even more important for Japanese whisky. We recently sat down with whisky expert Mamoru Tsuchiya, head of the Japan Whisky Research Centre, to discuss a range of topics: the upcoming first-ever Japanese Whisky Festival, the highly-anticipated legal definition of "Japanese Whisky," the evolving landscape of Japanese whisky in light the Japanese craft whisky boom, and much more.
We spoke at length, so please pour yourself a double and read on!
About Mamoru Tsuchiya and the Japan Whisky Research Centre
Tsuchiya-san is Japan's foremost whisky expert. And I don't mean foremost expert on Japanese whisky, I mean foremost expert on all whisk(e)y. He is a celebrated whisky writer, having published dozens of authoritative books that have woke the Japanese public to whisky. He previously served as a whisky history advisor to NHK for the massively successful Massan, a TV dramatization of the life of Nikka founder Masataka Taketsuru (our 10-part translation of the true story, based on Taketsuru-san's serialized autobiography, is here). He is head of the membership-based Japan Whisky Research Centre (JWRC), which has since 2001 put on events that form the cornerstones of Japan's modern whisky scene: festivals like Japan's biggest, the Tokyo Whisky & Spirits Competition, the Whisky Kentei, the Whisky Connoisseur professional certification, and educational seminars. JWRC also publishes Japan's only print whisky magazine, Whisky Galore,
Importantly, Tsuchiya-san and the JWRC remain completely independent. They are not funded by any industry bodies or government regulators. This puts them in an excellent position to advocate for fans of whisky on subjects such as the definition of Japanese whisky. And advocate they have! Despite having a ton on his plate, Tsuchiya-san took over an hour to speak with me about how we got to where we are today, what to expect in 2020, and beyond.
Please note that the interview, conducted in Japanese, has been translated into English and edited for clarity by me.
Interview
Tsuchiya-san (below, MT): Please ask me anything at all!
Whiskey Richard (below, WR): For our readers outside of Japan who aren't familiar with you or your background, can you please introduce yourself?
MT: Sure! I was born in 1954 on Sadogashima in Niigata prefecture, and lived there until I was 18. Of course Niigata is known for its sake — even today when I go back to the island there are still people who don't know that I'm involved in whisky. In my high school days I was part of the mountaineering club. At 18, I came to Tokyo to attend Gakushuin University, where I joined the outdoors/explorer's club. Apart from mountain climbing, we did rafting, river running, caving, and even anthropological studies. That was unrelated to my major, which was Japanese literature.
Separate from that, I also studied Tibetan. From 1975 to 1981 I went to Tibet four times, living there for a total of 18 months. My anthropological studies led to me becoming a freelance photojournalist by the end. In 1981 I joined Shinchosha, a publishing company, where I worked with a magazine called Focus for five and a half years. At 33, I quit the magazine and moved with my family to London: because of my involvement with Tibet and India, I wanted to see the city. Especially the British Museum! The first half-year was language school, but I knew I had to get a job to really learn English. That was 1987: just at the peak of the Japanese bubble. So there were plenty of Japanese people in London. I ended up becoming the editor of a Japanese-language magazine called Journey–it's still around today–aimed at Japanese expats in the UK.
My first visit to Edinburgh was in 1989, where I became involved with the Edinburgh Tourism Board as they wanted to introduce single malts to Japanese people. Though I released my first Scotch single malt book in 1992, in those days there still wasn't a whole lot of information available about single malts, as many had only recently been released. As a result, I wasn't able to cover all of the distilleries. That sort of remained in the back of my mind for the next few years. After five and a half years in England, I came back to Japan in 1993.
When I got back to Japan, I launched a private club for single malt fans. But I kept thinking that we needed some kind of definitive reference about the whiskies and distilleries behind them. So in 1995, I released that reference, a book called The Complete Guide to Single Malt Whisky. That was essentially my debut as a whisky writer. This was the first Japanese book that covered every single malt distillery: tasting notes, their history, culture, and also the how their whisky is actually made — something not many people knew about at the time. I think this book is one of the reasons that single malts began to get popular in Japan in those days. With the release of this book, whisky became my main profession.
On the other hand, back then, single malt Scotch accounted for only about 2% of all whisky that was sold. Thus I decided to write a book about the other 98%: the blended whiskies. That took me three years. In 1998 I released The Complete Guide to Blended Whisky. It was impossible to cover all of the different blends available in Japan, so I narrowed it down to 100 different brands, and included the brand history. That sort of brought together the complete picture of Scotch whisky.
So what next? It was around the turn of the millennium, with Japanese whisky in a slump. In March 2001 I decided to create something like the Society, and while we've evolved, that's where you sit today. We began as the "Scotch Whisky Research Centre," because we were all about Scotch. In some ways it was like Nomunication! Providing information about whisky to our members, and putting out original bottlings. Another objective was the examination: in 2004 we started the Whisky Connoisseur program. Before this, there wasn't any kind of certification program for whisky in Japan. We also wanted to do a newsletter and some original bottles for our members. Eventually we decided to have a festival, and of course we eventually also covered whisky besides Scotch.
In 2005 a publisher in Kansai approached us about creating a whisky magazine, and we dubbed it The Whisky World. It began as a quarterly magazine but eventually moved to bimonthly. Today it's Whisky Galore. Since 2005 we've expanded from there, and this led to a name change from Scotch Whisky Research Centre to Whisky Research Centre. But the latter could be anywhere in the world, so we went with Japan Whisky Research Centre.
That's about ten years ago. Since then we've incorporated, moved offices three times, and here we are today! I would first say I am a whisky writer/freelance journalist as I've written 50-60 books, and not just about whisky. But I am also managing this company with around 16 employees.
WR: 2020 is the first ever Japanese Whisky Festival. Of course the Japanese whisky boom has been going on for a few years now. What is the significance of 2020 for Japanese whisky? Why do a festival now?
MT: For starters, we figured Tokyo 2020 would be pretty big event for Japan. And since about four years ago, we were thinking we needed a Japanese whisky standard by the Olympics/Paralympics. So yes, we've been thinking about the Japanese whisky standard for quite a while now.
But nobody was taking that first step. We decided to take a stab at it ourselves; we went and tried to appeal to the industry. It was a big deal: we got space in a hotel for a press conference, made a proper press release, presented the case for the standardization of Japanese whisky, and what our stance on it was. That was all after it was decided that the Olympics/Paralympics would be in Tokyo for 2020.
Of course, we quickly figured out that we couldn't just make this standard by ourselves. We knew we needed involvement from the big industry players, as well as the National Tax Agency. We tried a bit of lobbying, calling up the politicians we could get in touch with, asking them how to fix the Japanese whisky standard. We tried digging quite deeply to make the standard a reality.
Now, in Japan we have this organization called the Japan Spirits & Liqueurs Makers Association (ed: not an official acronym, but let's just call this JSMA below). At the time we didn't know it, but it's essentially an extra-government organization of Japan's National Tax Agency. Which is to say that it's not like the Scotch Whisky Association (SWA). The SWA is a mostly private organization that has their budget fixed by the contributions of their members–whisky makers–based upon their sales. We have nothing like that in Japan. The JSMA is not just whisky, as it includes spirits, wine, and anything considered non-Japanese liquor. While it's an organization comprised of the makers, in reality, it's an extension of the government.
If you look at where things were four, five years ago from now, there weren't any Japanese craft whisky makers at all. Venture Whisky was it. So while this is a bit difficult to say, it's hard to imagine the likes of Hombo Shuzo, Nikka, Kirin, and Suntory moving in that direction at the time. Someone eventually informed us that it probably wasn't going to happen under our power.
Instead, the JSMA asked that they be the ones to address the issue internally. Which is fine — if there is going to be a standard or rules, they should be decided internally, within the industry. We figured it would also be faster to leave it to the experts, rather than leaving the issue with us amateurs. We weren't particularly concerned about the way that this was accomplished. We welcomed the proposition! So around three years ago, we left the issue it with them. We were quite busy at the time anyway.
Last year we started the Tokyo Whisky & Spirits Competition (TWSC). About the name, by the way, we thought that with the Olympics and all, Tokyo has a stronger brand name than Japan. We knew that we needed to launch the competition before the Olympics.
From the first competition, we had a Japanese whisky category. But… what should that category even be? Even last year, they were plenty of craft whisky makers. We had several inquiries from them, but we couldn't quite answer because there is still no Japanese whisky standard.
We decided to create our own Japanese Whisky standard, specifically for the entry categories at TWSC, independent of what the JSMA is doing. It wasn't ready in time for 2019, but we've already announced it for this year's competition in March.
Perhaps as a result, it seems the JSMA is feeling a bit of pressure. They came to us and said they will renew their efforts. Of course we've already decided our categories for TWSC. If the definition they come up with is close to what we've done, great! If not, well, we'll proceed independently of them.
JSMA recently paid us a visit to inform us that they are close to finalizing an actual standard for Japanese whisky. We're waiting for the official announcement.
So to summarize, the Tokyo Olympics are right around the corner, but there are also plenty of fake Japanese whiskies around the world. Even without some kind of legal teeth, at least an industry standard would act as a deterrent towards stopping that kind of thing. But since the national government was dragging its feet, we moved our own, then left it with them for about three years. And put some more pressure on them recently.
Another reason we wanted to do a Japanese Whisky Festival this year is the upcoming 100th anniversary of Japanese whisky in 2023. We want to have a big event. The makers are likely planning their own events, sure, but that's not enough. Japanese whisky is quite popular worldwide, and we're quite thankful for that, so we want to put on something big for the 100th anniversary.
We definitely need to have a Japanese whisky standard in place by this 100 year event. That leaves only 3 years! The Japanese Whisky Festival this year is a first step, next year another step, then we have a jump to 2023. This year is part of the preparation. We want to gather lots of opinions and feedback from makers that have booths, the vendors, and of course the participants, asking what we can do to celebrate the 100th anniversary.
We want to take a look back at history. So back to Taketsuru and Shinjiro Torii. By looking back at the past 100 years, we want to encourage people that are interested in making whisky, hopefully continuing another 100 years. It'll be a very big event, and this year is something like a prelude. Of course we want you participate as well, Richard. We want to know what kind of things overseas guests want to see, experience, and drink at such an event.
I suppose what you're really interested in is exactly what that standard is going to be?
WR: Yes, certainly. Do tell, if possible.
MT: Even in developing countries like India and Taiwan, they have standards for what constitutes a whisky. Of course in the Japanese tax law there's a category for "whisky," but from a global perspective, it's not anything like a whisky at all. Our main goal is making it so that you wouldn't be able to have "Japanese whisky"–or 日本ウイスキー in Japanese–on the label of the bottle if it's not manufactured in a specific way.
And it looks like we have consensus with the JSMA about that.
That leaves us with the question of what to do with whiskies which are not necessarily Japanese whiskies, but their makers don't want to label it as as such either. There's still some pieces undecided.
But for "Japanese whisky," we'll have it so that if it the label says Japanese whisky, then people worldwide will know that it's made in Japan using a certain technique. Like we have for Japanese wine. Then it's a question of, well, what exactly constitutes "made in Japan" for whisky?
For starters, it has to be grain. Whisky is not wine or sake. Japan Wine requires Japanese grapes, but Japanese sake doesn't require Japanese rice. In Scotch whisky for example, 70% of the grains used as raw ingredients are not from Scotland. So in the case of whisky, it doesn't really matter where the grain comes from. The real question is, where do we start? We are fine with using imported malt or barley, but the mashing, saccharization, making wort, adding yeast, fermenting to make wash, distilling the wash. And cask maturation. Those need to happen here in Japan for Japanese whisky. This is pretty standard for whisky worldwide. If even one part of that process does not happen in Japan, then it's not Japanese whisky. That's following the global standard.
As long as we're talking about whisky, we need to use grain enzymes for saccharization. We don't think it specifically needs to be barley or malt like Scotch malt whisky — craft distilleries in particular sometimes think that barley enzymes are not enough. Here in Japan we have plenty of naturally occurring enzymes as well for saccharization. So we're allowing other enzymes, as is allowed in Irish and American whiskey.
On to fermentation, here in Japan obviously we have koji as well. Thus we're leaving the potential in to allow that to happen in the future. Of course there's a bit of a disagreement over this particular point, so our thinking is the fermentation needs to be mainly yeast.
We allow both continuous and pot distillation to 95% ABV. For maturation it does have to be a wood container. But we don't think there's any need to limit it to oak, like Scotch whisky. As long as it's a wooden container, it's fine. In Japan we have the traditional oke, so it doesn't necessarily have to be a Western-style cask. If you're not going to be moving the maturation vessel or bending wood to shape, then it doesn't even need to be a barrel, after all.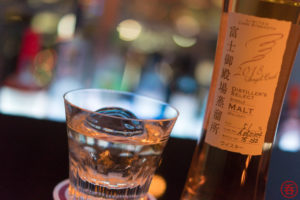 And for the capacity, about the 700L that you see in Irish or Scotch whisky — that was originally because casks had to be rolled around. Which is to say, if we aren't rolling the containers like the oke, why have a maximum capacity?
All-in-all, there are some points which are slightly more adventurous and diverse than worldwide whisky standards.
Another point is that worldwide, most places require three years of maturation to be called whisky. But considering the Japanese climate and global climate change, we've made it two years instead. I've tried plenty of Japanese craft whiskies and realistically some of them are quite good at two years. Kavalan's first product was released at two years as well. So we wanted to leave in the possibility for shorter maturations to still be considered Japanese whisky.
For things which have "Japanese whisky" on the label, all of that should be the case.
But what about bottles that don't have "Japanese whisky" on the label? Does that mean they can't be sold as whisky? Certainly not, that's a bit too draconian. We've thus left in the possibility for things to still be sold as whisky, even if they don't match the above standard for Japanese whisky. But if it is a whisky, it ought to be using grain as raw ingredients, and not molasses or other spirits. That shouldn't be called whisky. So we aren't allowing that.
We also need to consider Japan-made whisky. Whisky "made in Japan" is "Japanese whisky" as defined above. For "Japan-made whisky," however, if it fits the requirements other than the geographical one, we allow it to be called Japan-made whisky so long as it's blended with Japanese whisky. It's not "Japanese whisky" per se but Japan-made whisky. That's the TWSC category, at least.
As far as I can tell, for the JSMA and the National Tax Agency, these latter categories are not what's is going to happen. They will only be standardizing Japanese whisky. So I'm concerned that the things which are not Japanese whisky are going to be left a bit confusing and unclear.
For Japanese whisky, it sounds like there will be a fairly clear definition. But the other stuff? Too early to say.
From our point of view, things that aren't grain-based should not be considered whisky. But as a first step, at least, we need to decide the standard for Japanese whisky. Going forward, you won't be able to call those kinds of products Japanese whisky. In the industry at least… of course if you're not "in the industry" then there isn't anything that can be done. But at least we'll have some deterrent.
So yes, it sounds like we have a definition for Japanese whisky. But not for the things which are not Japanese whisky.
WR: Could we see "Tokyo whisky," for example?
MT: Haha, I don't think that's going to happen, but for example we might see "Whisky Made in Japan." Or "Japan product." It's not impossible.
On the other hand, up until now we have had nothing at all, so at the very least having a standard for Japanese whisky will be something of a deterrent. If consumers worldwide can at least understand what "Japanese whisky" on the label means, then it would be progress for us. We look at it as a win. So of course we're on the side of the JSMA.
WR: Japanese whisky has its roots in imitation, with the first "Japanese whiskies" on the market not really being whiskies at all. Over the decades, Suntory, Nikka Whisky, and other big players built their businesses by taking advantage of the very lax definition of whisky in the Japanese tax code. Even today there are rumors that these big players are importing whiskies from overseas and using them in their cheaper blends. Wouldn't there be opposition from within the spirits industry to introduce a Japanese whisky standard?
MT: I think that's one of the reasons that it has taken JSMA over three years to get moving. We're not involved in the discussions, so we don't know the specific details. But as you say, traditionally, Japan has had Grade 3 whisky and so on. Grade 3 whisky was introduced shortly after WW2. It contained less than 5% whisky. Whisky there being defined by the National Tax Agency's law. The only requirements are that it uses grain and is distilled. There's no requirement to put it into a barrel! Of course when you say grain it doesn't have to be barley either. Could be corn, which you could ferment and distill, then it would legally be whisky in Japan, even if it's not matured. And that only needs to be 5%!
So what's the rest? The answer is that they are not using grain. It's molasses-based neutral spirits.
Back when imitation whisky first started in the early 20th century, as is recorded in the Taketsuru Notebook, the most affordable and easily accessible ingredient to make neutral spirits was satsuma potatoes. To make decent spirits from satsuma potatoes, they need to be fresh, and preparation is somewhat difficult. But Japan had the expertise to do this because of Kagoshima's shochu culture. They would ferment and distill neutral spirits from the satsuma potatoes.
Right around the time when the imitation whiskies were launching, from the 1910s to the 1920s, that's when continuous stills were starting to be used worldwide. Japan had imported continuous stills from France and Germany as well — stills even more advanced than the Coffey still. That was around the end of the Meiji Era. That's likely how they made potato-based neutral spirit. We're not quite sure exactly how advanced the technology was at the time, but they were probably able to distill up to 95 or 96% abv.
Particularly, technological advancement was brought on by Settsu Shuzo. And specifically Kiichiro Iwai, whose student Masataka Taketsuru could make quite pure alcohol. Add your aromas, some color, and that's imitation whisky. Amongst the first companies to use Settsu Shuzo's imitation whisky was Kotobukiya (ed: today Suntory).
But during and after WW2, it became impossible to do that using domestic potatoes. Taiwan used to be part of the Japanese empire, so satsuma potatoes were imported from Taiwan for a time. Those were distilled to make neutral spirits. The main use though was for shochu and sake; Western spirits were only a small portion of the total. "New style sake," and "New style shochu," they called it. Even today we have sake mixed with neutral spirit (non-junmai sake) and shochu as well.
After the war, it became impossible to use Taiwanese potatoes, so the easiest solution was to use molasses-based spirits. It came from Brazil, maybe a bit from Southeast Asia, but primarily South America. Molasses of course is a byproduct of making sugar from sugarcane. That was distilled in Argentina or Brazil to yield a pretty poor quality distillate, at 50-60%. It was imported to Japan by huge tanker. It's then distilled again here in Japan using Japanese distillation techniques. Kyowa Hakko for example still does this today, and it remains the base for many sakes and shochus.
I guess you could say that using molasses-based neutral spirits is part of Japanese alcohol culture. In case the of sake, there was a big pushback against it around 30 years ago, which is why you today have junmai and non-junmai sake.
Whisky also started using it after the war. The law allowed for up to 95% of that molasses neutral spirits. There's a long history of that. It continues today. I won't name names, but for example, Japanese "whiskies" that are sold in plastic bottles. Whiskies that are selling quite well! Some for a thousand yen or less, cheaper ones going for 600 yen. The law requires only 10% whisky today to put a "whisky" label on the bottle. Meaning we get 90% molasses neutral spirit. We'd be lucky if the bottle contained Ben Nevis! Or in the case of Suntory, Glen Garioch. Hell, that would make it taste better!
I don't expect the use of molasses neutral spirits to change any time soon. It won't simply disappear. For TWSC, we've made categories for a Japanese whisky, and Japan-made whisky, the latter allowing for imported whisky. But we don't allow molasses neutral spirits at all. Meaning all whisky must be grain-based. If it's not grain-based, it's not whisky. The 600-700 yen Japanese whisky that's being sold today needs to be called something else. Perhaps calling it "grain spirits" could be fine. But don't call it whisky.
WR: Separate from the Japanese Whisky Festival, 2019 saw the establishment of the Japanese Whisky Association (JWA). What kind of things will the JWA be doing in 2020?
MT: Sorry, actually no, it's not moving. We announced the Japanese Whisky Association in September 2019. But the JSMA has more or less asked us to put it on hold. It's pending right now. We'd like to create the JWA after the Japanese whisky standard is finalized, but we're no longer sure if we should be the ones that do it. For example, if it's established, we would need to handle PR overseas as well. But I don't think that sort of thing should be our responsibility. Of course we have our own opinions about Japanese whisky, but I don't think it's possible for us to run the organization.
The idea behind the JWA was that if the JSMA can't decide on a standard like we already have for TWSC, then we would need to spread the word more. At least, that was the original plan.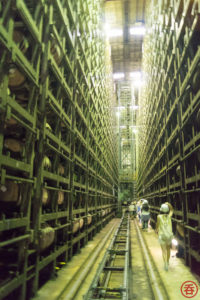 Who would join the JWA? There would be both craft distilleries and big distilleries, but we also think retailers and consumers should be a part of it. If we don't have that, we could end up like the SWA or IWA, where these big companies control about 70 to 80% of the annual budget. The combo of Diageo and Pernod Ricard is around 90% for SWA. For the Irish Whiskey Association, Pernod Ricard alone puts up 70% of the budget. That kind of thing would put us in a situation where we can't really go against what big companies say: they're the ones funding the whole thing! We would like to avoid that, so we want to create an association unlike anywhere else in the world. Meaning, completely independent of any political influence, and it would be entirely within our own budget.
Ideally this would include makers, retailers, and consumers, who all simply pay membership fees. That's about as far as we've thought it out.
But I'm hoping it isn't even necessary. If the JSMA decides on a standard for Japanese whisky, then it would be their responsibility to make sure that the word is spread widely, both internally and externally. The Japanese whisky standard would need to be recognized around the world. Only deciding the standard within Japan isn't enough — we need to have agreements in place between governments to respect the standards as well.
Take the Mexican government for example, with tequila. They're going to various countries around the world and making these agreements to protect tequila. Malaysia doesn't have such an agreement in place. So if you go to a liquor shop in Malaysia, you'll find tequila… made in Malaysia.
A Japanese whisky standard would require the same kind of agreements. Without those agreements in place, in Russia for example, you could have a Russian-made "Japanese whisky." And there's nothing we could do about it.
WR: Earlier you mentioned about the Japanese Whisky Festival celebrating history. I personally think that there's a lot of people who have only been interested in Japanese whisky for the past few years, so they aren't necessarily familiar with its background. Are there any interesting episodes in Japanese whisky history that people may not have heard of?
MT: So, I helped out on the NHK Massan drama. Of course everyone was wondering why Taketsuru went to Scotland in the first place. That's an interesting one.
Thinking it through… in 1918 where were they making whisky in America? Bourbon whisky has only really been popular in the last 20 to 30 years, so you have to wonder exactly what Kentucky was like a hundred years ago. It was right around Prohibition too. How much did Taketsuru even know about whisky? For example, was it even possible to get Bourbon in Japan at the time? You can look to hotels and bars in Osaka or in Ginza in Tokyo for that answer. Ginza was a very different place a hundred years ago. Though it wasn't called a "bar," there's a menu left over from a parlor in Ginza from 100 years back. I had a look at it. Even the 1920s, they had Johnnie Walker, Ballantine's, Vat 69, and a lot of the blended Scotches you see today. You could probably find Bourbon in Ginza or Osaka even a hundred years ago.
Taketsuru should have at least had Johnnie Walker, Ballentine's, or White Horse at some hotel in Osaka. But in 1917, he didn't probably didn't quite know the value of Tennessee or Kentucky, and America was just entering Prohibition anyway. Irish whiskey wasn't anywhere to be found in Japan. They were pushing for independence in the 1920s, so they didn't want to be associated with the British empire.
Taketsuru must have figured that Scotch is the only whisky. That's why he went to Scotland! Scottish single malts did not exist at the time, at least not the way we know them today. The NHK team wanted to put a scene in the drama where, after falling in love with a Scotch dram in Japan, Taketsuru shows up at that distillery in Scotland to learn about the whisky they make there. But I told them it's unrealistic. Even if he did drink something, it would have been a blend like Johnnie Walker… so then it's, uhh, well which distillery do you go to for Johnnie Walker? There are around 40. I told them it's not possible. But they were like, come on… it's a dramatization. We ended up with a scene where he shows up at the Longmorn Distillery in the rain, saying he came there because he fell in love with their whisky, and he wants to work there. But it's phony! That never happened.
That kind of thing is important. If you're going to drink whisky, you need to know about the culture of whisky, a part of which is its history.
Last year we did a festival in Okinawa. And when I was in taxi going to the venue, we went by Naha Harbor, we went by where Commodore Perry landed in May 1853.
After landing, he went to the recently destroyed Shuri Castle. As part of his returning the favor for his reception, there was a party held on the deck of the steamer USS Susquehanna. Looking at the records of the party, there was Scotch whisky and American whiskey served there.
Perry and crew departed Norfolk in 1852. We originally thought he crossed the Pacific, but the Panama Canal or Suez Canal was not complete yet. Which is to say Perry's fleet crossed the Atlantic and Indian Oceans, stopping for supplies in places like South Africa, Goa India, Hong Kong. All parts of the British Empire at the time. The big British trading company at the time was Jardine Matheson & Co. Run by Scottish. They must have had casks of Scotch. What would it have been? Single malt whisky. 1852-53 is before the days of blending. You weren't allowed to blend grain until after 1860. The Scotch that he picked up in Hong Kong would have been something that Jardine Matheson had in stock — a single malt Scotch. They didn't have the concept of a "single malt," but it wasn't blended.
How about the American whiskey? The Susquehanna departed from Norfolk, near Washington DC. And it's too early for Kentucky Bourbon. Instead, Pennsylvania was close, so it was likely a rye whiskey. They had casks of that on board as well. Meaning the first Japanese people to drink whisky was the Ryukyu royalty.
(ed: Another interesting point about Perry's visit to Okinawa is the reason: America intended to capture the island if Japan refused to open the country to trade!)
WR: Japan has seen a surge of new whisky distilleries, from the recently announced distillery on Rishiri in the north, to rumors of an upcoming announcement by Okinawa's Kumesen Distillery in the south. And it seems like there may be a few clusters emerging, with Hokkaido, the Japanese Alps, Kansai, and Kagoshima all having new distilleries. Could we see regionality in Japanese whisky, like we have with Scotch?
MT: Scotland has 120-130 operating distilleries, and traditionally the Highlands and Lowlands have nearly been different enough to be considered different countries. They have different manufacturing techniques as well. Japan's whisky history is only 100 years long, so it's a bit premature for any kind of regionality to show itself just yet.
Instead we see the diversity within Japanese whisky being one of its advantages. Certainly within the category there's a big difference between the whisky made in the north and the south. But compared to Scotch or Irish or American whiskey, we also have this huge variety of microclimates unique to various parts of the island chain that makes up Japan. Though the culture is mostly the same, they each have different climates, different water, and different vegetation.
Another point is related to the mystique of Japanese whisky — the water quality for example. At some stage we expect to see craft distilleries moving to microbes besides yeast for their fermentation. And since Japanese distilleries have the ability to reflect the prices of raw materials in their bottle prices, we'll see more usage of Japanese domestic barley. It's extremely expensive, sure, but there are even some distilleries looking to grow their own barley for malting. So we'll likely see even more variety within Japanese whisky.
Maturation is another exciting area for Japanese whisky. Besides oak, there are options like chestnut and cypress. Maybe cedar isn't a good choice. But given Japan's distribution of islands from north to south, there are so many different kinds of wood yet to be experimented with. Some may be the first time in the world experimenting with that kind of wood.
Japan also has traditions of using wooden containers that aren't casks, such as the oke, as mentioned earlier. They don't need to be moved around at all, so we think we could see some kinds of entirely new whiskies come out eventually.
We also have the culture of using koji when making alcohol as well. How will this be incorporated into making whisky? It's something to think about when looking towards the future of Japanese whisky. That's one of the reasons we are allowing koji in the standard.
I was down in Kagoshima the other week, visiting shochu makers who are getting into whisky. Osuzuyama is one of the places I visited, and it was quite interesting. They actually don't know a whole lot about making whisky, but that's what is intriguing — they are essentially thinking about it as an extension of their shochu-making operation. Things that seem mysterious to us are obvious to them.
They are injecting steam directly into the wash inside their still, for example. That's standard practice in shochu. But is it even necessary for whisky, where the wash is pretty smooth and consistent? They had no concept of why it's necessary for shochu but not for whisky. The injected steam separates the alcohol from the wash. Meaning, they are making whisky using a shochu-style distillation. What kind of whisky will it yield? Most people in the world don't know about this method of distillation, so it will be unique. The end product is very, very smooth.
Japan, like the rest of the world, is experiencing a craft whisky boom at the moment. Quite often I'm asked whether or not it can continue. Two years ago, my thinking was that whisky tends to have 30-year cycles, so the craft boom is just a part of one of these cycles. But after the past couple years, I'm thinking that this time around, it's different. We are entering a new era for whisky with new ideas being put forth by these craft distilleries. There is still plenty of potential to bring in new whisky drinkers, and introduce new ideas to current drinkers.
While there may never be as much consumption of whisky in terms of volume as there was in the past, I think whisky presents drinkers with the most diversity possible within a single category of spirit.
WR: I'm looking forward to the future of Japanese whisky as well. Thank you for your time today!
Hi there! I created and run nomunication.jp. I've lived in Tokyo since 2008, and I am a certified Shochu Kikisake-shi/Shochu Sommelier (焼酎唎酒師), Cocktail Professor (カクテル検定1級), and I hold Whisky Kentei Levels 3 and JW (ウイスキー検定3級・JW級). I also sit on the Executive Committees for the Tokyo Whisky & Spirits Competition and Japanese Whisky Day. Click here for more details about me and this site. Kampai!