Over a year ago I listed Kiuchi Shuzo's Nukada Distillery as one to watch in 2018-2019. And watch it I have! That's why I'm excited to bring news that the company is launching their first whisky product to the public on April 1, 2019.
Yes, I just said "whisky product," not whisky. That's because they're not releasing bottles of their whisky. Instead, it's coming as a canned highball, the Hitachino Highball. That's 355ml, 9% abv, and 350 yen. Not everyday that you see a company skip the whole "bottles" thing and dive head-first into the ready-to-drink category.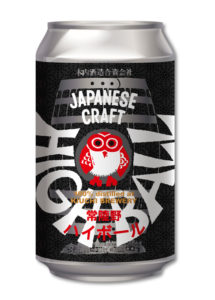 The whisky–both malt and grain–inside each can is 100% brewed and distilled at the Nukada Distillery, per their announcement. The liquid has been aged in a Spanish sherry cask or wine cask for 3 years, then blended together.
Kiuchi Shuzo is best known as the company behind Japanese craft beer darling Hitachino Nest. These days, Hitachino Nest is widely available throughout Japan's grocery stores in both bottles and cans. So my guess is Kiuchi wanted to take advantage of their existing distribution network, contracts, and shelf space to get Hitachino Highball out to the public. That's a completely different approach from that of, say, Akkeshi who is essentially rationing out their stock to people willing to pay a premium as it reaches the target age.
While having no choice but the highball will probably upset many whisky purists, on the other hand, it means a drastically higher volume of liquid. Thus more people will get a chance to drink a weaker/soda-fied version of the whisky. And you can't argue with the price — 350 yen is affordable for bonafide Japanese whisky these days. And after all, Japan definitely loves highballs.
At this point there's no telling if or when Kiuchi Shuzo plans on releasing just a bottle of their whisky. But we do know that they are already expanding capacity, announcing the creation of the Yasato Distillery in November last year. In the meantime, highballs are awesome!
Hi there! I created and run nomunication.jp. I've lived in Tokyo since 2008, and I am a certified Shochu Kikisake-shi/Shochu Sommelier (焼酎唎酒師), Cocktail Professor (カクテル検定1級), and I hold Whisky Kentei Levels 3 and JW (ウイスキー検定3級・JW級). I also sit on the Executive Committees for the Tokyo Whisky & Spirits Competition and Japanese Whisky Day. Click here for more details about me and this site. Kampai!