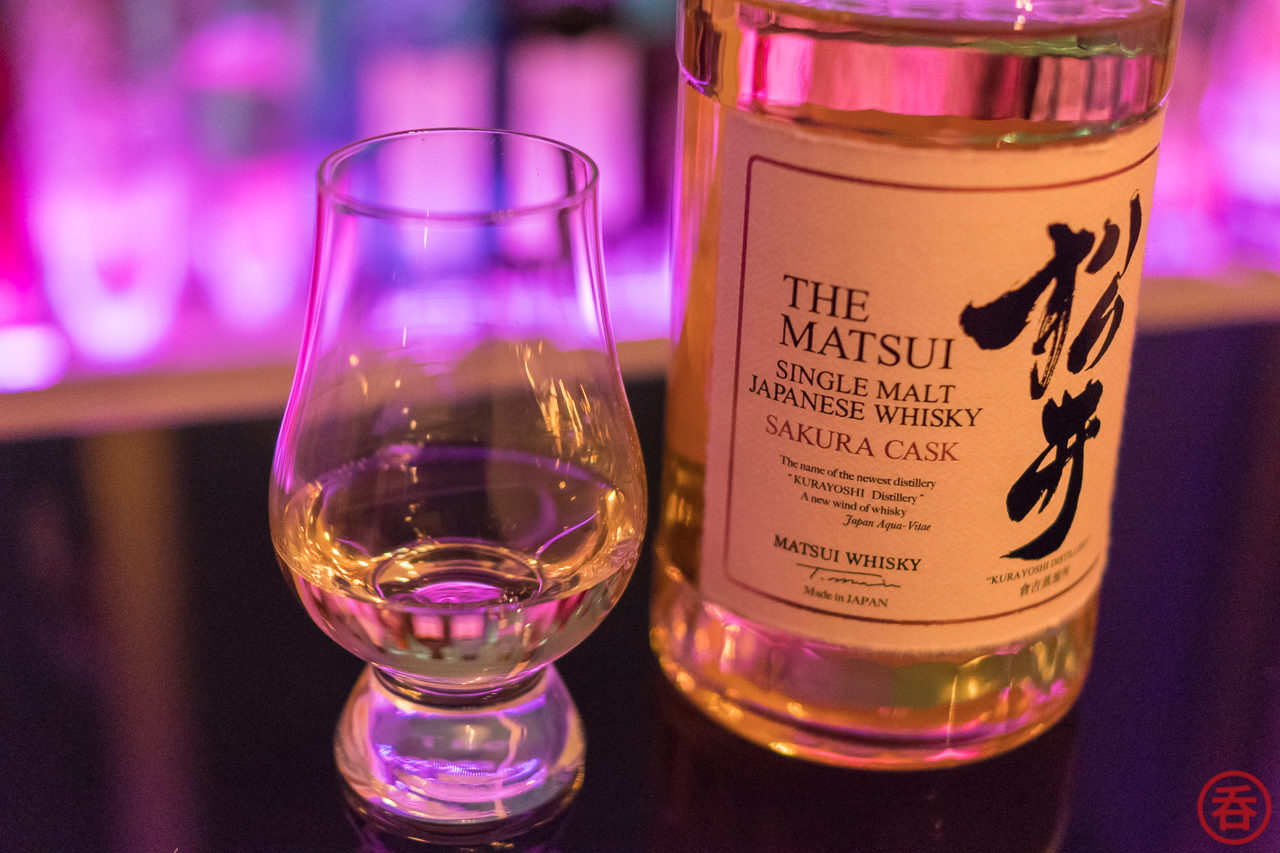 Here it is. One of the first whiskies from the notorious Matsui Shuzo that is–allegedly–actual Japanese whisky!
I wrote a whole lot of words about Matsui Shuzo's phantom Kurayoshi Distillery last year. To briefly summarize: they have historically been pretty deceptive and confrontational, and tend have a bad reputation for making fake Japanese whiskies. Yet there seems to be someone in the company that wants to turn legit, because since 2017, they've reportedly been distilling their own whisky. Maybe the Kurayoshi Distillery isn't such a phantom anymore.
The Matsui series is the first result of that attempt at legitimacy. Released in late 2018, there are three NAS whiskies in the lineup: Sakura Cask, Mizunara Cask, and Peated. Today I'm trying Sakura Cask since it seems the most interesting of the lot… and well I'm not buying all three. Cherry wood casks aren't something you see everyday, after all.
This is one whisky that should be NAS. Why? Simply because it makes it easier to believe Matsui Shuzo when they call it "Japanese whisky." New Born whiskies generally don't wear age statements on their sleeve, so the fact that it's NAS to me lends credence to the idea that this is, in fact, a New Born. Reports so far indicate that it's distilled not in a pot still, but one of the alembic stills the company installed in early 2017. Then aged for about 18 months. It's bottled at 48% abv, so they've used water from the famous Mt. Daisen — where Suntory also happens to run a mineral water factory.
On the other hand, they haven't actually called it a New Born. The whisky world expects that kind of transparency these days… as Akkeshi, Shizuoka, and Kanosuke have not held back details of their New Borns. But this is Matsui Shuzo we're talking about here. You can't deny the label still looks awfully similar to another company's whiskies.
How much of this whisky is really Japanese, if any? Matsui Shuzo obviously has plenty of imported whisky at the ready. Unfortunately we may never get a clear answer. One thing I can do for you is drink the damn stuff, then take a guess as to whether or not it's really a New Born. At the end of the day, what we really want to know is how it tastes. Let's do it!
Review: The Matsui Single Malt Japanese Whisky Sakura Cask
Nose: Well it's certainly a New Born. There's plenty of oak alongside a hint of orange marmalade and nutty bread.
Palate: Malty and powerful, adding water brings it down a notch to reveal some decent spices.
Finish: Just barely flowery, then closing out with yeasty grain and a hint of mint. Tobacco lingers… did I just smoke?
Score: C++
Price paid: 4980 yen, 700ml
Looking past the company and only considering the whisky itself, Matsui Whisky's first real attempt ought to be pitted (head-to-head if possible) against those of other new Japanese whisky distilleries. The spice bordered on overbearing, but adding water brought things to a more palatable level. On the other hand, if you're looking for some amazing sakura notes, stick with gin. Perhaps a few more years in the cask?
Hi there! I created and run nomunication.jp. I've lived in Tokyo since 2008, and I am a certified Shochu Kikisake-shi/Shochu Sommelier (焼酎唎酒師), Cocktail Professor (カクテル検定1級), and I hold Whisky Kentei Levels 3 and JW (ウイスキー検定3級・JW級). I also sit on the Executive Committees for the Tokyo Whisky & Spirits Competition and Japanese Whisky Day. Click here for more details about me and this site. Kampai!