The world's appetite for Japanese drinks seems insatiable, with 2022 set to be another record-breaking year for several categories. Let's take a look at the latest data to see where things are, and where they'll likely go as edge towards the end of the year.
Please note that you can explore the below data plus more, fully interactive and 100% free, in the Data Library!
Japanese whisky rises ever further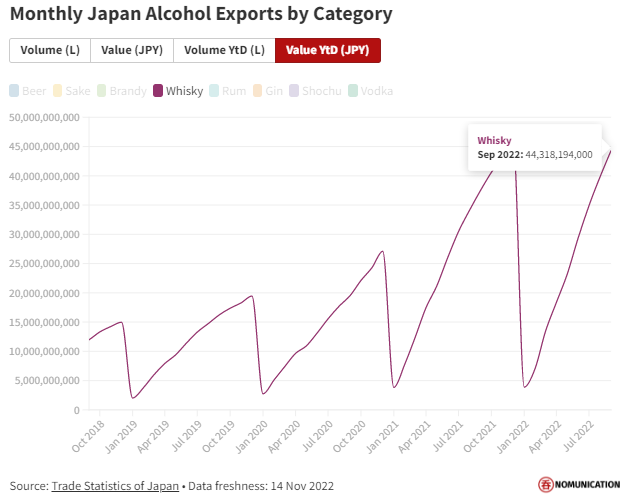 The category closed out 2021 with a record-breaking 46.15 billion yen worth of exports, and as of September 2022 we're already at 44.32 billion yen. 2021's data would lead us to believe the last three months of the year don't set any monthly records, but 2020 disagrees with that assessment — December was the highest month of that year. In any case, we're less than two billion yen away from setting a yearly record, so I expect this time next month we'll already know 2022 is a record-breaker. Volume-wise I expect 2022 to set a new record as well; we're only about 1.2 million liters away.
2022 has been good for shochu!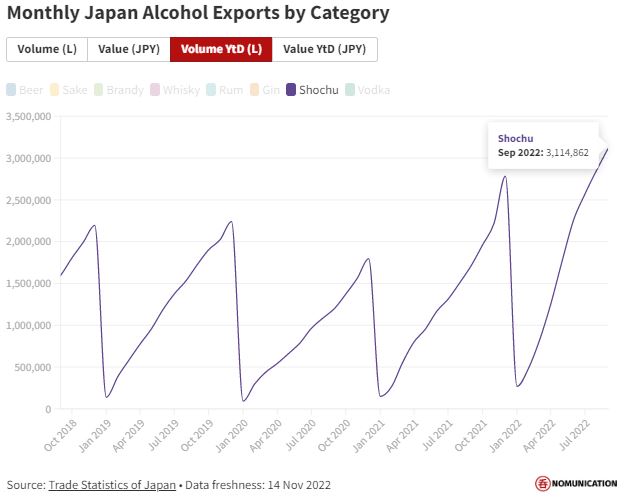 At the beginning of this year, I guessed that given the ongoing pandemic, 2022 would not be the year of shochu behind the bar.
With much of the world taking a… different stance towards covid-19, it turns out that globally, shochu has done quite well for itself this year. In terms of volume, the 3.11 million liters (YtD) for September 2022 has already beaten out 2021. For value, we're a mere 50 million yen away from making 2022 a record-setting year for shochu exports from Japan. With monthly numbers now hitting 175-230 million yen, it's a near certainty.
Oh! September 2022 was the second-best month ever in terms of value exported. I hope that growth in the category continues to accelerate. I want to do my part by providing awesome shochu content thanks to my new partnership with SHOCHU NEXT.
And HELL YEAH THERE'S gin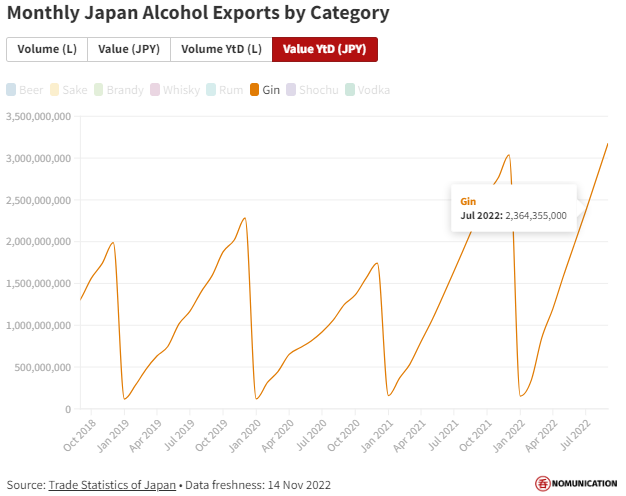 Lest you forget, Japanese gin is a thing, and a mighty successful thing. March 2022 saw the highest-ever monthly volume at 728,000L raking in nearly JPY 493 million. Year to date, Japan is only 1219 liters shy of hitting 2021's total, and value-wise, it's already hit a new yearly high of 3.177 billion yen as of September 2022.
While it probably won't be as whopping as the 75% YoY growth in export value of the category we saw between 2020 and 2021, Japanese gin is still growing globally at a breakneck pace!
Sake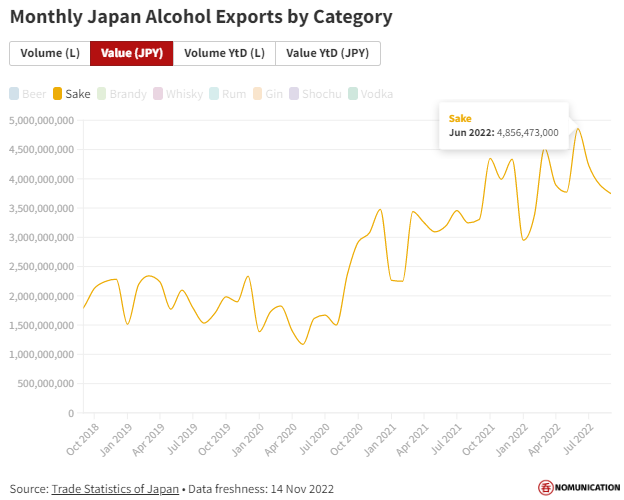 You literally can't talk about Japanese drinks without talking about sake at some point, so here we are. The category has put up huge numbers.
March 2022 saw the highest volume of monthly exports of sake from Japan ever. Let me repeat that. EVER. 3.81 million liters.
June 2022 saw the highest value of monthly exports of sake from Japan ever. Let me repeat that too. EVER. 4.86 billion yen.
---
Me and plenty of other Japanese drinks industry folk will be keeping a VERY close eye on these numbers as we close out the year. Kanpai!
Hi there! I created and run nomunication.jp. I've lived in Tokyo since 2008, and I am a certified Shochu Kikisake-shi/Shochu Sommelier (焼酎唎酒師), Cocktail Professor (カクテル検定1級), and I hold Whisky Kentei Levels 3 and JW (ウイスキー検定3級・JW級). I also sit on the Executive Committees for the Tokyo Whisky & Spirits Competition and Japanese Whisky Day. Click here for more details about me and this site. Kampai!