The latest Japanese gin is from liquor powerhouse Suntory. Japanese Gin Sui is the most affordable Japanese gin yet, giving it an opportunity to open up entirely new markets for the category.
Sui
is translated as "green," but it's bit more nuanced than that. Perhaps more accurate would be somewhere between jade and turquoise? Suntory has chosen this color #00b0ad, as the brand color for Japanese Gin Sui.
The bigger news though is that Japanese Gin Sui is the most budget-friendly Japanese gin thus far. It retails for just 1380 yen–before tax–for a 700ml bottle.
I've said before that more sub-2000 yen Japanese gin needs to happen. This opens the category to a much bigger audience than the >3000 yen gins we've seen thus far–including Suntory's own Roku. For example:
Bartenders looking for a way to offer affordable Japanese gin cocktails, or a Japanese rail/house gin
Izakaya owners looking to branch out from the tired beer/highball/shochu menu
Consumers who wanted to try Japanese gin, but couldn't because of the price
You get the idea. Suntory has the market presence necessary to start trends, and "cheaper Japanese gin" is definitely one I can get behind.
As we discussed when we first heard about Sui, its flavor profile revolves around yuzu, green tea, and ginger. Those are flanked by eight traditional gin botanicals: juniper berry, coriander seed, angelica root, angelica seed, cardamom seed, cinnamon, bitter orange peel, and lemon peel.
Is Japanese Gin Sui poised to start a new chapter for Japanese gin, bringing it to cheap gin drinkers worldwide? Or is Sui cheap for the wrong reasons?
Review: Suntory Japanese Gin Sui
Suntory recommends Sui with soda, rather than tonic. I've incorporated my thoughts on the Sui+soda in the below notes.
Nose: Bright, sunny and warm yuzu alongside plenty of ginger
Palate: Open up with oranges, then I get a pinch of spices. Later on there's green tea, underscored by a grainy corn base.
Finish: Mouthful of green tea continues, and ginger makes a comeback. On the way out juniper finally shows itself.
Score: B+
Price paid: 1380 yen, 700ml, 40% abv
Leaning towards sweet rather than dry, Sui doesn't have the complexity of other Japanese craft gins. But that's not necessarily a bad thing. Since we still get plenty of Japanese citrus and green tea notes, it's a nice and affordable bottle to introduce any drinker to the Japanese craft gin category.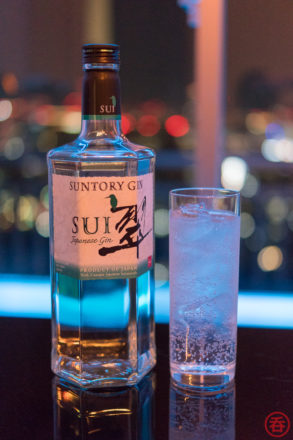 Hi there! I created and run nomunication.jp. I've lived in Tokyo since 2008, and I am a certified Shochu Kikisake-shi/Shochu Sommelier (焼酎唎酒師), Cocktail Professor (カクテル検定1級), and I hold Whisky Kentei Levels 3 and JW (ウイスキー検定3級・JW級). I also sit on the Executive Committees for the Tokyo Whisky & Spirits Competition and Japanese Whisky Day. Click here for more details about me and this site. Kampai!