The numbers are in! Japanese whisky had yet another record-breaking year in 2021. 12.5 million liters of juice were sold for over 46 billion yen, making 2021 the biggest year ever recorded for Japanese whisky outside of Japan.
J
apanese whisky extended its collective middle finger at COVID-19 in 2021, putting up a whopping
70.2% increase
in the JPY value of exports over 2020. Volume-wise, exports of whisky were up by about 36%.
Right, the value went up by a lot more than the volume. That means the per-liter value of Japanese whisky sent overseas was also a record high, at approximately 3678 yen per liter. Needless to say, this is a wonderful time to be in the Japanese whisky business — 2021 totals for newly licensed distilleries are coming within the next few days. Later this year, I'll also update the per-country breakdown for insight into where the whisky goes once it leaves Japan.
Oh, by the way, Japanese gin? Another record-breaker. Export value was over JPY 3 billion, up 33% versus its previous high of 2.28 billion, set back in 2019.
On a monthly level, there's another interesting data point: shochu exports exploded in December 2021 to over 274 million yen. That simply blows away the monthly total for any other month on record. And it wasn't just the value: the volume also topped 500,000 liters for the first time ever. I'd be absolutely thrilled to be proven wrong about my 2022 outlook for the category.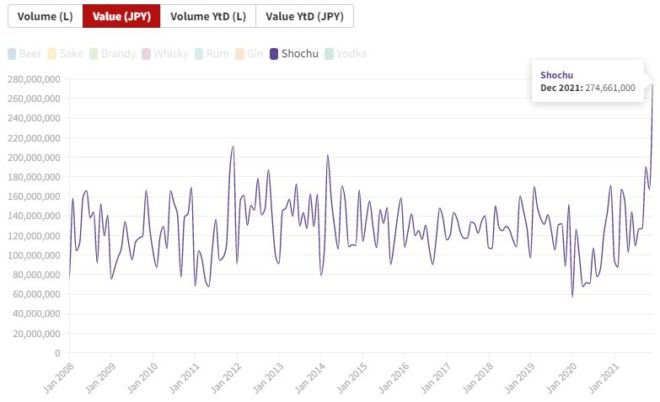 Click here to dig into the fully interactive data yourself!
Hi there! I created and run nomunication.jp. I've lived in Tokyo since 2008, and I am a certified Shochu Kikisake-shi/Shochu Sommelier (焼酎唎酒師), Cocktail Professor (カクテル検定1級), and I hold Whisky Kentei Levels 3 and JW (ウイスキー検定3級・JW級). I also sit on the Executive Committees for the Tokyo Whisky & Spirits Competition and Japanese Whisky Day. Click here for more details about me and this site. Kampai!