Here's a quick roundup of some of the new spirits being released in Japan this November: a well-aged apple brandy, three new single cask whisky releases out of the Nagahama Distillery, and Sleepy Owl cask-aged shochu.
Asahimachi Apple Brandy Aged 22 Years
Japan has a long history of cultivating apples, and Nikka famously relied on the fruit for cashflow in the company's earliest days. Despite that, there unfortunately isn't much of an apple brandy culture here
Enter Yamagata's Asahimachi Wine, who this month drops a 22 year aged version of their Asahimachi Apple Brandy. It's not on the official website yet, but Amazon JP reveals that it's made using only non-bagged Yamagata Sun Fuji apples, which are known for their honey-like sweetness.
The brandy then sat in a French (Limousin) oak ex-Cognac cask for 22 years, presumably up in Yamagata. And it's bottled at whopping 65% abv, so get your liver ready. A mere 600 bottles are in this release.
700ml / 65% abv / 22,000 yen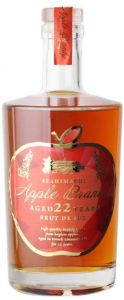 Single Malt Nagahama again
Japan's tiniest whisky distillery, the Nagahama Distillery, will once again be releasing a batch of single cask single malt whiskies this month. Similar to the lineup we saw earlier this year, it's three bottles, all aged 3 years, and in vanishingly small quantities.
Single Malt Nagahama Bourbon Barrel Cask Strength Batch 0053
Nagahama describes the nose as malty, Bourbon barrel-y, caramel-vanilla, chocolate and honey. The body brings soft vanilla and ripe fruit, while the finish is dry and sharp.
500ml / 50.5% abv / 15000 yen + tax, 283 bottles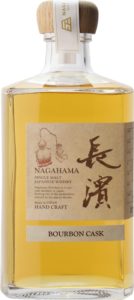 Single Malt Nagahama Sherry Hogshead Cask Strength Batch 0001
On the nose we should get maple syrup, caramel popcorn, nuts, then later there's slowly roasted coffee and dryness of walnuts. For the palate there's dry sherry tannins, toasted chestnut and caramel, closing with sweet dried fruit and toasted oak spice.
500ml / 54.2% abv / 15000 yen + tax, 363 bottles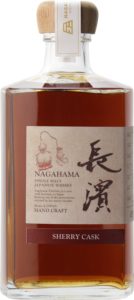 Single Malt Nagahama Islay Quarter Cask Cask Strength Batch 0272
For the peat lovers in the room, this heavily peated bottle brings light smoke, mint, menthol, and more forest greenery on the nose. With time it turns to red apples. The palate has more pronounced smoke and campfire alongside chocolate, then fresh apples, salted caramel, and vanilla. Lasting smoke, too.
While the other releases were single matured, this one is a double barrel. It spent its first 8 months in a Bourbon barrel, and remaining 2 years and 4 months in a smoky ex-Islay whisky cask.
500ml / 58.6% abv / 15000 yen + tax, 218 bottles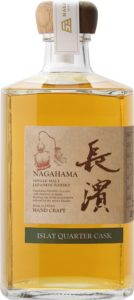 Sleepy Owl
Satsuma Shuzo is one of Japan's 10 biggest shochu makers (#7 in 2019), so it's worth paying attention when they make a hybrid spirit that hints at a new direction for the category.
The company is Japan's only shochu maker to have an on-site cooperage. And it's in full swing — the company reportedly has "tens of thousands" of casks, some of which have been in use for over 70 years thanks to regular maintenance.
Sleepy Owl is their newest cask-aged barley "shochu liqueur." Unlike last time, "cask-aged" here actually means aged: it spent 12 years in a heavy char American white oak cask. The color change that came along with that maturation disqualifies it from being a shochu. Instead, it's classified as a "liqueur" under the Japanese tax code due to absorbance regulations.
As you'd expect from a heavily charred American white oak cask, Satsuma Shuzo says there are lots of vanilla notes to be found in Sleepy Owl.
Satsuma Shuzo's biggest brands are Satsuma Shiranami and Kannoko, the latter being a barley shochu aged for 3 years. More recently though, the company makes The SG Shochu IMO, which we reviewed earlier this year. It's great to see big players like Satsuma Shuzo pulling levers like abv and decade+ cask aging to bring shochu to a new level.
720ml / 40% abv / 6000 yen + tax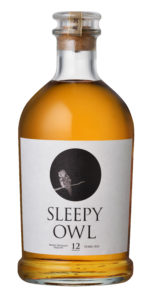 Hi there! I created and run nomunication.jp. I've lived in Tokyo since 2008, and I am a certified Shochu Kikisake-shi/Shochu Sommelier (焼酎唎酒師), Cocktail Professor (カクテル検定1級), and I hold Whisky Kentei Levels 3 and JW (ウイスキー検定3級・JW級). I also sit on the Executive Committees for the Tokyo Whisky & Spirits Competition and Japanese Whisky Day. Click here for more details about me and this site. Kampai!