As expected, Shiga prefecture's Nagahama Distillery is rolling out their first single malt Japanese whiskies this year. Details have just been announced on their official homepage.
N
agahama Distillery kicked off distillation in November 2016, so they've been at whisky-making for just over 3 years now.
"Single Malt Nagahama" is their appropriately named new lineup of single malt whiskies.
But rather than just giving us one single… single malt, they are instead giving us three. Let's take a look.
Single Malt Nagahama Bourbon Cask Cask Strength Batch 0007
Here's good old reliable — just a plain bourbon barrel maturation. This bottle should give you the most base Nagahama single malt experience. They tell us to first expect maltiness and woodiness on the nose, then sweetness with vanilla, coconut, and honey. On the palate we get an initial woody, spicy attack, the middle brings along ripe apple, and we close with a long cask notes.
500ml, 61.3% abv, 254 bottles. 12000 yen before tax.
Single Malt Nagahama Oloroso Sherry Cask Cask Strength Batch 0149
Rather than 3 years in the same Bourbon barrel, here we get 1 year in the Bouron barrel and two years in an Olorose sherry quarter cask. That comes with a sweet nose of mellow Oloroso, dried fruit, raisin butter, almond vanilla, and warm pancakes with maple syrup. On the palate you'll find plenty of volume with berry and raisins, then black tea-like leafy tannins. Closes with Spanish oak spiciness.
500ml, 56.1% abv, 204 bottles. 15000 yen before tax.
Single Malt Nagahama Mizunara Cask Cask Strength Batch 0002
This whisky spent 3 years inside a virgin Mizunara cask. Bonus, it's lightly peated. The nose is graceful and chill, like the white petals of a freshly bloomed flower. Smokiness like Latin passion, with Oriental incense. Over to the palate we get that deep woodiness you'd expect from a fresh Mizunara cask, followed by bitter chocolate and spices like cinnamon. The finish ends things fruity yet with a slight peat accent.
500ml, 53.7% abv, 260 bottles. 15000 yen before tax.
Yes they actually said "Latin passion" in the nosing notes for the third bottle. Their words, not mine.
It's a total of what, 720 bottles, at 500ml each. A laughably low quantity. And uhh, they couldn't be bothered to attempt to blend the 3-year stock they have on hand? Releasing three single cask bottles as your first ever single malt strikes me as really weird.
Presumably, the Nagahama Distillery is still sitting on quite a lot of other casks and will release those whiskies in due course. For now, good luck getting your hands on these.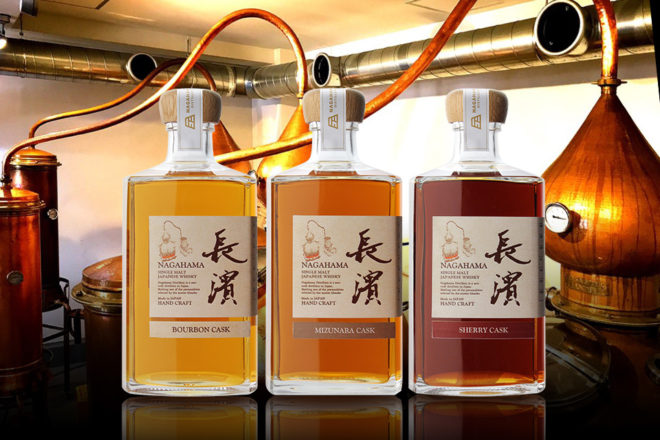 Hi there! I created and run nomunication.jp. I've lived in Tokyo since 2008, and I am a certified Shochu Kikisake-shi/Shochu Sommelier (焼酎唎酒師), Cocktail Professor (カクテル検定1級), and I hold Whisky Kentei Levels 3 and JW (ウイスキー検定3級・JW級). I also sit on the Executive Committees for the Tokyo Whisky & Spirits Competition and Japanese Whisky Day. Click here for more details about me and this site. Kampai!