Last month, Shingo Gokan's SG Group launched The SG Shochu, a brand of shochu specifically developed to be versatile in a bar. While shochu is a mainstay of izakaya drinking here in Japan, it hasn't quite taken off abroad. The SG Shochu is looking to change that with three honkaku shochus that are more international and cocktail-friendly.
T
oday we're going to be trying The SG Shochu IMO, the sweet-potato based entry in the series. But let's first have a quick recap on what brought us to this point.
primer: shochu
Shochu is Japan's national spirit. Within shochu, there are two sub-categories: 1) kourui shochu, which is triple-distilled so pretty neutral, and 2) honkaku shochu, which is single-distilled. Single-distilled spirits are pretty rare these days! Being distilled only once, the underlying ingredients of honkaku shochu show through bright and clear. Typically you use choose from rice, barley, or potato. The SG Shochu series, all honkaku shochus, therefore consists of three different bottles.
Kourui shochu is typically used as a base for izakaya drinks like the lemon sour, and honkaku shochu is generally consumed mixed with ice or water.
Looking abroad
In recent years, the popularity of honkaku shochu has waned due to more people drinking beer, RTDs, highballs, or not drinking at all, Makers are now looking to the export market for new growth opportunities. After all, sake has done it, so why can't shochu?
The answer is probably because sake is more easily paired with food. Sake has won space at the dinner table from wine, even sitting alongside non-Japanese dishes at internationally-renowned restaurants. Shochu makers have tried taking the same approach over the past few years, saying, hey, this can also go with food. There are some isolated cases of this strategy working, sure. But compared to sake, success has been limited.
How about cocktails
Honkaku shochu cocktails aren't really a thing, even here in Japan. Why not? Honkaku shochu is pretty much a non-starter for crafting cocktails: the abv is typically too low (around 25% for most honkaku shochus), yet being single-distilled and unaged means the aromas and flavors can be pungent and overpowering. There are also historical and cultural aspects: shochu is something your grandfather drinks while snacking in front of the TV at night.
We are beginning to see signs that shochu makers want new tactics. Sanwa Shurui's Tumugi was an initial attempt at a hybrid spirit, sitting between gin and shochu–and I liked it. Then 2019 saw the first ever Shochu & Awamori Cocktail Competition by the Japan Sake & Shochu Makers Association, the industry's trade group.
This new approach is not at the table, but behind the wood. Here we look at shochu as a white spirit. And that means cocktails. If you put a bottle of white spirits out there, the first question people will ask is "how do you recommend I drink it?" or "what does it mix with?"
ENTER The SG Shochu
Just in case you haven't heard of him, Shingo Gokan is probably one of the world's most celebrated bartenders at the moment. Beginning his bartending career in Tokyo 2001, he eventually ended up at Angel's Share in New York. From there, he vaulted to the international stage with victory at the Bacardi Global Legacy Cocktail Competition in 2012. More accolades followed. These days he is currently heading up not one but three of Asia's 50 Best Bars: The SG Club (Tokyo), Speak Low (Shanghai), and Sober Company (Shanghai).
At some point it dawned on him that Japan's native spirit wasn't seeing much action behind the bar. To change that, he is launching The SG Shochu in a first-ever collaboration with three of the biggest names in the category. Sanwa Shurui is responsible for MUGI (barley), Satsuma Shuzo for IMO (sweet potato), and Takahashi Shuzo handles KOME (rice). By volume of shochu sold, the companies were respectively #2, #7, and #10 in the industry in 2018.
Review: The SG Shochu IMO
Of the series, I've chosen IMO to review (first?) because sweet potato is arguably the granddaddy shochu ingredient. Kagoshima prefecture alone is home to over 100 shochu distilleries with 2000 brands of shochu. Imo honkaku shochu tends to be packed full of potato-y funk, more funk than you get with a rice (kome) shochu or barley (mugi) shochu. So if The SG Shochu team can make IMO work in cocktails, the other bottles should come easy.
Nose: Buttery caramel, honeysuckle, baked potato with brown sugar.
Palate: The first sip was blunt and powerful. Give it a minute though and there is dark chocolate-like bitterness in the middle. It turns round and smooth towards the back, moving into spices.
Finish: Baked sweet potato skins, roasted black tea leaves
Score: A
Price paid: 3500 yen
I've had plenty of imo shochu but this is quite exceptional. Considering the price, it better be! Even after getting amped up to a strong (for shochu) 38% abv, The SG Shochu IMO delivers a smooth yet deep palate. It's one of the few shochus I may actually want to drink without ice.
The spirit itself is great, but I must say I am pretty disappointed in its website. The SG Shochu is supposed to be targeted at an international audience of bartenders, yet it offers only one(!) signature cocktail for each bottle in the series. I made the IMO Maple Toddy, and it was quite good. More cocktails, please!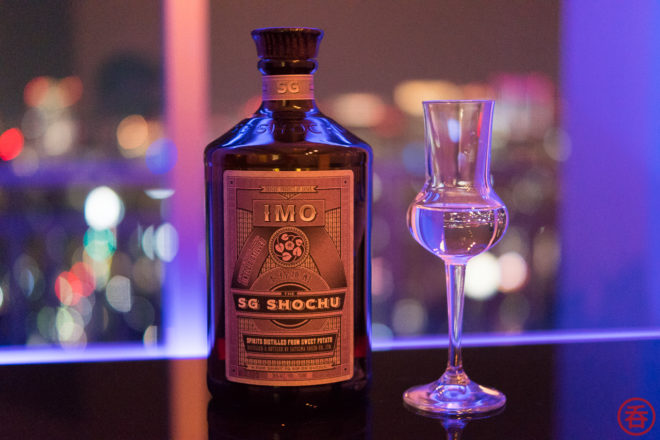 Hi there! I created and run nomunication.jp. I've lived in Tokyo since 2008, and I am a certified Shochu Kikisake-shi/Shochu Sommelier (焼酎唎酒師), Cocktail Professor (カクテル検定1級), and I hold Whisky Kentei Levels 3 and JW (ウイスキー検定3級・JW級). I also sit on the Executive Committees for the Tokyo Whisky & Spirits Competition and Japanese Whisky Day. Click here for more details about me and this site. Kampai!