The SG Group and frontman Shingo Gokan are slated to launch "The SG Shochu" on February 14. The lineup of three shochus–imo, mugi, and kome–is aimed squarely at bartenders looking to bring more Japan to their cocktail menus.
As we discussed when the brand was teased late last year, each type of shochu (Japan's native spirit) in the lineup is made and bottled by a shochu industry heavyweight. Let's have a look at the newly revealed details:
–KOME; Kome is Japanese for rice. "A curious fruitiness is born when brewed patiently at a low temperature―hints of apples and pineapples―reminiscent of an elegant ginjo-style sake." It's also supposed to retain the "silky mouthfeel" of rice. 40% abv, 750ml, 2980 yen before tax. This one is from Kumamoto's Takahashi Shuzo.
–IMO: Fan favorite shochu made from potatoes. IMO here uses "Eimurasaki" purple sweet potatoes that have tropical flower and nectar on the nose. 38% abv, 750ml, and 3500 yen before tax. Hails from Kagoshima's Satsuma Shuzo.
–MUGI: If you're drinking shochu for the first time, experts recommend you start with mugi. MUGI comes from Japan's barley shochu biggest name, Oita prefecture's Sanwa Shurui, known for iichiko shochu. 40% abv, 750ml, 3500 yen before tax. MUGI here is supposed to have "fruity esters and freshly baked bread" in harmony with chocolate and vanilla notes.
Definitely have a look at the official site if any of that piques your interest (it's in English). There are some suggested cocktail recipes for each bottle as well.
About those cocktails. We've covered why shochu isn't already in bars around the world before. Ordinarily single-distilled at 25% abv, honkaku shochu is in a weird spot between being too pungent and overpowering, yet also too weak to form a cocktail base.
The SG Shochu is not the first attempt at overcoming those challenges. The above-mentioned Sanwa Shurui has even tried on their own. But! This time around there's the backing of an international group of bars and bartenders recognized globally for their great cocktails. And some branding by United Creatives doesn't hurt. Will it be enough to help shochu get its big break?
I sure as hell hope so. Shochu is a very underappreciated spirit that deserves its time in the spotlight. It ticks all of the boxes that make a global spirit fad: a centuries-long history in an "exotic" country, a huge variety of flavor within the shochu vertical, plenty of production capacity to feed international growth, it keeps a helluva lot longer than sake, and it's quite affordable. Finally, "shochu" is well-defined and legally protected by Japanese law–unlike that other Japanese spirit–so consumers will know what they're getting with some education.
With all the success that Shingo Gokan and friends have enjoyed lately, they are certainly in an excellent position to give it a try.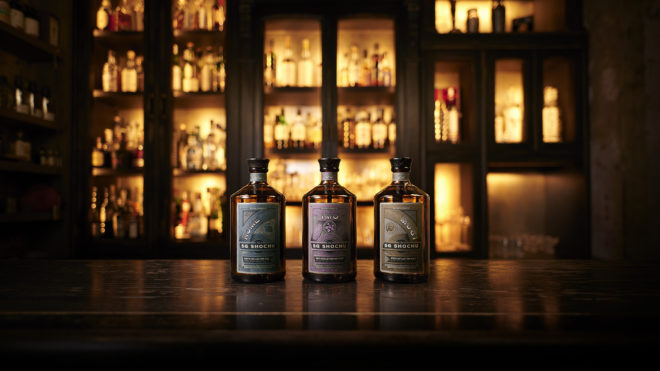 Hi there! I created and run nomunication.jp. I've lived in Tokyo since 2008, and I am a certified Shochu Kikisake-shi/Shochu Sommelier (焼酎唎酒師), Cocktail Professor (カクテル検定1級), and I hold Whisky Kentei Levels 3 and JW (ウイスキー検定3級・JW級). I also sit on the Executive Committees for the Tokyo Whisky & Spirits Competition and Japanese Whisky Day. Click here for more details about me and this site. Kampai!