Big news out of the House of Suntory today: they will be releasing Yamazaki 55 this summer. Per the company, it features malt whisky distilled in 1960, so before the 1964 Summer Olympics in Tokyo.
Yamazaki 55 will be the longest-matured whisky from Suntory ever released. In fact, it contains the longest-matured Japanese whisky, period. Only Saburomaru 55 shares the same age statement, but keep in mind age statements are the minimum age of whisky that go into a bottle. Yamazaki 55 contains whisky distilled as early as 1960, meaning it's matured for around 60 years.
Slated for release on June 30, 2020, only 100 bottles of Yamazaki 55 will be sold. And it's thankfully not first-come first-serve. Suntory plans to hold a lottery for residents of Japan. Each 700ml bottle at 46% abv will go for a cool 3 million yen (approx $27,500 USD) before tax.
That price puts it well out of reach for plebeians like me, but I expect the lottery to be extremely popular anyway. Especially with resellers. Keep in mind that Yamazaki 50–a younger whisky!–holds the record for most expensive Japanese whisky ever sold at auction. It went for around 32 million yen (approx $293,500 USD) back in 2018.
So literally nobody would be surprised if Yamazaki 55 ends up being sold for even more. The world-record holder for most expensive bottle of whisky is Macallan 1926 at around USD $1.9 million, after all.
Or perhaps you just want to drink the stuff. Suntory says Yamazaki 55 contains white oak cask matured whisky from 1964 and mizunara cask whisky from 1960. The nose is described as complex with agarwood, sandalwood, the palate is sweet and slightly bitter before turning woody, then the finish is supposed to be long and thick with a faint bitterness.
The packaging is of course quite special. The kanji for Yamazaki (山崎) are engraved on each crystal bottle, with the "55" featuring gold dust and lacquer. The mouth of the bottle is wrapped in handmade Echizen Washi with a braided cord–a Kyoto tradition. That's delivered in a mizunara wood box with Suruga lacquer.
Interestingly, Suntory also plans on printing each lottery winners' name on the bottle. That's apparently an effort to curb the above-mentioned reselling. But I can't imagine having someone else's name on the bottle would stop a determined (and rich) buyer.
If you're a resident of Japan and you'd like to enter the lottery, you can do so at this site from February 5 at 9AM JST until February 14 at 8:59AM. Good luck!
Thanks to @alohawhisky for the pre-announcement heads-up!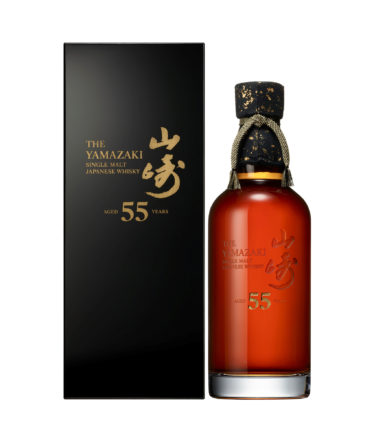 Hi there! I created and run nomunication.jp. I've lived in Tokyo since 2008, and I am a certified Shochu Kikisake-shi/Shochu Sommelier (焼酎唎酒師), Cocktail Professor (カクテル検定1級), and I hold Whisky Kentei Levels 3 and JW (ウイスキー検定3級・JW級). I also sit on the Executive Committees for the Tokyo Whisky & Spirits Competition and Japanese Whisky Day. Click here for more details about me and this site. Kampai!