Miyazaki Prefecture's tourism board is putting on an event here in Tokyo looking towards "the future of Miyazaki shochu." They have teamed up with renowned mixologist Shuzo Nagumo of Bar Code Name Mixology to produce it, bringing together 19 different Miyazaki shochu distilleries, brand ambassadors, and a crew of Miyazaki-based bartenders, sommeliers, and baristas.
Japan's underappreciated native distilled beverage, shochu, is trying its best to raise its global profile 2020. Declining demand domestically has forced many distilleries to look overseas for growth opportunities. For some distillers, this means making gin and/or whisky. For others, it means trying to find a way to get shochu in cocktails. Miyazaki Prefecture is ground zero: they produce the most shochu of any of Japan's 47 prefectures.
As we've discussed in the past, the latter is difficult because shochu is generally around 25% abv. Single-distilled unaged "honkaku" shochu can also be quite pungent. So it's generally too weak to be used as a solid spirits base for a cocktail, yet it's also too aromatic and overpowering.
An uphill battle! That's why I am quite interested to see someone like Nagumo-san, who essentially imported mixology to Japan, give it a try.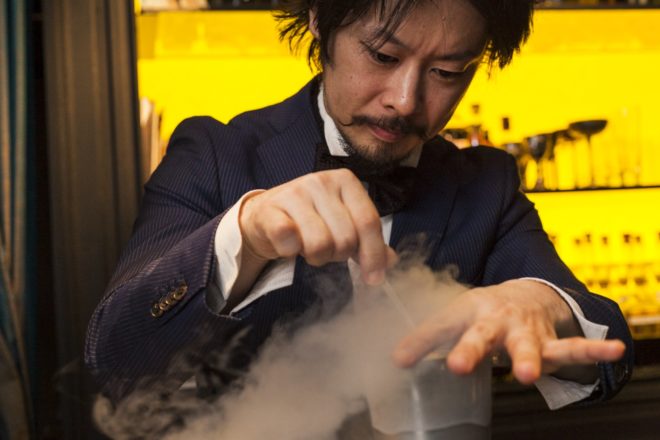 SHOCHU Mix Up runs from 11AM to 6PM on January 26, 2020. It will be held at the fairly new PLUSTOKYO lounge/club/bar/restaurant in Ginza's 1-chome. Entry is 3500 yen, which includes 6 drink tickets. Additional drink tickets can be purchased at the event (3000 yen for 6, 6000 yen for 12). There will of course be some free drinks available as well: my assumption is the cocktails will require tickets, but the distilleries will offer tastings of their shochus for free.
You can see the full list of distilleries that will be at the event here. Plenty of seminars and panel discussions are also scheduled — specifically seminars about using shochu in cocktails, the future of shochu, and aging shochu. Should be plenty of insights for any fan or bartender.
Shochu is still a very untapped and at the global level, obscure spirit. So I'm definitely looking forward to this one!

Hi there! I created and run nomunication.jp. I've lived in Tokyo since 2008, and I am a certified Shochu Kikisake-shi/Shochu Sommelier (焼酎唎酒師), Cocktail Professor (カクテル検定1級), and I hold Whisky Kentei Levels 3 and JW (ウイスキー検定3級・JW級). I also sit on the Executive Committees for the Tokyo Whisky & Spirits Competition and Japanese Whisky Day. Click here for more details about me and this site. Kampai!