The Japan Sake & Shochu Makers Association (JSS) went ahead with the final of the 4th Annual Honkaku Shochu & Awamori Cocktail Competition on February 19, 2022. It was online-only for the general public, but I attended in person as press.
T
he competition has two goals: a) building domestic bartenders' awareness of Japan's home-grown spirits, and b) increasing
global
awareness of honkaku shochu and awamori by putting cocktails that make use of the spirits front-and-center at hotel bars in Japan.
There happens to be an organization for such hotel bartenders in Japan. It's called the Hotel Barmen's Association, Japan (HBA). JSS teamed up with HBA for the competition, so all contestants are also hotel bartenders. Bars that, under normal circumstances, might be an overseas visitor's first experience with Japan's drinking culture.
I talk a lot here about how cocktails could be a good way to sell the world on shochu and awamori. Events like this are an important component of exploration in that space. While there's not yet a go-to shochu cocktail like pisco has with the Pisco Sour, getting people–especially bartenders–to think about shochu cocktails is crucial.
Given the international angle, you might think that contestants are required to give their cocktail presentations in English, but this isn't the case. Everything about this competition was, let's say, "domestic." To their credit, JSS is concurrently running Shochu Cocktail Competition 2022, which was open to residents of the 48 contiguous US states. Maybe one day we'll see a truly global JSS-sponsored global competition for shochu and awamori.
Each finalist had 7 minutes to prepare five servings of their cocktail, and they were graded based on the sensations of the cocktail plus their technique/presentation skill. In addition to prizes for the top three, a prize was also awarded for the winner of the Home Cocktail Contest. That last one was determined by public vote rather than the judging panel.
The 10 finalists were:
Kensuke Ikemoto of Bar Kurayoshi Daimyo-ten in Fukuoka
Shun Kosaka of Keio Plaza Hotel in Tokyo
Yuzo Takahashi of Keio Plaza Hotel in Tokyo
Hikari Takahiro of The Peninsula Tokyo
Yutaro Nagahama of Bar Kurayoshi Daimyo-ten in Fukuoka
Misaki Masutani of TONY's BAR in Fukuoka
Kouta Masuda of Keio Plaza Hotel in Tokyo
Akira Miyashita of Palace Hotel Tokyo
Kazuki Morinishi of Hotel Metropolitan in Tokyo
Mami Yamada of Hotel Granvia Kyoto
Unfortunately, Ikemoto-san and Nagahama-san weren't able to make it to the final due to COVID-19 restrictions. Speaking of COVID-19 restrictions, unlike the first time the competition was held, there was no sampling session held afterward. So unless you have the necessary ingredients handy, you'll need to use your imagination about the aromas and tastes here.
Risshun Medeta by Misaki Masutani
Masutani-san's "Risshun Medeta" uses Ginka Torikai rice shochu from Torikai Shuzo as a base, Dover's azuki liqueur, soy milk, alcohol-free umeshu, Monin strawberry syrup, salted sakura leaf, plum vinegar, and daikon. The cocktail was designed to be reminiscent of Japanese sweets traditionally eaten around Risshun, the first day of spring in the Japanese calendar.
Kokuu by Kouta Masuda
Kojika Shuzo's Ten to Chi to Hito to sweet potato shochu forms the base for this cocktail. Another 24 solar term theme, kokuu refers to rains coming at the end of spring. That water allows grain to grow, in turn allowing centuries of shochu-making traditions to be handed down from generation to generation. Alongside the sweet potato shochu there's lotus liqueur, Kiyomi juice, blue curacao syrup, and umami bitters. Garnished with unprocessed rice and Margarita salt-rimmed.
Shinhaku by Yuzo Takahashi
Japanese people are well-known for empathy, omotenashi, and making others happy. Thus the "white, shining heart" of the people of Japan is expressed in this cocktail. The cocktail is a celebration of the diet of such people: Ginka Torikai rice shochu from Torikai Shuzo making another appearance, matched with Dassai's amazake, mirin, and honey yuzu vinegar. The garnish is yuzu peel and sacred bamboo leaf.
Hanashigure by Shun Kosaka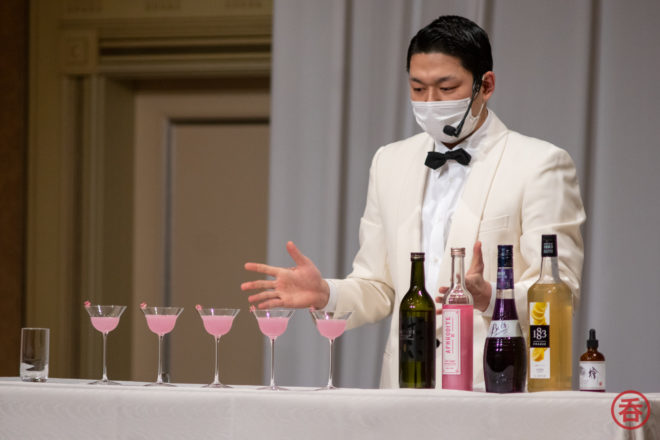 Kosaka-san took home the grand prize for "Hanashigure," which uses Hamada Syuzo's famous lychee aroma Daiyame sweet potato shochu as a base. Hanashigure refers to occasional rain that falls when sakura are blooming, leaving the petals glistening. "Daiyame" itself is a Kagoshima word referring to having a drink at night after a long day to relieve stress. There's a 40% abv version of Daiyame for export markets, by the way, but this cocktail calls for the 25% abv Japan market version. It also calls for Aphrodite's Sakura liqueur, Bols Parfait Amour, lemon syrup, hinoki bitters, then garnished with spiralized beet and lime peel.
Hakuro by Hikari Takahiro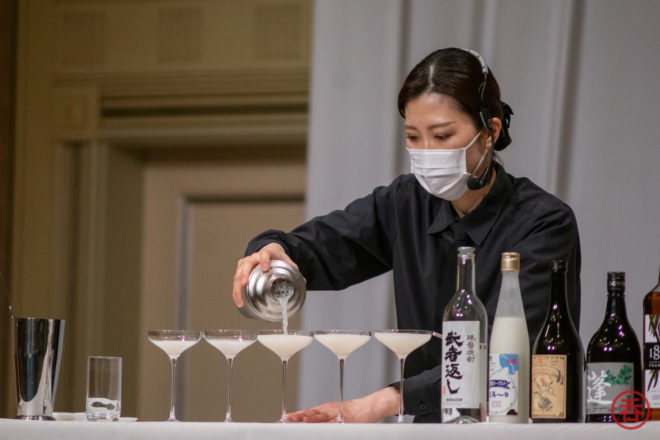 From The Peninsula Tokyo's Hikari Takahiro comes a cocktail called "Hakuro" using Musagaeshi Kuma Shochu from Jufuku Shuzo. There's also Japanese Bermutto, yogurt, lotus liqueur, and French vanilla syrup. It's designed to call to mind the soft morning mist that runs across the Kuma River in the early mornings of fall and winter. Takahiro-san also took home the Home Cocktail prize.
Sympathy by Akira Miyashita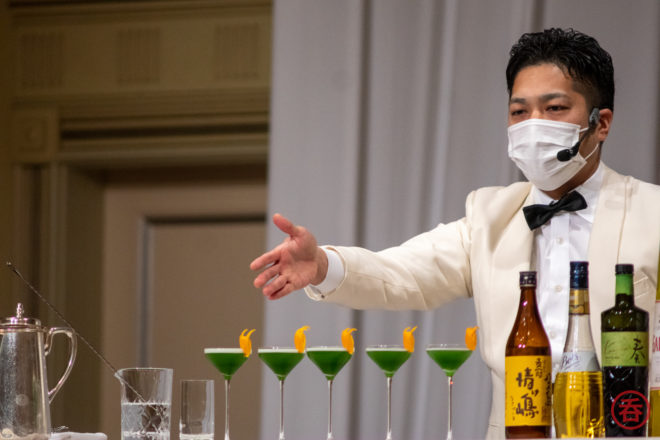 3rd place went to Miyashita-san for his cocktail entitled "Sympathy." It uses Nasakejima, a barley shochu from Hachiojima. That's paired with banana liqueur, matcha liqueur, Galliano, garnished with a lime peel, then finished with a couple dashes of Ardbeg 10. It brings together the sweet, rich aroma, ripe fruit, slight bitterness, herbs, spices, and even some smokiness.
Tenmantsuki by Mami Yamada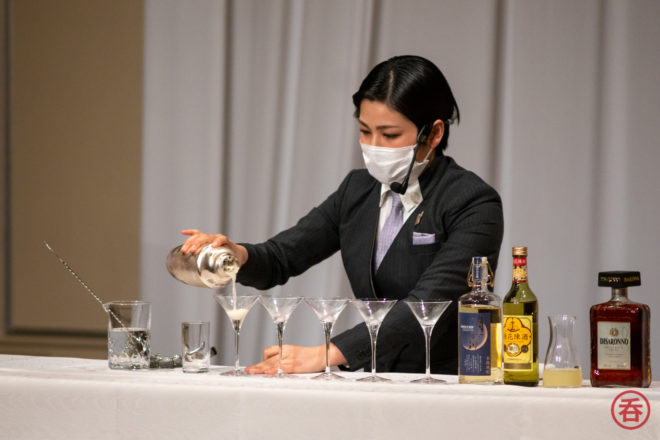 Pulling its name for the autumn moon that's at its brightest and best viewing, Tenmantsuki has a nice solid base of the 38% abv Tsuki no Megami, "moon goddess" barley shochu. It also features Cassia wine, grapefruit juice, and one teaspoon of Disaronno.
Genesist by Kazuki Morinishi
Hotel Metropolitan's Kazuki Morinishi took home second place for his cocktail called "Genesist," the only one of the finalists that used awamori. It specifically used Sho Kamimura, a 40% abv triple-distilled awamori from Kamimura Shuzo. That is mixed with Kanade Yuzu, Bols Yoghurt, Monin Hibiscus Syrup, and it's garnished with black olive, bell rose, and orange peel.
Congratulations to the winners! Hopefully by this time next year COVID-19 will be a thing of the past and we'll actually be able to try these cocktails.
Hi there! I created and run nomunication.jp. I've lived in Tokyo since 2008, and I am a certified Shochu Kikisake-shi/Shochu Sommelier (焼酎唎酒師), Cocktail Professor (カクテル検定1級), and I hold Whisky Kentei Levels 3 and JW (ウイスキー検定3級・JW級). I also sit on the Executive Committees for the Tokyo Whisky & Spirits Competition and Japanese Whisky Day. Click here for more details about me and this site. Kampai!