2018 definitely has not been a banner year for Japanese whisky. Here in Tokyo it's only gotten more and more difficult to find age-statement Japanese whisky at bars, let alone buy a bottle for a decent price. While we are watching several new distilleries this year, it's going to be a while before they really start to bring aged product to market. That's the nature of whisky.
But it looks like Mars Shinshu Distillery operator Hombo Shuzo may still have an ace or two up their sleeve. Though not yet announced by the company, it seems they are preparing to release Single Malt Komagatake Limited Edition 2018. Perhaps in response to Suntory's move to not release a Yamazaki LE 2018? No details are available about this whisky yet, so I'll update again when that happens. But Single Malt Komagatake releases tend to sell out in mere seconds. Keep an eye out for this one!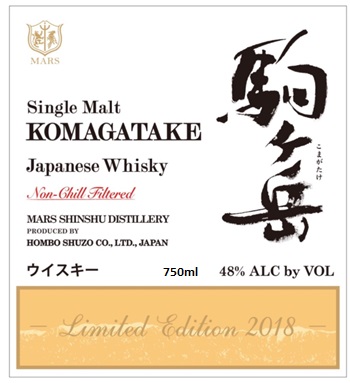 Hi there! I created and run nomunication.jp. I've lived in Tokyo since 2008, and I am a certified Shochu Kikisake-shi/Shochu Sommelier (焼酎唎酒師), Cocktail Professor (カクテル検定1級), and I hold Whisky Kentei Levels 3 and JW (ウイスキー検定3級・JW級). I also sit on the Executive Committees for the Tokyo Whisky & Spirits Competition and Japanese Whisky Day. Click here for more details about me and this site. Kampai!