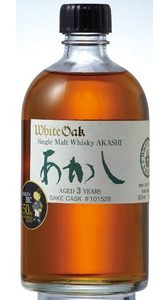 Aichi Prefecture-based Fujikei Kyoi Co. Ltd. has announced the release of Single Malt Whisky White Oak Akashi Sake Cask, a 3-year whisky that spends all of its time maturing in American white oak ex-sake casks.
You are unlikely to find this one available online in the primary market though — it's a 50-year anniversary release of 400 bottles exclusive to Fujikei Kyoi's Sakayabic liquor stores throughout Aichi, Gifu, Mie, Shizuoka, and Shiga prefectures (no relation to Bic Camera). Basically, only in Japan's "flyover country." 50% abv, 500ml, and 6500 yen before tax, and it drops this coming Tuesday October 16, 2018. Surely some whisky maniacs will be able to find some bottles though!
---
It's no secret that one of Eigashima Shuzo's big product lines is sake, as they make it over the autumn/winter at the "Toki no Sakagura." So it shouldn't be too hard for Eigashima Distillery to get their hands on some of those casks. Right?
Ex-sake casks have been around in the world of Japanese whisky for quite some time. Takahisa Fujii, Distillery Manager of Yamazaki Distillery pioneered the use of cedar and ex-umeshu casks back when he was Master Blender. Maybe you've even had some of that whisky– Hibiki 12 partially used whisky aged in cedar casks (or at least oak casks with cedar heads). Back at Eigashima Distillery, their 2017 Akashi Single Cask Malt Whisky release was finished for a year in Kijoshu casks. The fake Japanese whisky Kamiki even uses cedar casks.
But White Oak Akashi "Sake Casks" are allegedly American white oak ex-sake casks! Anyone that knows anything about sake knows that: a) the vast majority of sake isn't matured for longer than a few months–it generally doesn't age well–and b) the limited amount of sake that is aged is aged in cedar casks. Oak and cedar trees aren't even in the same phylum! How is that we have a whisky aged in "sake casks," let alone American white oak ex-sake casks?
The answer, I suspect, lies with Kijoshu. I won't go into the details of how it's made here, but it essentially uses more sake during the third fermentation, while normal sake uses water. This gives it a far sweeter character than typical sake, which in turn makes it a better candidate for aging. Akita Prefecture's Asamai Shuzo makes a Kijoshu that does indeed spend a year in oak casks, so it's likely that Akashi Shuzo got their hands on something similar a few years back. And for some reason, this year they're calling those same casks "American white oak sake casks" rather than ex-Kijoshu casks.
These kinds of releases make you wonder. Why stop at cedar? Japan's only independent cooperage, Ariake Sangyo, also accepts orders for casks made using cypress, maple, walnut, and "other" wood. Eigashima Distillery seems well on track to win the title of "Macallan of Japan."
For anyone wondering about the reverse situation, yes: sake aged in whisky casks does exist. And it's damn good! Personally I look forward to more blurring of lines between genres, so long as there's transparency into how the drink is actually made.
Hi there! I created and run nomunication.jp. I've lived in Tokyo since 2008, and I am a certified Shochu Kikisake-shi/Shochu Sommelier (焼酎唎酒師), Cocktail Professor (カクテル検定1級), and I hold Whisky Kentei Levels 3 and JW (ウイスキー検定3級・JW級). I also sit on the Executive Committees for the Tokyo Whisky & Spirits Competition and Japanese Whisky Day. Click here for more details about me and this site. Kampai!