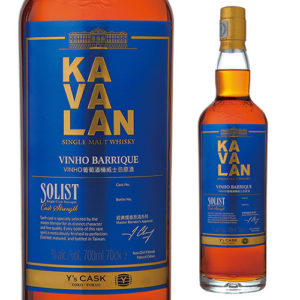 Japanese liquor shop Liquor Mountain is now taking pre-orders for Kavalan Solist Vinho Barrique Y's Cask. In a world-first for this award-winning whisky from Taiwan, the Liquor Mountain has managed to do an original bottling. It shot into the public eye taking home the prestigious World's Best Single Malt Whisky award from the 2015 World Whisky Awards, as well as numerous awards from the San Francisco World Spirits Competition. You've likely heard of it, I've tried it, and hopefully you have by now too.
The true Solist Vinho Barrique fan will be pleased to know that an entire cask of the liquid was purchased by Liquor Mountain, who is has dubbed the new bottled results the "Y's Cask" edition. The page makes no mention of how it's different from all of the other bottles of Vinho Barrique out there, but hell, if it ain't broke, don't fix it. You get do get some gold lettering on the label though.
Considering that Liquor Mountain is letting these single-cask bottles go for the same retail price as regular retail bottles of Solist Vinho Barrique (26,000 yen before tax), I suppose it doesn't make sense not to buy one. It ships at the end of November, 1 bottle per customer.
Hi there! I created and run nomunication.jp. I've lived in Tokyo since 2008, and I am a certified Shochu Kikisake-shi/Shochu Sommelier (焼酎唎酒師), Cocktail Professor (カクテル検定1級), and I hold Whisky Kentei Levels 3 and JW (ウイスキー検定3級・JW級). I also sit on the Executive Committees for the Tokyo Whisky & Spirits Competition and Japanese Whisky Day. Click here for more details about me and this site. Kampai!