Here's a few more bottles that have popped up on the radar recently!
Hakushu Heavily Peated 2021
Hakushu Peated Malt 2021
There has been no official announcement from Suntory, but it looks like the lottery for Hakushu Heavily Peated 2021 is set to coincide with the re-release of Hakushu 12.
If you sign up for the Hakushu official newsletter — here, in Japanese only — they are supposed to be putting out details of how to enter the lottery soon.
Looks like the lottery opens up at 9AM JST on March 1, and will run until the end of March.
If my notes are right, Suntory did Hakushu Heavily Peated releases in 2009, 2010, 2012, then 2013 being the last. So eight years ago!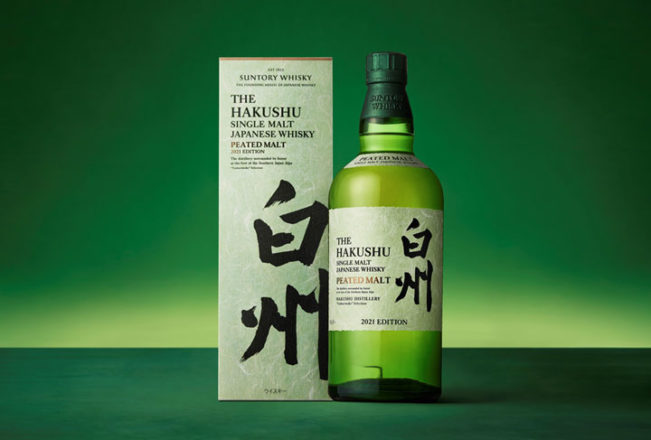 Update: The official site for the lottery is now open. The bottle is not "Hakushu Heavily Peated 2021" but "Hakushu Peated Malt 2021."
700ml, 48% abv, 12,100 yen after tax. 300 bottles are available via the online lottery, and presumably a handful will also be available offline. You have until April 8, 2021 23:59 JST to enter the online lottery above.
Lucky Cat Choco
It's been a minute since we last saw a Cat Series release out of Mars. Choco here is the sixth entry, and it features a port pipe finish. The company says we should look for sweetness, roastiness, and cacao on the finish.
40% abv, 700ml, 4950 yen after tax. The lottery on this one is only open until March 2, 2021, so move quick if you want in. And no, they don't call it Japanese whisky.
Akkeshi Blended Whisky Usui
Here it is, Akkeshi's first full-sized blended whisky bottle. As we learned from the interview with Kenten Jitsugyo's Toita-san, the company will be alternating between single malts and blend releases for what will be presumably cover all 24 of the solar terms.
"Usui" is the solar term where snowfall turns to rainfall thanks to the warming weather. Akkeshi isn't exactly going in order of the 24 solar term calendar, but these releases will be spread over several years.
Right, this one isn't a single malt, so it's launching to a bit less fanfare than their previous bottle, Kanro. Understandably so: the grain whisky in this certainly wasn't distilled in Akkeshi, let alone this country.
700ml, 48% abv, and 10,000 yen before tax. It was released today!
Hi there! I created and run nomunication.jp. I've lived in Tokyo since 2008, and I am a certified Shochu Kikisake-shi/Shochu Sommelier (焼酎唎酒師), Cocktail Professor (カクテル検定1級), and I hold Whisky Kentei Levels 3 and JW (ウイスキー検定3級・JW級). I also sit on the Executive Committees for the Tokyo Whisky & Spirits Competition and Japanese Whisky Day. Click here for more details about me and this site. Kampai!