This year's first-ever Japanese Whisky Festival was called off due to COVID-19. Some of the tasting sessions scheduled for the event were converted to online tasting sessions. Today we go through a flight from one such session.  
T
oday we're drinking the grab-bag of yesteryear's Japanese whiskies that was slated to be offered at Japan Whisky Research Center's own seminar at the festival. The lineup is intended to provide an overview of the different approaches to whisky offered by some of Japan's major distilleries.
Some of these bottles are essentially unobtainable now. But some are relatively recent and still available on secondary markets. My tasting notes below.
Suntory Hibiki 17 Musashino Fuji Edition, 43%
7500 bottles of this were released in 2013 in commemoration of Mt. Fuji's addition to the list of World Heritage sites. The liquid inside is standard Hibiki 17 though. Suntory's temporary suspension of sales of Hibiki 17 back in 2018 was a major blow for Japanese whisky fans worldwide.
Nose: Bright and fruity, with plenty of ripe apple and pear against a sweet sugary background. A tiny bit of smoke as well.
Palate: Soft yet rich and complex. Plenty of sandalwood maltiness, with fruits hiding behind some other spices.
Finish: More sugary fruit alongside trailing peat smoke. Deep oak and dark chocolate.
Reference Price: Just the empties of this one go for around 23,000 yen — check out that bottle art! Hibiki 17 itself starts at around 35,000 yen these days.
Suntory Pure Malt Whisky Millenium 2000, 43%
Millennium was a series of bottles released by Suntory in 1999 to ring in the new millennium. This specific one ("Millennium 2000") is a pure malt, so basically a blend of Yamazaki malts. 20 year Yamazaki takes center stage, flanked by other Yamazakis 17+ years old.
Functionally, that makes it quite similar to the now defunct Yamazaki Limited Edition. But yes, this bottle is decades older — a 20 year Yamazaki bottled in 1999 means much of the whisky is from 1979.
Nose: Thick with overripe fruit, namely plum, banana and apple again. Plenty of molasses and caramel.
Palate: A big helping of ginger and mizunara. Then even more spices. Great balance and very smooth. Tiny bit of sherry as well.
Finish: Chewy, malty, nice and cashew nuts. Maybe a couple pistachios in the mix.
Reference Price: Surprisingly you can still find these for around 20,000 yen.
Kirin Fuji Gotemba 1981 Single Malt Whisky, 46%
This was never actually a bottle released for sale. Instead it's the malt component of Kirin's evermore2003, released that year. 1981 is just eight years after Kirin Fuji Gotemba got started, and back in the days when it was still a joint venture with Seagram and Chivas Brothers.
One of the interesting things about this bottle is the fact that it's cask strength, yet 46% abv. This is due to being stored on the 23rd row in the facility — if you've ever been on the tour you know how high they stack their barrels. The microclimate inside the rackhouse means that casks stored higher up lose abv faster than those stored at the bottom.
Nose: Cheerful cinnamon and a healthy serving of vanilla honey, coated in an estery sort of oil.
Palate: Malty, varnished in plastic. Chocolate, fruity from banana and peach, then more vanilla.
Finish: Very complex with a big bundle of flavors to unwrap. There's something a bit off, Minty chocolates are followed by a peaty end.
Reference Price: No idea, I'll probably never see another dram of this in my life.
Nikka Single Malt Miyagikyo Sherry Cask, 48%
This is the most recent bottle of the bunch. It was released in 2015 alongside Yoichi Heavily Peated in a limited run of 3000 bottles of each.
As the name indicates, this one is a vatting of solely whiskies aged in sherry casks. Being a fan of Miyagikyo and sherry casks in general, this should be right up my alley.
Nose: Buttery and creamy wheat. Then things suddenly turn tropical with sun-baked raisins, mango, pineapple, and plum.
Palate: Sherry brings a basket of dark fruits to meet the malty goodness of whisky. Sweetness of raisins.
Finish: Slight bitterness, dryness of sulfur to close things out.
Reference Price: Looks to be from around 50,000 yen. Which is a shame because I want a whole bottle of this.
Nikka Single Cask Hokkaido Yoichi Malt, SWRC Original Yoichi Series No. 2, 62%
SWRC is the predecessor to JWRC. This cask was hand-picked by Tsuchiya-san and Nikka's chief blender at the time, Shigeo Sato. Here we have a 1990 distillation and 2007 bottling. And lots of Yoichi magic, of course.
Nose: Strong malt, exotic spices, then plenty of licorice and other greens.
Palate: Slightly minty in the back. Earthy, thick, and plenty of power.
Finish: Yoichi smoke and mint close things out.
Reference Price: Single cask bottlings from Yoichi aren't super duper rare. But, any given cask can only yield so many bottles. Most Yoichi single cask bottlings you see out in the wild are 10 years due to the company's My Whisky program. Since this bottle is one of the last that Tsuchiya-san himself has, I'm guessing it's not available elsewhere.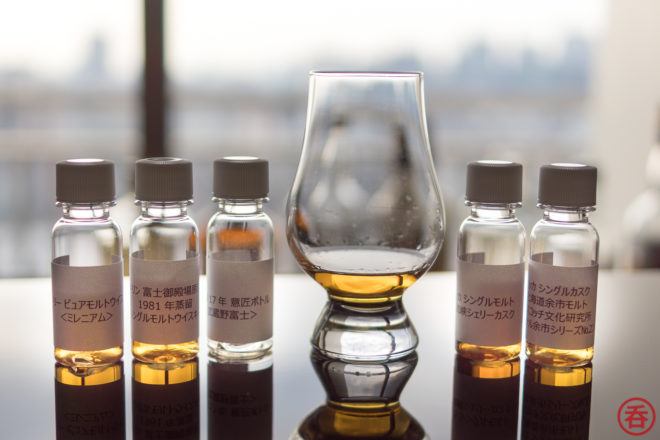 Hi there! I created and run nomunication.jp. I've lived in Tokyo since 2008, and I am a certified Shochu Kikisake-shi/Shochu Sommelier (焼酎唎酒師), Cocktail Professor (カクテル検定1級), and I hold Whisky Kentei Levels 3 and JW (ウイスキー検定3級・JW級). I also sit on the Executive Committees for the Tokyo Whisky & Spirits Competition and Japanese Whisky Day. Click here for more details about me and this site. Kampai!