Tonight we're drinking Kirin's newest entry-level whiskey, Pure & Mellow Riku Land Discovery. Grain takes center stage in this replacement for the discontinued Fuji Sanroku Tarujuku 50. 
Y
es I wrote "whiskey" not "whisky." Pure & Mellow Riku Land Discovery is not ashamed to be a world whiskey. That they're spelling it with an e should be a hint that it's likely using US-born whiskey rather than bulk Scotch.
That grain whiskey is blended with Kirin Fuji Gotemba whisky here in Japan. We don't know the ratios of any of that. But at 1500 yen, I don't think anyone is expecting age statements or anything fancy. The whisky it's replacing was around the same price point, and was considered by many to be a great sub-2000 yen Japanese whisky.
Lest any of us forget, Kirin owns Four Roses. While we can't say for certain that's where a lot of the grain inside this bottle comes from, it's probably a good guess.
You could go out and simply buy a (larger) bottle of Four Roses for about the same cost as Riku here. But then you wouldn't get any Fuji Gotemba juice at all. Your choice!
Review: Kirin Whiskey Pure & Mellow Riku Land Discovery
Nose: Once you get past the alcohol, there's crisp and woody vanilla. Heavy on the grain, specifically corn and rye.
Palate: Sweet and mellow, with hints of caramel, vanilla, and sugar-coated orange slices. The 50% abv could be too much for some people though.
Finish: Slightly bitter, and overall a great oaky closure. Some citrus wraps things up.
Score: A-
Price paid: 1512 yen
Like its low-priced predecessor, there's excellent cost-performance with this bottle. Sure it's a grain-forward world whiskey, but at around 1500 yen, there's probably nothing else like it in Japan at the moment. Kirin has done a great job blending once again.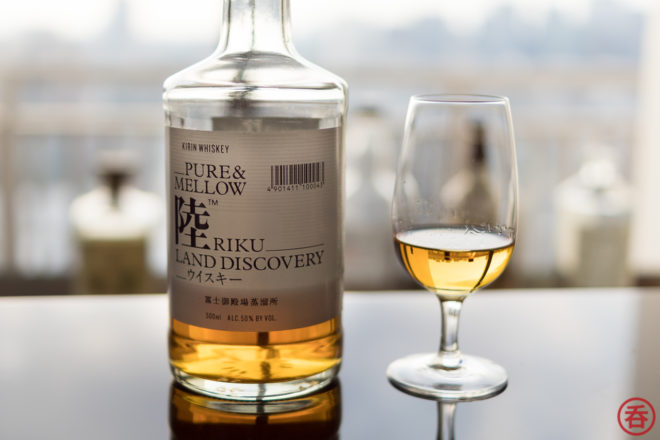 Hi there! I created and run nomunication.jp. I've lived in Tokyo since 2008, and I am a certified Shochu Kikisake-shi/Shochu Sommelier (焼酎唎酒師), Cocktail Professor (カクテル検定1級), and I hold Whisky Kentei Levels 3 and JW (ウイスキー検定3級・JW級). I also sit on the Executive Committees for the Tokyo Whisky & Spirits Competition and Japanese Whisky Day. Click here for more details about me and this site. Kampai!