National Tax Agency filings reveal that Hombo Shuzo has acquired a new whisky license for their Kagoshima Factory. Mars Whisky historians may recall that the company previously made whisky at this same facility from 1981 to 1984.
H
ombo Shuzo's history with whisky goes back to 1949, but it wasn't until 1960 that they established their first working distillery. It was set up in Yamanashi prefecture with the help of
Kiichiro Iwai
, one of the founding fathers of Japanese whisky. By 1981, however, whisky distillation was moved from Yamanashi to the Kagoshima Plant. While rare, some "
Malt of Kagoshima
" bottles occasionally pop up on secondary markets.
The Kagoshima Plant's whisky operation lasted only three years. Hombo Shuzo returned to Chubu, this time establishing a standalone whisky distillery in Shinshu, beginning operation in 1985.
Though the company took a short break, things stayed that way for a few decades. Mars Tsunuki, where Hombo Shuzo first distilled shochu in 1909, also started distilling whisky in 2016. This means Hombo Shuzo is now making whisky in both the Chubu area and Kagoshima prefecture.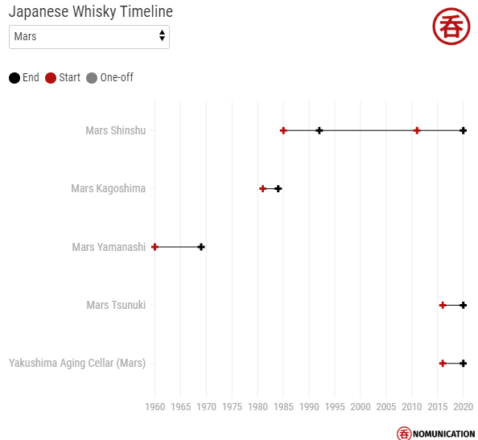 This brings us to today. It appears Hombo Shuzo is also mulling restarting a whisky operation at the Kagoshima Plant. Built in 1974, it's now also the site of Hombo Shuzo's headquarters and some other facilities.
So why would they need to get a whisky distillation license for the same place twice?
I'm not a legal expert, but reading through the super-exciting Japanese tax code, it looks like licenses expire if you don't use them (i.e. make whisky) for 3 years or more. Since whisky hasn't been made at the Kagoshima Plant since 1984, the license expired long long ago.
In conjunction with the change, I've added the Kagoshima Plant to the Speculative category on the Japanese Distillery Map!
Hi there! I created and run nomunication.jp. I've lived in Tokyo since 2008, and I am a certified Shochu Kikisake-shi/Shochu Sommelier (焼酎唎酒師), Cocktail Professor (カクテル検定1級), and I hold Whisky Kentei Levels 3 and JW (ウイスキー検定3級・JW級). I also sit on the Executive Committees for the Tokyo Whisky & Spirits Competition and Japanese Whisky Day. Click here for more details about me and this site. Kampai!