Once upon a time, Suntory had trouble selling Yamazaki whisky to anyone. Even Japanese people weren't buying the stuff. Today we're drinking a relic from those days of yore.
Suntory had to come up with some way to make their whisky sell better. They would eventually hit gold with 2008's Kaku Highball push, but there were other experiments along the way.
To non-whisky drinkers, the spirit can be pretty formidable. Price is one factor. What if you just want to try some whisky in the comfort of your own home, but don't necessarily want to buy an entire bottle? Yamazaki isn't the cheapest whisky in the world, after all.
Or at least that's probably how some of the conversations went at Suntory when they came up with Suntory On The Rocks Whisky Shikomimizu-wari. It's not a exactly a ready-to-drink (RTD), because as the name indicates it's supposed to be served on the rocks.
The concept is similar though — it's meant to be an accessible version of Yamazaki, for the combini-going everyman. Looking around online, this appears to have been sold at Lawson from 2004 to as recently as 2010, for about 360 yen a bottle. The key malt is Yamazaki distilled in 1991, then matured in an ex-sherry cask. 
Accessible apparently also means weaker! The abv has taken a significant hit. Suntory did it by simply adding water to the whisky, bring it down to 12% abv. Though it's not just any water. It's water the same water source that the Yamazaki Distillery itself uses. These days Suntory does indeed bottle and sell that water, but only as a soda water.
Let's give it a try.
Review: Suntory On The Rocks WHISKY Shikomimizu-wari
Nose: I was hoping to write something here, but there isn't much of one at all. 
Palate: It's initially sweet, with some sherry going on. Smooth, round, and super easy to drink. Easy to slam, in fact, but you would run out quite quickly as the bottle is only 225ml.
Finish: There isn't one! 12% abv is way too weak here.
Score: D
Price paid: 1170 yen
Despite the English title being "on the rocks," the Japanese title is mizuwari. Those are two different drinks! It's weak to begin with, then you add ice, weakening it further. So yeah, my main complaint here is that this is far too watered down to be enjoyable. There wasn't a nose or finish at all. 
The whisky itself isn't bad–it's Yamazaki after all–but it's barely even noticeable on the palate. Older bottles out of Yamazaki definitely command a premium these days, but this one is definitely better left in the past.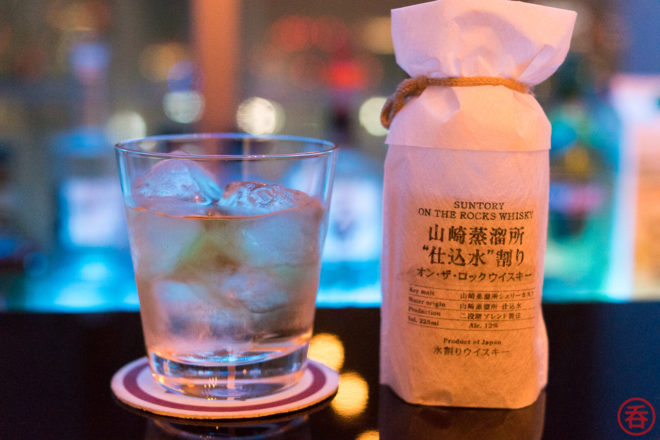 Hi there! I created and run nomunication.jp. I've lived in Tokyo since 2008, and I am a certified Shochu Kikisake-shi/Shochu Sommelier (焼酎唎酒師), Cocktail Professor (カクテル検定1級), and I hold Whisky Kentei Levels 3 and JW (ウイスキー検定3級・JW級). I also sit on the Executive Committees for the Tokyo Whisky & Spirits Competition and Japanese Whisky Day. Click here for more details about me and this site. Kampai!