Three new bottles from Mars Whisky have come out of nowhere, let's have a look at each! Mars is quite good at stealthily releasing bottles.
This time around they've done so with not one but three different releases. Whether they keep on doing this deliberately or not, I think it's good that we can avoid a lot of clamor associated with new releases of Japanese whisky.
MARSMALT Le Papillon "A. puspa" Double Cask Single Malt Japanese Whisky
In a first for the Le Papillon series, this is not a single cask release. Instead it's a "Double Cask" release, basically a blend of two similar casks that appear to have gone through the same journey.
That's to say that the two whiskies were distilled only a month apart at Mars Shinshu (February/March 2015), put into Bourbon barrels, matured down at the Yakushima aging cellar, then hit the bottle together in December 2019. 54% abv, and appears to be 469 bottles of this one available.
Acytolepsis puspa is found across much of southern/southeast Asia, including the stretch of islands running from Okinawa to mainland Japan's Kyushu.
The Lucky Cat "Hana"
This is the only of the three bottles that's actually on Mars' website. The Lucky Cat Hana is the fifth release in the series. This time around we get an oloroso cask finish.
Hana here reportedly features brown sugar and maple syrup on the nose, then a soft sweetness from palate to finish.
Limited to 3000 bottles, 700ml, 43% abv. 4950 yen after tax.
Shinshu Bartender's Choice Senryoku
This one will probably be the most elusive. It's a single cask release specifically for the Nagano Bartender's Association. "Single Cask Komagatake 2014 No. 1753," the label reads.
This was distilled in February 2014. Why is that important? Supposedly, this whisky is the last to come off the Shinshu Distillery still designed by Mars Whisky founder Kiichiro Iwai prior to its decommissioning. You may recognize Iwai-san's name from the biography of Masataka Taketsuru — he was Taketsuru-san's boss at Settsu Shuzo prior to the latter's time in Scotland.
The other specs: 1st fill Bourbon barrel, 3.5ppm of peat, bottled in December 2019. Only 195 bottles available, 700ml, and at a hardcore 61% abv.
Image credit: Mars Whisky, Malt Bar Silkhat, and @COCKTAIL_1950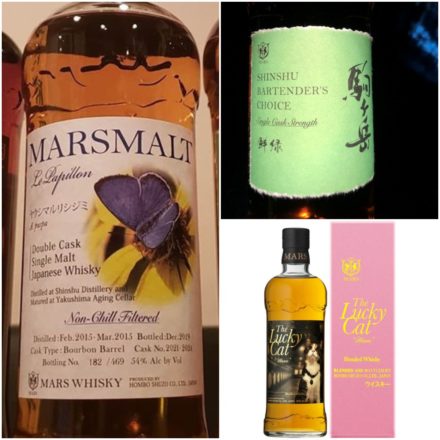 Hi there! I created and run nomunication.jp. I've lived in Tokyo since 2008, and I am a certified Shochu Kikisake-shi/Shochu Sommelier (焼酎唎酒師), Cocktail Professor (カクテル検定1級), and I hold Whisky Kentei Levels 3 and JW (ウイスキー検定3級・JW級). I also sit on the Executive Committees for the Tokyo Whisky & Spirits Competition and Japanese Whisky Day. Click here for more details about me and this site. Kampai!