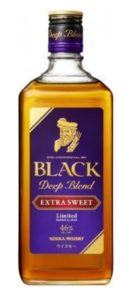 Nikka Black Deep Blend Extra Sweet looks to be the latest variation of budget-friendly blended whisky out of Nikka, slated for release on or around September 11. It has just popped up on Amazon JP for a 2,138 yen, so a 700 yen premium over standard Nikka Black Deep Blend (based on Amazon JP prices).
This release follows in the footsteps of Nikka's other Limited Edition blends, such as May 2018's Nikka Black Rich Blend Extra Sherry, and last year's Nikka Black Aromatic, among others. I guess they're doing one every 4-5 months now? "Extra Sweet" generally isn't something I look for in a whisky, but as always, drink what you like!
Hi there! I created and run nomunication.jp. I've lived in Tokyo since 2008, and I am a certified Shochu Kikisake-shi/Shochu Sommelier (焼酎唎酒師), Cocktail Professor (カクテル検定1級), and I hold Whisky Kentei Levels 3 and JW (ウイスキー検定3級・JW級). I also sit on the Executive Committees for the Tokyo Whisky & Spirits Competition and Japanese Whisky Day. Click here for more details about me and this site. Kampai!