2023's JSS Honkaku Shochu & Awamori Cocktail Competition fell on February 25. Like last year, a lineup of outstanding Japanese hotel bartenders worked their mixology magic with either honkaku shochu or awamori in front of a panel of judges to determine whose cocktail tasted the best, looked the best, and was accompanied by the best presentation.
One of the big differences between last year's event and this year's event is what happened afterward: we could actually try the cocktails! The post-competition party and awards ceremony enabled all attendees to sample both the entries and a selection of honkaku shochu and awamori. The days of online-only competitions are hopefully behind us.
This year's roster:
With honkaku shochu and awamori cocktails taking off outside of Japan, it only makes sense that the spirits' native country come up with their own renditions. As we discussed at last year's Shochu Experience, shochu/awamori culture and Western-style bar culture sort of developed independently of one another in Japan. It's only been in recent years that some Japanese bartenders have tried to bridge the gap. Events like this one are a great way to take inventory of how things are going.
Let's jump right into the competition!
Rikka by Ryuto Kawakatsu of Keio Plaza Hotel
This cocktail brings together Hakkaisan's Yoroshiku Senman Arubeshi–the kasutori shochu from Niigata's famed sake maker–apple liqueur, lime juice, jasmine syrup, Suntory's Roku gin, turnip, and powdered sugar.
Turnip, by the way, is the garnish! While Japanese bartenders are known worldwide for ice technique, garnish cutting is also an essential part of the skillset. Kawakatsu-san carved out snowflakes from radish, and alongside powdered sugar, it takes me back to snowy Niigata.
Kogome Yuki by Ryo Tamura of Authent Hotel Otaru
Takahashi Shuzo's Ginrei Shiro rice shochu forms the base, with Kanade white peach and amazake providing sweetness. Topped with 60ml of Hakutsuru's Awayuki Sparkling to add texture, I'll forgive you for instead calling it a "Japanese 75."
Suiu by Shota Yoshizawa of Hotel New Otani Tokyo
Shichida by Tenzan Sake Brewery, another kasutori shochu, is alongside elderflower liqueur, lime juice, and green apple syrup. Table salt, tree sprouts, and silver leaf add effect.
Yukidoke by Hiroki Nakatsuka of Hotel New Otani Osaka
Yukidoke is the name of a kasutori shochu by Chichibu-based Fujisaki Sobe Shoten. It's a blend of three different cask-aged shochus: French oak from Limousin, Spanish sherry, and American Bourbon barrels. For this cocktail, it's blended with Kanade Yuzu, Carib syrup, radish, and fresh lemon juice. Served frozen style, then garnished with a small branch of shiso.
Houga by Kazuki Maruyama of Authent Hotel Otaru
Mizunomori is a potato shochu made on the World Heritage island of Yakushima by Hombo Shuzo, a name likely familiar to Japanese whisky fans. Mizunomori uses, partly, potatoes grown on Yakushima itself. It takes center stage in Houga, and it's paired with Suntory's Yamazaki-aged umeshu, Kanade Matcha, hinoki bitters, and garnished with a tree sprout.
Hana Ranman by Shoji Yamagata of Salon Bar Thistle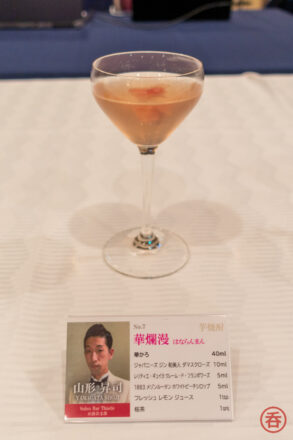 Hombo Shuzo chalks up another, this time Hanakaro, another sweet potato shochu. Keeping with Mars, you'll also find Wabigin Damask Rose, creme de Framboise, white peach syrup, and lemon juice in the glass. A sprig of salted cherry blossom adds to the presentation.
Mannen Yuki by Sou Nokihara of Bar&Dining One
Remember when we visited Watanabe Distillery in Miyazaki? Good, because Watanabe-san made the Yuki no Mannen sweet potato shochu that forms the base of this cocktail. It's matched with persimmon liqueur, vanilla syrup, fresh creme, then garnished with a heavenly bamboo leaf and powdered sugar.
Kunpuu by Shun Sato of The Prince Park Tower Tokyo
Takara Shuzo's all-sweet potato shochu Isaina is the base here. Add cherry plum syrup, Kanade Matcha, lemon juice, hinoki bitters, and shake well. Garnish with a tree sprout.
Ashibiuta by Asato Fukuda of ark BAR GRANDE
Fukuda-san's Ashibiuta is the only cocktail of the list to use a kokuto shochu. In fact it's TWSC 2022 Superior Gold winner Hamachidori no Uta Gold, which as you may remember, is a solid 40% abv. It's mixed with passion fruit puree, Giffard's Banane du Brésil, blue curacao, almond syrup, and Kanade Matcha. Garnish is an exquisitely cut lemon peel and a spray of silver powder.
---
That's a whirlwind tour of shochu! You may notice that none of the contestants chose barley shochu or awamori as a base. That's probably just a coincidence, though — last year had both!
If you also noticed the wintery theme of many of these cocktails, you're not alone. This particular day of the competition is the final, where the above contestants are the winners of their respective regions' semifinals. Given that timeline and the fact that many of Japan's hotel bar menus focus on seasonal themes, it's a given.
The party and awards ceremony is a far more lighthearted affair. Entry to the competition included a handful of tickets meaning you'd be unable to try every cocktail, but it's still a great way to sample some that especially caught your attention.
This year's grand prize went to Fukuda-san of Ark Bar Grande, which is right outside of Nagoya Station. If you find yourself in Nagoya or near any of the other bars listed above, definitely stop in and give the above cocktails a try!
Hi there! I created and run nomunication.jp. I've lived in Tokyo since 2008, and I am a certified Shochu Kikisake-shi/Shochu Sommelier (焼酎唎酒師), Cocktail Professor (カクテル検定1級), and I hold Whisky Kentei Levels 3 and JW (ウイスキー検定3級・JW級). I also sit on the Executive Committees for the Tokyo Whisky & Spirits Competition and Japanese Whisky Day. Click here for more details about me and this site. Kampai!