Kyushu flexes its shochu muscles! The governments of Kagoshima, Oita, Kumamoto, and Miyazaki prefectures recently teamed up to bring five of America's top bartenders to Japan to dive head-first into shochu culture. They hit up several shochu distilleries across all four prefectures, learned about the craftsmanship of shochu, experienced local culture, and met with the people behind shochu brands, both big and small.
The trip ended with a seminar+guest bartender evening on November 12th in Tokyo. The shockingly beautiful Gold Bar at Tokyo Toranomon Edition played host. The "Shochu Experience" brought together those five US bartenders, a crowd of Tokyo's top bartenders, industry folk, shochu makers from each of the prefectures, plus members of the press.
The bartenders from the US are:
Helluva lineup!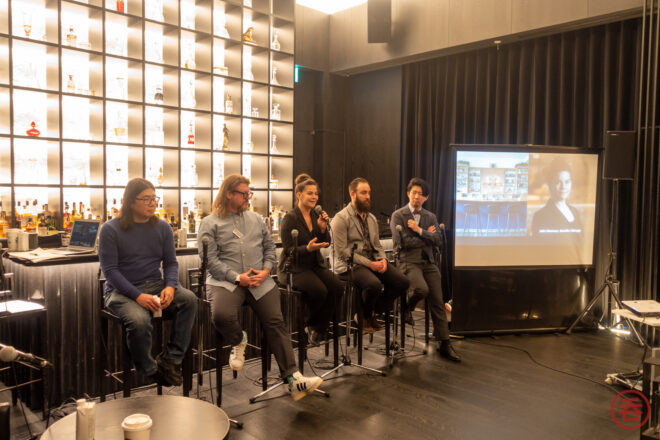 ---
Jumping right into the seminar, Don Lee spoke first about the philosophy behind the creativity of making a new cocktail. The main point he conveyed was about taking a different approach to creating unique cocktails instead of the "Mr Potato Head" method. Simply swapping one classical component for something else–say, shochu–is just a different configuration following the same pattern.
The reason this is a problem is because you focus too much on the how you make the cocktail, and not the why you make the cocktail … The problem with Mr Potato Head is that every answer must be Mr Potato Head. You try to put the wrong shape into the wrong hole. When I think about what a cocktail can be, I think of it in the same way as what can art be, and what can art do.

Don Lee, PDT
Art, he goes on, is capable of two things: challenging people to experience something new or reminding them of something they already know about.
With his Ishin Denshin cocktail, inspired by a 2019 trip with a group of bartenders to Kyushu, he set out to offer a yaki-imo sensory experience as a cocktail.
"Could I make a cocktail that made you think of yaki-imo? What from the shochu-making process could I put into this cocktail?"
Building on work in Dave Arnold's Liquid Intelligence, Don explained that he had three levers to pull when creating the cocktail. Alcohol, sugar, and dilution from stirring. Alcohol remains unchanged because the base is changed to a shochu. That left him with only sugar and dilution to alter.
He makes yaki-imo sugar himself because otherwise, it doesn't exist. Shochu's sugar comes from koji–the enzymes in koji break down the starch in sweet potatoes to make sugar–leading him to use koji in the cocktail. Using purple sweet potato adds visual impact. An attractive yet minimalist cocktail that brings all the flavor of yaki-imo.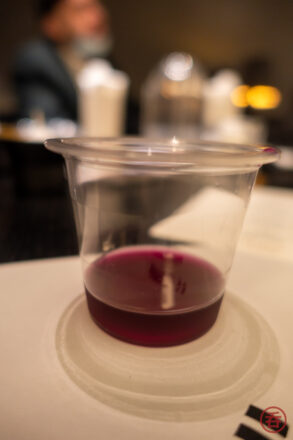 Chris Bostick addressed the variety found in shochu.
His Amami Island Colada was inspired by Amami and the piña colada, "but not what you would think of as a traditional ciña colada," he says.
In such a small area you have such a wide variety of flavors, fermentation and distillation. I want to celebrate the stories and the places where it's produced. Not everybody gets a chance to go to these places.

Chris Bostick, Half Step
Bar Kumiko co-founder Julia Momose–author of the James Beard Award-winning The Way of the Cocktail: Japanese Traditions, Techniques, and Recipes–says she found inspiration in the traditions and processes in Kyushu. Ooshima Tsumugi stands out; creating it is laborious and requires heart and soul.
She sees that precision and dedication to the craft reflected in shochu.
Shochu is the land, the people, ingredients, time, tradition … I hope that when I take that shochu and put it in a cocktail and put it in front of somebody for the first time, I can tell them that story and they can feel the love and work that goes into making it.

Julia Momose, Bar Kumiko
"Shochu can be very hard to Western bartenders," noted Patent Pending's Nikola Nikoletić. His Shiro (white) Martinez draws inspiration from the pre-Prohibition days of the 19th century. That's when cocktail books call for gin, but in reality, it's what we today call genever. "A Gin Old Fashioned wouldn't make sense today," for example. The barley notes found in iichiko Saiten are pretty powerful, he says. "Much more complex, but like an unaged whisky."
He also gave a rapid-fire list of his preferred cocktail styles for varieties of shochu. Sweet potato: old Martini style. Kokuto: Daiquiri. Rice: Egg white sour. At Patent Pending, he says he keeps 5-6 kinds of shochu behind the bar for impromptu tasting sessions when industry friends visit. Some standard 24-25% abv, some genshu. "Kokuto, especially, needs explanation as to why it's not rum," he says. "You can taste the sugar cane, but it has another dimension."
Not all shochus are meant for cocktails.

Nikola Nikoletić, Patent Pending
One experience of the trip that stood out for Nikola was sampling the fresh pressed sugar juice, day one moromi, then the same moromi after 4 or 5 days of fermentation. "It gets drier due to the higher alcohol content. The flavor in spirit comes from fermentation."
Takuma Watanabe from Martiny's says this was his first time visiting shochu distilleries. He noted the significant differences in the various approaches taken by the distilleries, as well as the dedication they put into making their products.
---
Why are American bartenders teaching Japanese bartenders how to make cocktails with Japan's native spirit? In Japan, even? Ordinarily, you'd think it would be the other way around.
Long story short, bars and mixology didn't exist in Japan until 1860. Shochu's history goes back much further: it's been around in Japan since about 500 years ago. That's long before the days of bars, liqueurs, and readily available ice. While shochu became a part of everyday life in Kyushu, it did so independently of anything we today recognize as mixology. Only within the past few decades has the general population of Japan–outside of Kyushu–awoken to the potential of honkaku shochu. With most bartenders in Japan focusing on honing techniques for only classic cocktails, shochu hasn't yet had a chance to shine behind the wood in this country.
Hopefully, this Shochu Experience marks a turning point. Ideally, it will encourage them to also look within Japan for inspiration when creating new drinks. Given the huge variety in aroma and flavor profile that shochu offers, it's guaranteed to present new opportunities for bartenders worldwide.
Hi there! I created and run nomunication.jp. I've lived in Tokyo since 2008, and I am a certified Shochu Kikisake-shi/Shochu Sommelier (焼酎唎酒師), Cocktail Professor (カクテル検定1級), and I hold Whisky Kentei Levels 3 and JW (ウイスキー検定3級・JW級). I also sit on the Executive Committees for the Tokyo Whisky & Spirits Competition and Japanese Whisky Day. Click here for more details about me and this site. Kampai!