Kuroki Honten has joined the line of shochu makers venturing into the lands of gin and whisky. The company is well-known for shochu brands like Yamaneko, Hyakunen no Kodoku, and Nakanaka. What happens when they make a gin at their Osuzuyama Distillery? Let's find out.
W
hile Kuroki Honten's headquarters sits on the Pacific coast of Miyazaki prefecture in Takanabe, the
Osuzuyama Distillery
was built in 1998 in the mountains overlooking the town. The idea was to go upstream as close as possible to their water source for cleaner water in a better environment. In a rarity for Japan, that water is also very soft.
Another thing that makes Kuroki and Osuzuyama special is how their raw ingredients are 100% locally-grown. They source potatoes, rice, and barley from their farming corporation that has over 40 hectares of land. Besides working the land, the corporation is also a stable purchaser of crops from other local farmers. They works towards sustainability in all that, offering shochu lees as animal feed for example.
That localization extends to the company's yeast and wood operation. The yeast is cultivated entirely in-house, and they use several different varieties depending on the specific ingredients they are distilling. Fermentation is done in a cedar oke.
As we mentioned when Osuzu Gin was announced, it uses Yamaneko shochu–a potato shochu–as its base.
The botanical basket has eight botanicals in it, four of which are from Miyazaki prefecture: kumquat, hyuganatsu, yuzu, and sakaki. The remaining four are ginger, juniper, sansho, and only "umami" written on the box. I'm guessing it's some kind of mushroom.
Osuzuyama is currently growing juniper, sansho, and citrus on-site, so future versions of Osuzu Gin should have an even more Miyazaki-ish feel.
Sakaki is sacred in Shintoism, and it's supposed to give the gin a very "green" aroma. Let's see if it works!
Review: Osuzu Gin
Nose: Lemon, yuzu, and other sweet citrus. Sansho and more spices comes through alongside plenty of greenery.
Palate: Significantly more woody, forest musk than the nose would lead you to believe. Umami brings depth and it's smooth as hell for this abv. Add tonic, and I can't put the glass down. Though personally I could go for a tiny bit more juniper.
Finish: A basket of fresh citrus nicely accented by juniper and spices. That Miyazaki forest comes back again for more fun.
Score: B+
Price paid: 4290 yen, 45% abv, 700ml
Overall, a nicely balanced gin that doesn't venture too far from the proven Japanese craft gin formula of imported juniper with local citrus and other accents. That sakaki definitely brings in a very foresty feel.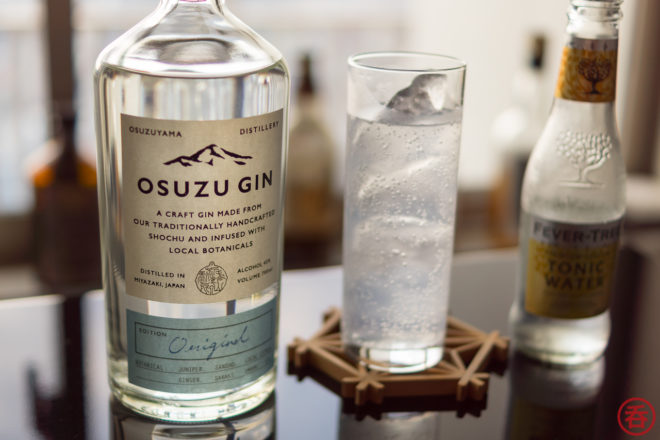 Hi there! I created and run nomunication.jp. I've lived in Tokyo since 2008, and I am a certified Shochu Kikisake-shi/Shochu Sommelier (焼酎唎酒師), Cocktail Professor (カクテル検定1級), and I hold Whisky Kentei Levels 3 and JW (ウイスキー検定3級・JW級). I also sit on the Executive Committees for the Tokyo Whisky & Spirits Competition and Japanese Whisky Day. Click here for more details about me and this site. Kampai!