We talked late last year about Miyazaki prefecture's Kuroki Honten expanding their shochu empire with gin and whisky. Their first products in these categories are now launching out of the Osuzuyama Distillery. Let's take a closer look.
K
uroki Honten is a very well-known shochu maker, so there are a lot of eyes watching how and what they bring to the worlds of gin and whisky. One of
the company
's stated goals isn't simply to just make gin and whisky, but to make both of these spirits as local as possible.
Osuzu Malt New Make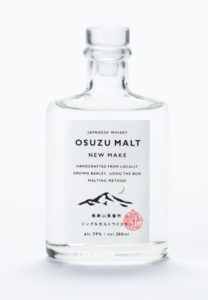 But what does local really mean for a Japanese spirit? First let's have a look at Osuzu Malt New Make. It's the company's first unaged whisky, and it drops on August 3. We are local right out of the gate: it uses 100% Japanese malt.
Using Japan-grown malt is something we've seen other craft whisky distilleries aspiring to, but Osuzuyama Distillery is already doing it from the get-go.
That's only possible because Kuroki Honten is a big name in barley shochu. In fact, they are growing their own barley, and malting it themselves.
I don't have all the technical details on this bottle just yet. But we do know that:
Osuzuyama Distillery uses only local barley — just like for their shochu — growing it in-house or from local farmers
The distillation uses a combination of a copper pot still (like whisky) and a stainless steel still with steam injection (like shochu).
The Katakana on the label reads "Single Malt Whisky," despite the English saying only New Make.
We talk a lot here about the blurring lines between shochu and whisky. Given the use of non-copper stills, I'm expecting Osuzuyama Distillery will take us even further down that rabbit hole. Especially in absence of an better definition of whisky in Japan.
Plus their wood program is quite intriguing. None of that overplayed mizunara noise! Fermentation happens in a wooden oke made from local cedar. They are also looking to use local (non-oak) wood for maturation, such as Miyazaki-born cedar, cherry, and even chestnut.
The New Pot here ranks in at 59% abv, and it's 2750 yen for 200ml including tax. Given the excitement around this Osuzuyama, it looks like pre-orders are already spoken for.
Osuzu Gin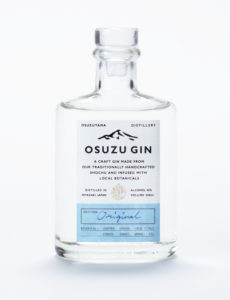 Kuroki Honten set out to make a bottle that captures the aromas of nature surrounding the distillery, what they call a "perfume of the landscape."
Their spirit of choice for this is gin. That makes sense to me, since gin essentially gives you a canvas upon which you can craft a certain aroma and palate. Specifically, the canvas in this case is Yamaneko, Kuroki's potato honkaku shochu also made at Osuzuyama.
Osuzu Gin contains 8 botanicals, 4 of which are from Miyazaki prefecture;
Kumquat
Hyuganatsu
Yuzu
Sakaki
About that last one. It's a botanical we've not yet seen in Japanese gin. Sakaki is sacred in Shinto, so I'm not entirely sure how a Shinto priest would feel about it being used in gin. But Kuroki-san's ancestors were apparently priests, so hopefully they gave him the go-ahead. Sakaki is supposed to have an extremely green aroma, moreso than even green tea leaves.
I have a bottle of this one on the way, so we'll be able to give it a try soon. In the meantime, the 700ml bottle comes in at 45% abv for 4290 yen after tax, and a 200ml bottle at 45% abv for 2035 yen.
Hi there! I created and run nomunication.jp. I've lived in Tokyo since 2008, and I am a certified Shochu Kikisake-shi/Shochu Sommelier (焼酎唎酒師), Cocktail Professor (カクテル検定1級), and I hold Whisky Kentei Levels 3 and JW (ウイスキー検定3級・JW級). I also sit on the Executive Committees for the Tokyo Whisky & Spirits Competition and Japanese Whisky Day. Click here for more details about me and this site. Kampai!