Worldwide we're seeing more and more people back away from booze. Japan is no exception: on March 12, 2020, Tokyo's first non/low-alcohol cocktail bar opened. I managed to take a night off getting shitfaced to go check it out.
L
et's not beat around the bush here, alcohol is toxic to the human body. Like many of you, I've questioned my own relationship with alcohol plenty of times.
Even so, cocktail bars are attractive, aren't they? They aren't crowded restaurants, loud izakayas, busy cafes, or smoky pubs. It's a different kind of space altogether, typically more relaxed and mature. Then there's the drinks. When done right, cocktails can showcase a dedication to craftsmanship only possible through years of work. They can offer a unique harmony of aromas, flavors, and textures not possible with spirits alone. They can also look great!
Good news: now you can have both. To meet the needs of people who want to enjoy bars and cocktails without all that pesky alcohol, mocktail-only bars are now a thing.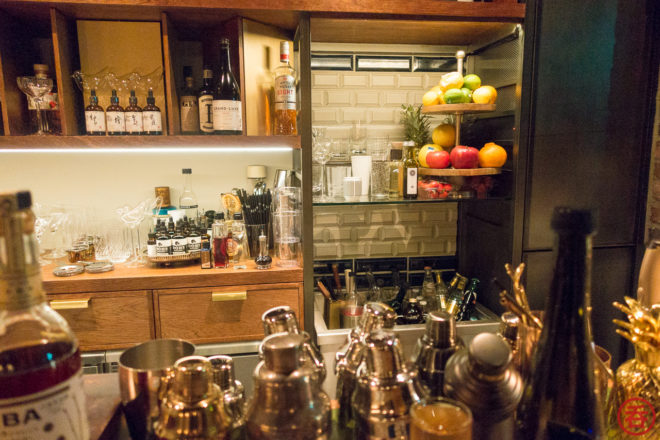 These bars can be pretty appealing in a lot of different situations.
Perhaps someone used to drink, and stopped. Maybe they don't want to risk a hangover, but still want to go out. Light drinker? Pregnancy?  Perhaps it's just their kyuukanbi, a Japanese term that translates as "liver's day off."
Low-Non-Bar
Japan and Tokyo's first low/non-alcohol cocktail bar is called Low-Non-Bar, and it's just a stone's throw away from Tokyo station. It opened up on the first floor of the building that houses Cocktail Works Tokyo. That's because it's the latest addition to the Cocktail Works family of (alcoholic) cocktail bars by Orchard Knight Inc..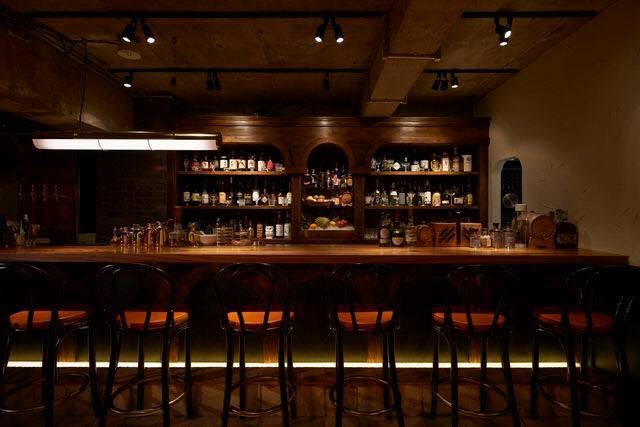 If you stepped into this bar unaware that it's specifically for low/non alcohol cocktails, you probably wouldn't realize it at first. The shelves hold a regular lineup of bottles you'll see at any bar. Look closer and you'll see they sit next non-alcoholic counterparts like Seedlip and Yokohama's NEMA. Indirect lighting on the glassware, check. White jackets, check. Oshibori on arrival, check. Yep, this is a Tokyo cocktail cocktail bar. It's completely non-smoking, by the way.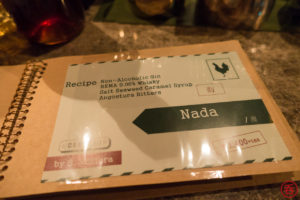 As you may have gathered from the name, Low-Non-Bar's menu–available in English–features both low-alcohol cocktails and non-alcohol cocktails. One half of the menu book has the low-alcohol drinks. Flip it over for the non-alcohol drinks. You'll find a wide variety, many based on standard cocktails but with some Japanese craft twists. The menu is collaborative: Yuki Yamazaki for example created some drinks using The Japanese Bitters that we recently tried.
Low or non-alcohol, the drinks are are priced at 1400 yen each before tax. A regular drinker might guffaw at that price, given the lack of booze.
But a more progressive way to look at the pricing is yes, you're paying 1400 yen for a good cocktail. It simply doesn't have much or any alcohol.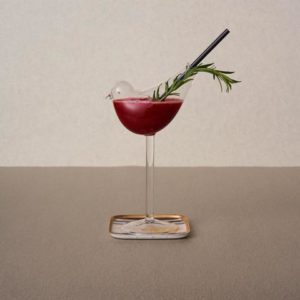 And if you're a raging alcoholic, thinking in reverse can help. You're paying 1400 yen to avoid getting wasted yet again, though you can still sit in a bar and not feel judged for ordering non-alcoholic drinks. In this case, your wallet may not thank you, but your mind, body, and loved ones will.
So let's get to (not) drinking.
Welcome drink: There's an 800 yen charge, by the way. This includes some smoked nuts/dried fruit and a welcome drink. You can choose non or low alcohol for your welcome drink. I went with the latter, and was served a small glass of Helsinki Long Drink.
Drink 1: Dubbed "Nada," this was a short drink that was leaning towards an Old Fashioned. Non-Alcoholic Gin, NEMA 0.00% Whisky, Salt Seaweed Caramel Syrup, and Angostura Bitters. It's certainly a departure from whisky, but the salty caramel syrup brought together a wonderful blend of dryness with a hint of spices.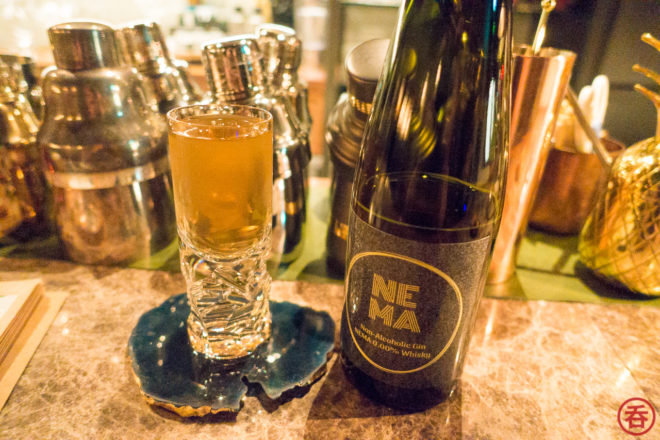 Drink 2: I missed the name and full recipe but this frozen mojito riff used ooba (shiso), lime juice, and simple syrup. I was slightly hesitant to order this as I'm not a massive fan of shiso in my sushi. However being a sucker for frozen drinks I had to give it a try. And I didn't regret it — great to see Japanese flavors like shiso being used more proactively in cocktails these days.
Bars like this definitely aren't for everyone. For many of us, cocktails and alcohol are inseparable components of a whole, like Bill & Ted.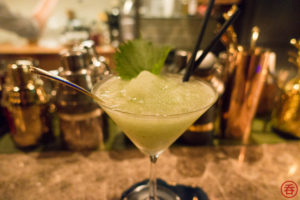 I expect this won't be Tokyo's only low/non-alcohol bar for very long. If you're near Tokyo station and want to have a drink without worrying about the abv, definitely pay Low-Non-Bar a visit.
Hi there! I created and run nomunication.jp. I've lived in Tokyo since 2008, and I am a certified Shochu Kikisake-shi/Shochu Sommelier (焼酎唎酒師), Cocktail Professor (カクテル検定1級), and I hold Whisky Kentei Levels 3 and JW (ウイスキー検定3級・JW級). I also sit on the Executive Committees for the Tokyo Whisky & Spirits Competition and Japanese Whisky Day. Click here for more details about me and this site. Kampai!