It's been basically a year since we saw Bar Nemanja's non-alcoholic gin. They now have a non-alcoholic whisky-flavored gin, whatever the hell that is.
When we last talked about NEMA, I mentioned something about Seedlip, and about how more and more people are turning away from the bottle…
Uhh…
It turns out I was dead wrong. NEMA Non-Alcoholic Gin — or at least this new flavor dubbed "Non-Alcoholic Gin 0.00% Whisky" — isn't trying to cater to non-drinkers. No, it looks like they are trying to make new drinkers. They are trying to help people who can't drink ease into drinking.
Check out this Facebook post they made: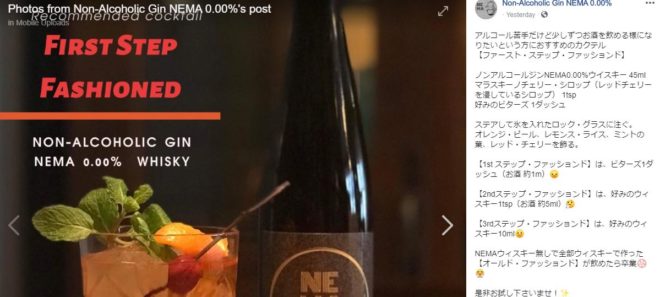 For those that don't read Japanese, they are basically giving a set of cocktails to help non-drinkers phase their way into drinking an Old Fashioned.
1st Step Old Fashioned: 45ml Non-Alcoholic Gin NEMA 0.00% Whisky, 1tsp maraschino cherry syrup, 1 dash of bitters
2nd Step Old Fashioned: Add 1tsp of your favorite whisky
3rd Step Old Fashioned: Add 10ml of your favorite whisky
That's right! They are actually trying to push you from not drinking to drinking a goddamn Old Fashioned, a.k.a. "a whisky drinker's attempt at not looking like a snob."
It's a shocking departure from, well, the rest of the world that is beginning to say drinking is bad for you and shit.
Anyway, getting to Non-Alcoholic Gin NEMA 0.00% Whisky, it features the below botanicals:
Peated malt
White oak
Peat
Cocoa
Two kinds of rose
Wild cardamom
Nutmeg
Juniper berry
That's a helluva botanical basket! And no alcohol at all!
You can get a 700ml bottle of Non-Alcoholic Gin NEMA 0.00% Whisky from Bar Nemanja for 3240 yen before tax. Assuming it's ever in stock again…
Hi there! I created and run nomunication.jp. I've lived in Tokyo since 2008, and I am a certified Shochu Kikisake-shi/Shochu Sommelier (焼酎唎酒師), Cocktail Professor (カクテル検定1級), and I hold Whisky Kentei Levels 3 and JW (ウイスキー検定3級・JW級). I also sit on the Executive Committees for the Tokyo Whisky & Spirits Competition and Japanese Whisky Day. Click here for more details about me and this site. Kampai!