In our recent report we learned much more about the story behind Kaiyō Whisky. This puts us in a better position to get into the whiskies themselves! Bottle 3 of 4 in our review series is Kaiyō Japanese Mizunara Oak The Peated.
Japan's first whisky, Suntory Shirofuda, was a peated whisky released in 1929. This was made possible largely through the tireless efforts of Yamazaki Distillery's chief Masataka Taketsuru. He had spent years learning how to make and blend whisky in Scotland. Upon return to Japan, his goal was clear: create a Japanese whisky as authentic as possible. Authentic in this case meaning "an accurate recreation of Scotch." At the time, many of Scotland's distilleries had not yet switched over to coke, meaning their only source of fuel was peat.
Suntory Shirofuda was a huge failure. The Japanese public simply couldn't handle the smokiness of the whisky, and bottles ended up being returned to Suntory. They tried again in 1930 with a new blend called Suntory Akafuda, but it too proved to be a failure. It wasn't until 1937 they would have a really successful product: Suntory Whisky 12 Year, or today's Suntory Kakubin. By then, Taketsuru had already moved on. The rest is history!
These days, most Japanese whisky distilleries offer both non-peated and peated whiskies. As with the previous bottles of Kaiyō Whisky we've tried, The Peated here offers no details about where the liquid comes from or how long it has spent in any given cask. At least on the label — see our discussion with whisky creator Jeffrey Karlovitch for more details about exactly how they age this.
Review: Kaiyō Japanese Mizunara Oak The Peated
Nose: Still lots of pear, apples, fruits and vanilla as we had with the last bottle. The peating is there, but not overwhelming. Excellent balance with some oakiness.
Palate: Opens up with spicy vanilla oak but quickly pivots to oranges and pear. Smooth and delicate, though with a kick of extra heat towards the end.
Finish: Peat is not so decisive! Lingering rubberiness found in the palate of the Cask Strength bottle.
Score: B+
Price paid: $104.99, 750ml, 46% abv
Great balance on both the nose and palate, but unfortunately the peaty finish was a bit too short-lived for me.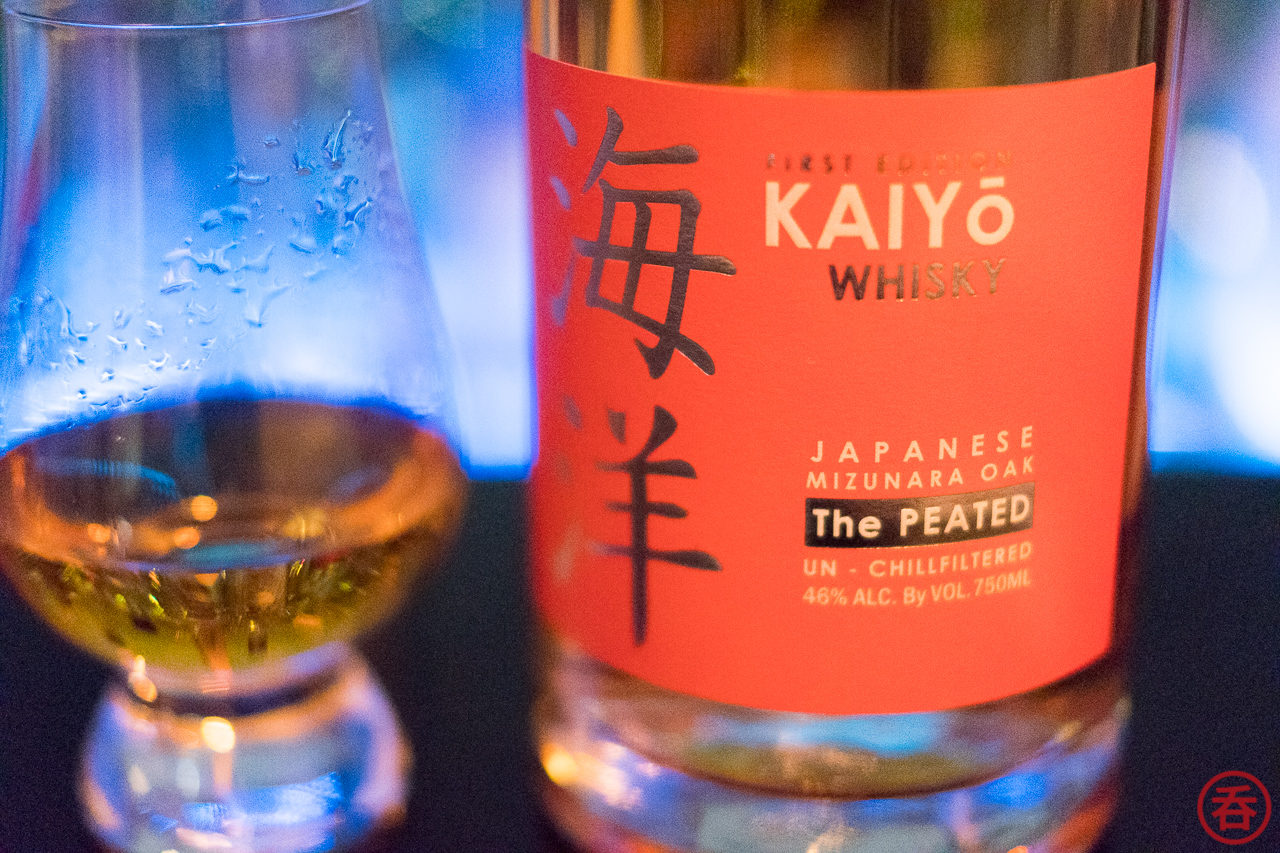 Hi there! I created and run nomunication.jp. I've lived in Tokyo since 2008, and I am a certified Shochu Kikisake-shi/Shochu Sommelier (焼酎唎酒師), Cocktail Professor (カクテル検定1級), and I hold Whisky Kentei Levels 3 and JW (ウイスキー検定3級・JW級). I also sit on the Executive Committees for the Tokyo Whisky & Spirits Competition and Japanese Whisky Day. Click here for more details about me and this site. Kampai!