The other day I happened to come across the second volume of the "THE ESSENCE of SUNTORY WHISKY" series being sold on Amazon JP at retail price. It's quite odd since they are not supposed to be sold to members of the general public — instead these bottles are only to be sold to bartenders. Lucky timing, I guess.
Not that I'm complaining! Finding age-statement Japanese whiskies at reasonable prices is becoming even more and more difficult, let alone age-statement Yamazaki.
Yes, as I mentioned when they were announced, this second lineup of THE ESSENCE of SUNTORY WHISKY all comes out of the Yamazaki Distillery. They all have a Spanish flare about them, highlighting several different ways that Suntory makes use of Spanish wood during the maturation of Yamazaki whisky. While the first volume of THE ESSENCE series was about showcasing Suntory's expertise in blending, the second volume here should help us get to know Yamazaki's components a bit better.
Sherry and Yamazaki
It's fairly open secret that while sherry ages in American oak casks, sherry casks used for aging whisky are Spanish oak. I'll leave a link to the history of Sherry casks for those after more detail as to why, but to summarize: sherry makers traditionally used Spanish oak casks for shipping sherry to England, but American oak for actually maturing sherry. That said, it seems to make less of a difference these days, as the American/European oak->sherry->whisky triangle is now regulated by the Consejo Regulador. In fact, whisky makers — including Suntory — are now buddy-buddy with sherry makers during the entire sherry maturation process, including selecting the wood, the wine, the duration, and even sending staff to bodegas to help ensure quality.
The very first whisky cask filled at Yamazaki was one such sherry cask. So Suntory has been using them since day one. Alongside mizunara, sherry casks and notes feature heavily in Yamazaki whiskies, particularly as you get into the upper end of the Yamazaki range.
First up to the plate is the Refill Sherry Cask. The Refill Sherry Cask, as the name indicates, is originally a sherry cask. That's of course used to age whisky once, and "refill" here means they've filled that same cask again with whisky. Suntory says while the first-fill sherry casks have a "rich profile," the refills tend to be more smooth and clear.
Spec-wise we're looking at a Yamazaki that was distilled in 2008 and bottled at 53% abv in 2019, making it at least a 10-year. How does it fare?
Review: THE ESSENCE of SUNTORY WHISKY YAMAZAKI DISTILLERY REFILL SHERRY CASK
Nose: A bomb of sweetness — raisins, plums, and velvety vanilla cream with a dash of dried orange tart
Palate: Bit of a rough start with some acidity, but it's also super smooth and light across the tongue. That nose may have misled a bit with the sweetness; it's not as powerful as I had hoped and dreamed. Instead there's a dry woodiness about it, bringing in a bit more thickness towards the middle. The sweetness comes towards the end: sugar-coated oranges.
Finish: Dark chocolate-covered raisins, oaky, then trails with a hint of cigar smoke
Score: B+
Price paid: 8,640 yen
Sweet, smooth, and a nice way to ride into Suntory's world of sherry at Yamazaki. I'm gazing at the other two bottles in the series on my bar already!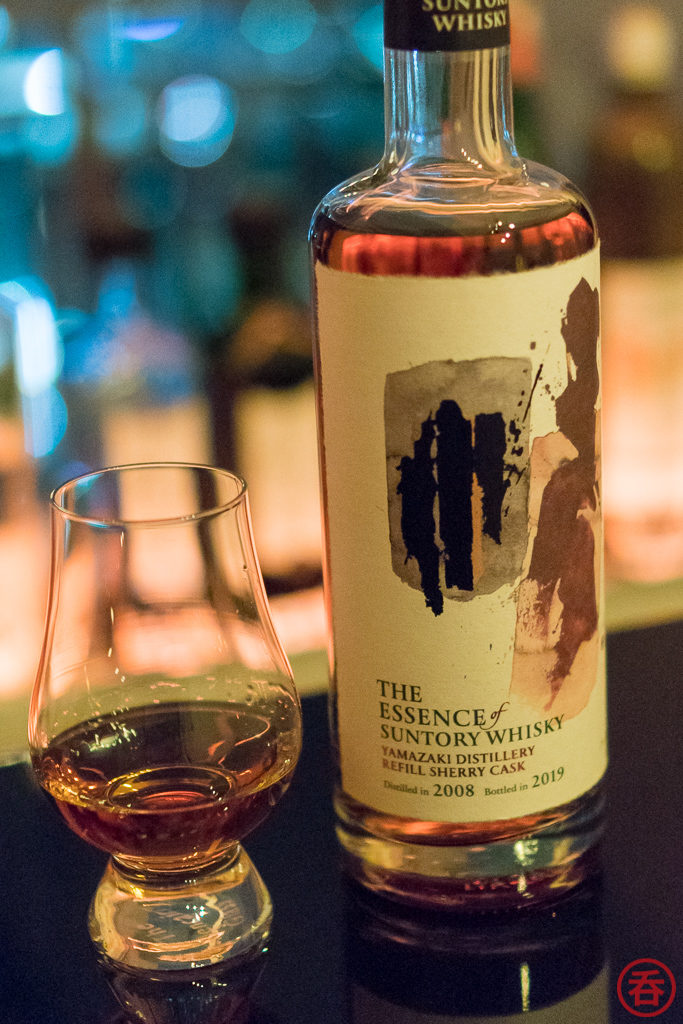 Hi there! I created and run nomunication.jp. I've lived in Tokyo since 2008, and I am a certified Shochu Kikisake-shi/Shochu Sommelier (焼酎唎酒師), Cocktail Professor (カクテル検定1級), and I hold Whisky Kentei Levels 3 and JW (ウイスキー検定3級・JW級). I also sit on the Executive Committees for the Tokyo Whisky & Spirits Competition and Japanese Whisky Day. Click here for more details about me and this site. Kampai!