Tonight we get involved with bottle 2 of 3 in the second series of THE ESSENCE of SUNTORY WHISKY. This time around we have a Yamazaki aged for 9 years in an ex-Montilla wine cask, bottled in 2019 at 55% abv.
Montilla Wine
Let's get one thing out of the way. Montilla wines are not sherries! Though it's a very similar style of wine, there are three things set them apart from sherry: 1) the Spanish government, 2) the grapes, and 3) they are usually not fortified.
The Spanish government calls Montilla-Moriles a separate Denominación de origen (DO) from Jerez-Xérès-Sherry. Geographically, Montilla is some 150km away from Jerez. Being further inland, this means the wine from this region has a thinner layer of flor, and the resulting wine trends sweeter.
The grapes are also part of the reason: Montilla wines generally use Pedro Ximénez (PX) grapes, while sherry mostly uses Palomino Fino. PX is grown for use in dessert wines around the world since it has a very high sugar content and yields thick wine with a flavor reminiscent of raisins. Montilla wines also typically manage around 15% abv without fortification. To make things even more confusing, PX (both the grapes and Montilla wines) often find their way into Jerez sherries for added sweetness.
Or at least that's the wine. As we explored with the last bottle, it's not unheard of for whisky makers to work directly with sherry makers to create "seasoned casks" specifically for maturing whisky, rather than simply taking advantage of the byproducts of the sherry industry. Suntory's materials indicate that they are using Spanish oak ex-Montilla fortified wine casks, so a slight departure from the usual Montilla wine style.
Anyway! What we're ultimately concerned with here is what impact that cask has on our whisky. How does the Montilla Wine cask treat Yamazaki?
Review: THE ESSENCE of SUNTORY WHISKY YAMAZAKI DISTILLERY MONTILLA WINE CASK
Nose: Quite pronounced candied raisin, brown sugar, gingerbread, and candy corn. Sugar lover's dream come true. Then, you light up a cigar
Palate: Deep and dark fruits, thick with candy sugar, woodiness towards the end alongside a hint of bitterness. Tannins!
Finish: Dried fruits, fading out with a spicy oak bitterness
Score: A-
Price paid: 8,640 yen
I personally found this one to be a more flavorful and specialized whisky that strikes a great balance between sweetness, woodiness, and spice. Any fan of bourbon should easily be able to appreciate this bottle!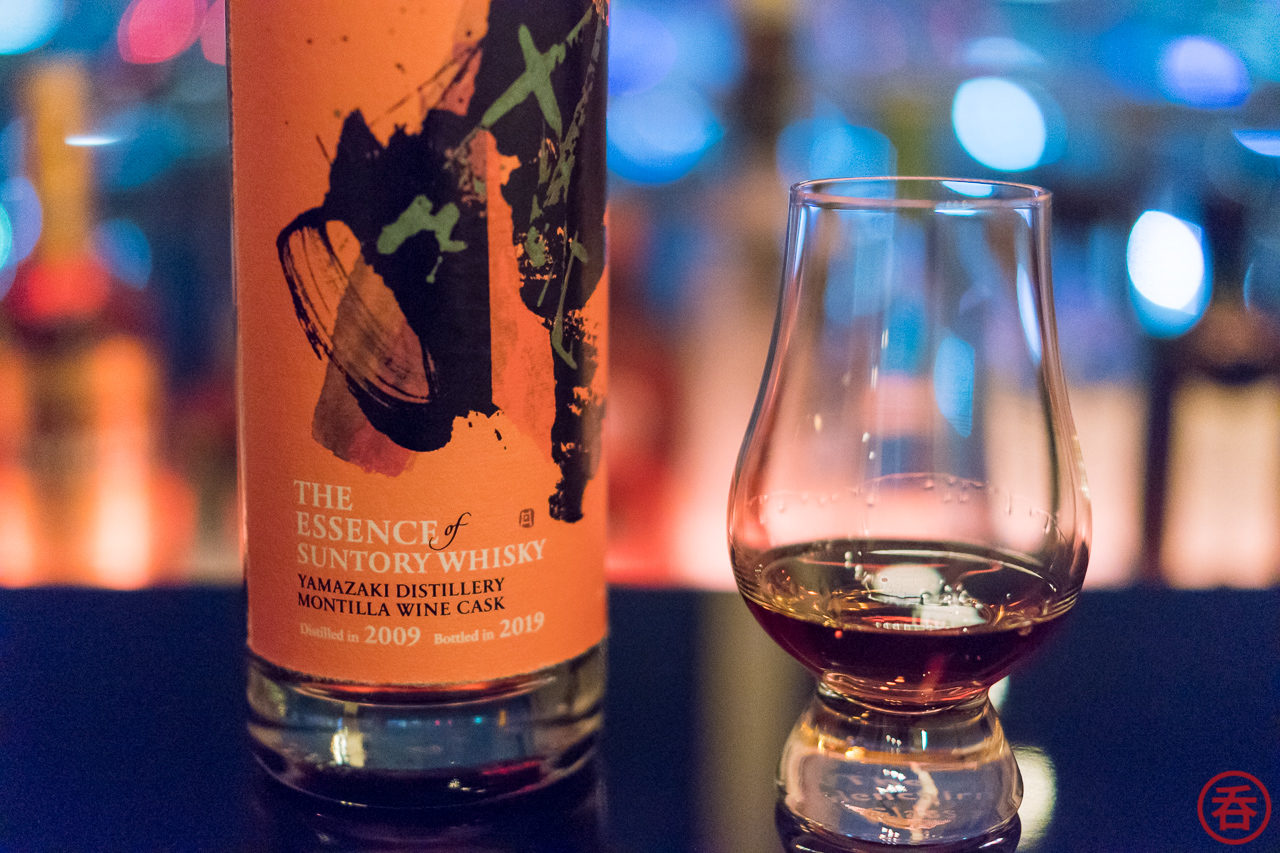 Hi there! I created and run nomunication.jp. I've lived in Tokyo since 2008, and I am a certified Shochu Kikisake-shi/Shochu Sommelier (焼酎唎酒師), Cocktail Professor (カクテル検定1級), and I hold Whisky Kentei Levels 3 and JW (ウイスキー検定3級・JW級). I also sit on the Executive Committees for the Tokyo Whisky & Spirits Competition and Japanese Whisky Day. Click here for more details about me and this site. Kampai!